New Home Sales Dip, Orders of Durable Goods Advanced, Jobless Claims Rose
January 26, 2012
by Asha Bangalore
Download PDF Version

Sales of new single-family homes fell 2.2% to an annual rate of 307,000 in December, putting the annual average at 303,000 units. The tally of sales of new single-family homes in 2011 is the lowest on record (see Chart 1).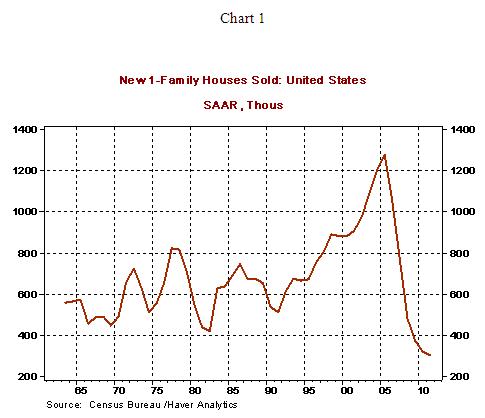 On a quarterly basis, sales of new homes (see Chart 2) have been nearly flat for 2 years.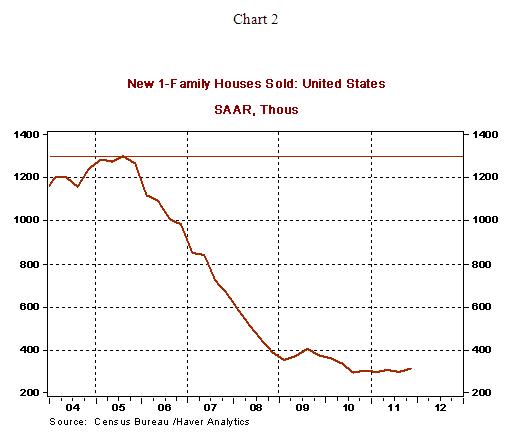 The median price of a new single-family dropped to $210, 300, down sharply from a year ago. The inventory of unsold single-family homes at a 6.1-month supply mark is close to the historical average of 6.3-month supply. The absence of robust hiring and strict mortgage loan underwriting keep homes out of the reach of potential buyers. The record low reading of the number of houses for sale bodes positively for future construction (see Chart 3).

Orders of durable goods increased 3.0% in December, after a 4.3% gain in the prior month. An 18.9% jump in orders of civilian craft gave the extra lift to total bookings of durable goods. With the exception of 12.4% in orders of defense capital goods, nearly all components posted gains in December. Although order books show strong numbers, actual shipments of durable goods are less promising. Shipments of all durable goods rose 2.1% during December and shipments of non-defense capital goods excluding aircraft, which matter in the computation of equipment and software spending in the GDP report, advanced 2.9%. These robust readings mask the softness of shipments reported for non-defense capital goods excluding aircraft in the first two months of the fourth quarter. As a result, the quarterly readings of shipments of non-defense capital goods excluding aircraft, after adjusting for inflation, are little different from the third quarter mark. The bottom line is that equipment and software spending was most likely flat in the fourth quarter. The GDP report of the fourth quarter, to be published on January 27, will offer more information. In addition, shipments of durable goods from a year ago show a slowing trend (see Chart 5). Therefore, the strong headlines of today's report have to be interpreted with care.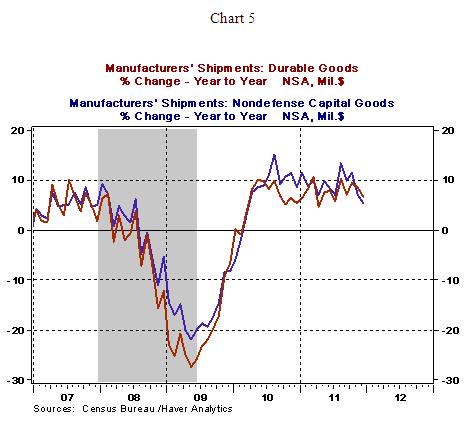 Initial jobless claims moved up 21,000 to 377,000 during the week ended January 21. The four-week moving average of 377,500 is still indicative of declining layoffs. Continuing claims, which lag initial claims by one week, increased 88,000 to 3.55 million. The lingering issues of the labor market will continue to keep the Fed favoring an easy stance in the near term.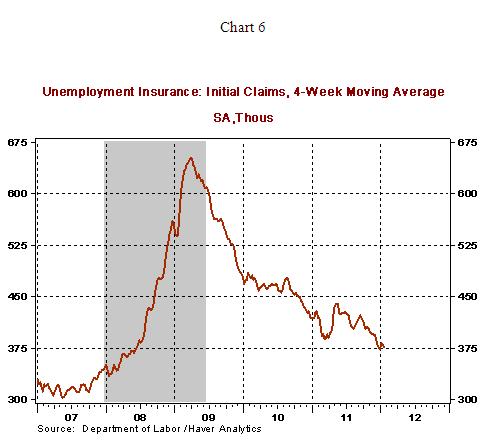 The opinions expressed herein are those of the author and do not necessarily represent the views of The Northern Trust Company. The Northern Trust Company does not warrant the accuracy or completeness of information contained herein, such information is subject to change and is not intended to influence your investment decisions.
© 2013 Northern Trust Corporation