Atypical Weather Trims Consumer Spending and GDP in 2011:Q4
January 30, 2012
by Asha Bangalore
Real consumer spending slipped 0.1% in December after postings in October and November. All major components – durable goods (-0.1%), nondurables (-0.1%) and services (-0.1%) – fell in December and trimmed the pace of consumer spending in the fourth quarter.
The weakness in consumer outlays on services stands out in the fourth quarter (see Chart 2). Service outlays rose only at an annual rate of 0.2%, while that of goods advanced 5.7%, reflecting a nearly 15% surge in purchases of durables and a 1.7% increase in expenditures on non-durables.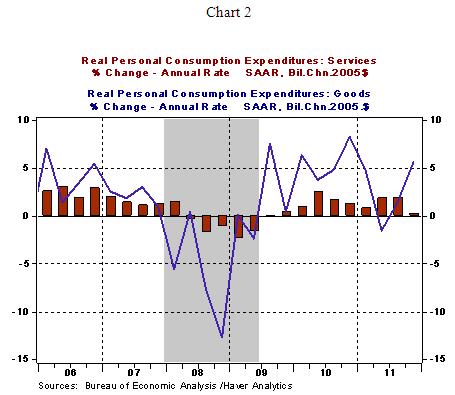 Details of consumer spending indicate that purchases of gas and utilities fell sharply in the fourth quarter (-$14.5 billion) due to atypically warm weather in the entire fourth quarter. As shown in chart 3, the magnitude of the decline in purchases of electricity and gas is an outlier and noteworthy. If outlays on gas and utilities had held steady in the fourth quarter, real GDP would have risen at an annual rate of 3.2% instead of the 2.8% headline.
The saving rate of the U.S. economy increased to 4.0% from 3.5% in December, putting the annual average at 4.4% following a 5.3% mark in 2010.
The opinions expressed herein are those of the author and do not necessarily represent the views of The Northern Trust Company. The Northern Trust Company does not warrant the accuracy or completeness of information contained herein, such information is subject to change and is not intended to influence your investment decisions.
© 2013 Northern Trust Corporation