Trade Gap Reflects Relative Strength of U.S. Economy
February 10, 2012
by Asha Bangalore
Download PDF Version

The trade deficit widened to $48.8 billion in December, putting the 2011 trade gap at $558 billion, the largest since 2008. Exports of goods and services advanced 0.7% in December, while imports of goods and services grew 1.3%. The advance estimate of fourth quarter real GDP contains assumptions about the trade deficit in December; the actual trade data for December suggest an upward revision of the 2.8% increase in real GDP, everything else the same.
Exports of goods grew at an annual rate of 5.2% in the fourth quarter vs. 8.6% in the third quarter. Exports of goods advanced at a slower pace in 2011 (+7.7%) compared with 2010 (+14.8%) reflecting slowing economic momentum among trading partners of the United States. As China, Brazil, and India implement suitable policies to stimulate economic activity, exports should gather steam in the latter part of 2012.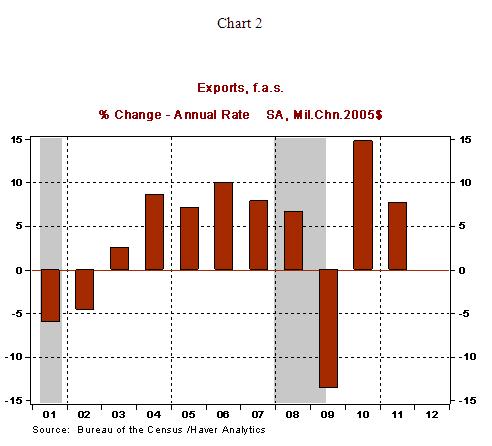 Imports of goods increased 1.4% in December after posting a 0.9% gain in the prior month. The U.S. economy grew at a 1.7% pace in 2011 vs. 3.0% in 2010; the slower pace of economic growth in 2011 translated into a smaller increase in imports of goods in 2011 (+5.8%) vs. 2010 (+14.6%). The trade deficit widened vis-à-vis Canada and Japan but narrowed vis-à-vis China, Mexico, and the EU.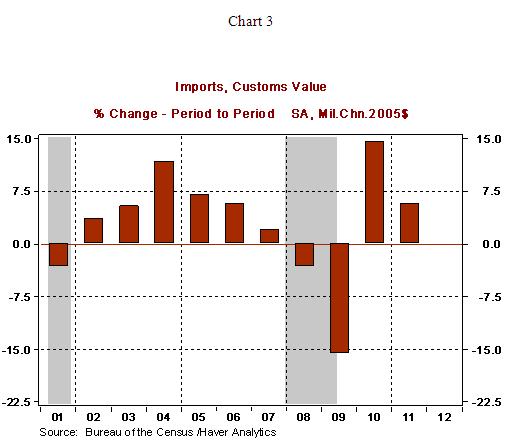 The opinions expressed herein are those of the author and do not necessarily represent the views of The Northern Trust Company. The Northern Trust Company does not warrant the accuracy or completeness of information contained herein, such information is subject to change and is not intended to influence your investment decisions.
© 2013 Northern Trust Corporation