January Retail Sales - Decelerating Trend Remains in Place
February 14, 2012
by Asha Bangalore
Retail sales increased 0.4% in January after a steady reading in December. The December estimate was revised down slightly from the earlier reading of 0.1%. In January, auto purchases in the retail sales report show a 1.1% decline, while unit auto sales increased to an annual rate of 14.2 million units in January vs. 13.6 million units in December. Unit auto sales matter in the computation of consumer spending. Gasoline sales rose 1.4% in January, a price related gain. Excluding autos and gasoline, retail sales advanced 0.6% after a 0.2% drop in the prior month. However, the trajectory for the first quarter based on January retail sales data points to a soft performance (see table below). In addition, retail sales from a year ago remain positive but continue to track a decelerating trend (see Chart 1).
January Small Business Survey – Small Improvement
The National Federation of Independent Business (NFIB) survey of January continues to show improvements in the assessment of business conditions. The January composite index moved up to 93.9 vs. 90.2 in October (November-December readings also show gains but the surveys have fewer participants compared with the numbers in the surveys conducted in the first month of each quarter). In the latest survey, small businesses continue to view sales as problematic but the number reporting sales as a problem is declining gradually (see Chart 2). In January, 22% of small businesses report sales as the most important problem compared with 26% in October 2011. These improvements are small but worth mentioning.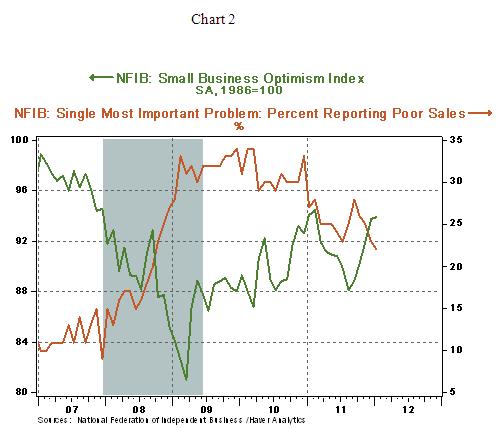 The opinions expressed herein are those of the author and do not necessarily represent the views of The Northern Trust Company. The Northern Trust Company does not warrant the accuracy or completeness of information contained herein, such information is subject to change and is not intended to influence your investment decisions.
© 2013 Northern Trust Corporation