Recent U.S. Oil and Gas Extraction Activity – Facts vs. Popular Opinions
February 22, 2012
by Paul Kasriel
Gosh. Think how much oil and gas we would be producing if only the API were running things! On second thought, maybe it is now!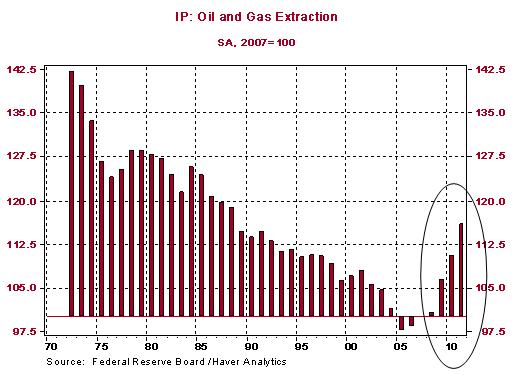 January Existing Homes Sales – Many Positives to Note
By Asha Bangalore
Sales of all existing homes – condominiums, townhouses, and single-family homes – rose 4.3% to an annual rate of 4.57 million homes in January, up about 35% from the 3.39 million low of November 2008. Sales of all existing homes plunged 52% between January 2005 (7.1 million units) and November of 2008 (see Chart 1). Sales of single-family existing homes increased 3.9% to an annual rate of 4.05 million units, marking the third increase in the last three months. Sales of existing homes advanced in all four regions of the nation, with the West (+8.8%) recording the largest gain among the four regions.
Distressed properties continue to account for a noticeable and worrisome chunk of home sales. In January, 35% of home sales were made up of distressed properties -- foreclosures (22%) and short sales (13%)-- up from 32% in December and 37% in January 2011.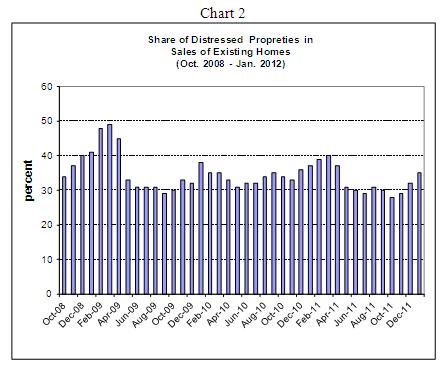 The seasonally adjusted inventory-sales ratio of single-family homes has declined to 6.7-month supply in January from 7.0-month supply in December. The historical median for the inventory-sales ratio is 7.6-months (see Chart 3). The median of inventory-sales ratio for 1982-2002 (7.8-months) is better indicator considering that much of what has occurred in the housing market during past decade is inconsistent with underlying fundamentals.
The home price situation is improving despite the fact that distressed homes still make up a large part of home sales. The January median price of an existing single-family home ($154,400) declined 2.6% from a year ago which represents significant progress given that larger declines have been recorded in earlier months (see Chart 4). Overall, the details of the existing home sales report suggest that the housing market is improving, albeit slowly.
The opinions expressed herein are those of the author and do not necessarily represent the views of The Northern Trust Company. The Northern Trust Company does not warrant the accuracy or completeness of information contained herein, such information is subject to change and is not intended to influence your investment decisions.
© 2013 Northern Trust Corporation