Stagnant Consumer Spending Raises Concern
March 1, 2012
by Asha Bangalore
Real consumer spending held steady in January, following unchanged readings for November and December. As Chart 1 shows, the level of consumer spending has not budged since October.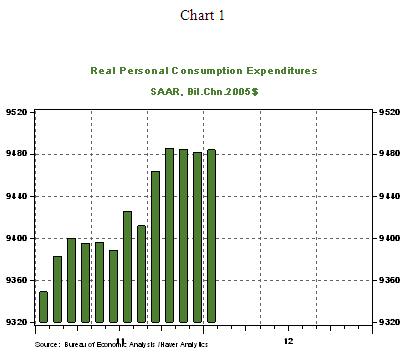 Part of the reason for the nearly steady consumer spending is that outlays on electricity and natural gas have fallen sharply due to warmer-than-typical weather. Expenditures on electricity and natural gas have dropped each month since August (see Chart 2). If purchases of electricity and natural gas held steady at levels seen in November, real consumer spending would have increased 0.1% in January as opposed to holding steady.
Excluding electricity and natural gas, real consumer spending shows a decelerating trend (see Chart 3). Herein lies the important question – will consumer spending snap back soon? Auto sales advanced in January to an annual rate of 14.2 million units vs. 13.6 million units in December; sales numbers for February were not available at the time of writing. Chairman Bernanke's latest testimony noted that support for consumer spending is weak. In particular, he cited that "real household income and wealth were flat in 2011 and access to credit remained restricted for many potential borrowers."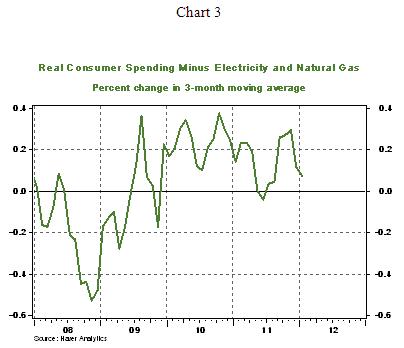 The personal saving rate as a percent of disposable personal income slipped to 4.6% in January vs. 4.7% in December. On a quarterly basis, the personal saving rate shows a downward trend (see Chart 4).
The Fed's preferred price gauge is the personal consumption expenditure price index, which moved up 0.2% from the prior month and has advanced 2.4% from a year ago. The core personal consumption expenditure price index, which excludes food and energy, rose 0.2% from the previous month and increased 1.88% from a year ago. Although the core personal consumption expenditure price index is down only 3 bps from December, the overall price gauge has peaked and is heading south (see Chart 5). Bernanke continues to hold inflation is moderating and it will run at or below 2.0% in the near term. Bernanke views the recent increase in oil prices as a temporary event.
Residential Construction Posted Strong Increase in January
Total construction spending advanced 1.6% in January, marking the sixth straight monthly increase and the longest stretch since recovery began (see Chart 6). If the January trend continues, third quarter residential investment expenditures should make a noticeable contribution to first quarter real GDP.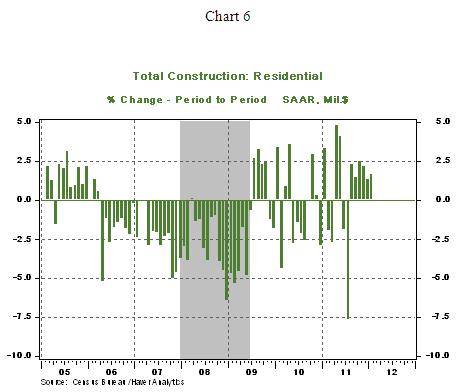 Factory Sector – Pace of Growth Slowed Slightly in US, Improved in China
The February ISM survey results suggest that the factory sector grew at a slightly slower pace in February (52.4) vs. January (54.1). Indexes tracking new orders (54.9 vs. 57.6 in January) and production (55.3 vs. 55.7 in January) dropped in February. Readings above 50.0 denote growth in factory activity, while a reading below 50.0 stands for a contraction in factory activity.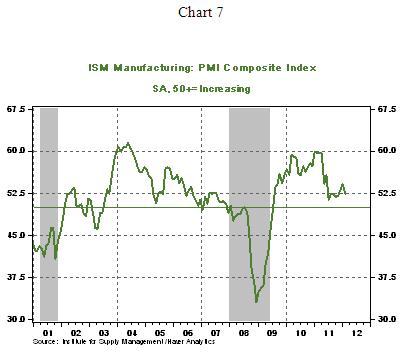 By contrast, the composite index of China's factory sector rose to 51.0 in February vs. 50.5 in January. A sharp increase in orders of exports (51.1 vs. 46.9 in January) helped to raise the overall index.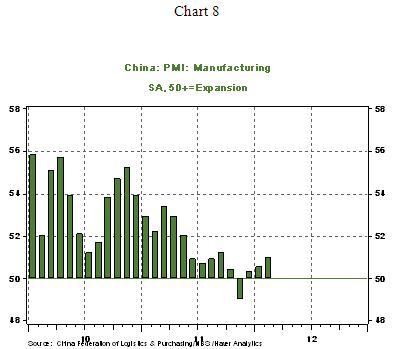 The opinions expressed herein are those of the author and do not necessarily represent the views of The Northern Trust Company. The Northern Trust Company does not warrant the accuracy or completeness of information contained herein, such information is subject to change and is not intended to influence your investment decisions.
© 2013 Northern Trust Corporation