2011:Q4 Flow of Funds: Net Worth and Borrowing Trend of Households
March 8, 2012
by Asha Bangalore
Net worth of households increased $1.19 trillion to $58.455 trillion in the fourth quarter of 2011. Household net worth peaked in 2007:Q2 ($66.838 trillion) and bottomed out in 2009:Q1 ($50.455 trillion). Net worth of households has risen 15.85% from the trough, with equities leading the way and real estate continuing to account for the setback in net worth of households (see Chart 2).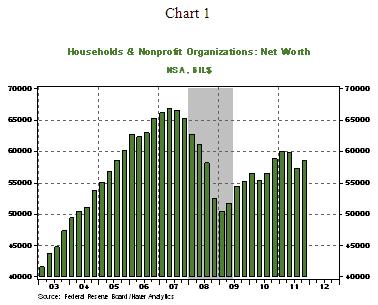 Household borrowing increased $43 billion in 2011:Q4 increased following consecutive quarterly declines from the third quarter of 2008. This is a small but important increase of household borrowing. Effectively, household debt outstanding rose in the fourth quarter and signals that household deleveraging is probably on its last legs.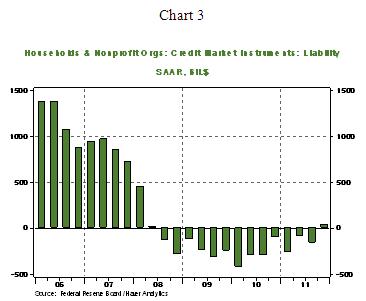 The two large components of household debt are mortgage debt and consumer credit (essentially non-mortgage borrowing). As shown in Chart 4, deleveraging (voluntary and involuntary) of mortgage debt is yet to establish a bottom, but consumer credit has turned the corner.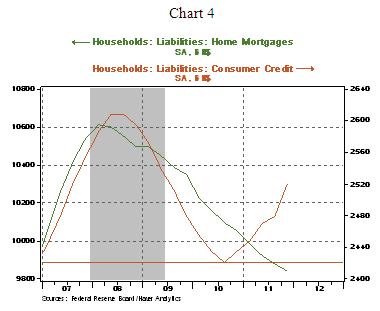 Changes in mortgage debt and consumer debt (see Chart 5) show that consumer credit has been advancing for five quarters and the largest gain has occurred in the fourth quarter of 2011.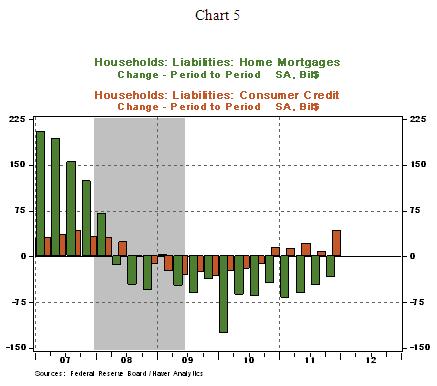 Digging into details of consumer credit yields interesting insights. There has been a reclassification of student loans during 2009, which led to a surge of these loans as reflected in consumer credit. However, student loans are a less predominant component of consumer credit in recent quarters. In the fourth quarter of 2011 only 35% of the change in consumer credit has come from student loans (see Chart 6). So, what is point of combing through details of consumer credit? First, the investigation suggests that the growth in consumer credit is more than growth in student loans. Second, consumers have changed the course of the recent trend in borrowing. If mortgage debt reduction outpaces non-mortgage borrowing as has been the case since third quarter of 2008, deleveraging continues. But, the reversal of this trend in the fourth quarter is noteworthy.
The opinions expressed herein are those of the author and do not necessarily represent the views of The Northern Trust Company. The Northern Trust Company does not warrant the accuracy or completeness of information contained herein, such information is subject to change and is not intended to influence your investment decisions.
© 2013 Northern Trust Corporation