Watch the Services Component of Consumer Spending
March 14, 2012
by Asha Bangalore
Download PDF Version

Retail sales advanced 1.1% in February, after an upwardly revised gain of 0.6% in January. Excluding gasoline, retail sales moved up 0.8% in February after a 0.5% increase in the prior month. These numbers are encouraging. Excluding gasoline, retail sales have risen 5.5% in the January-February period compared with an 8.8% annualized increase in the 2011:Q4. Consumer spending consists of outlays on goods and services, with services (roughly 65%) making up a large part of consumer spending. Retail sales pertain to the goods component of consumer spending (about 35%). In the past few months, expenditures on services have been soft, partly due to warm weather translating into a reduction of natural gas consumption. Outlays on electricity and natural gas have declined for six straight months (see Chart 2). Continued warm weather across the nation suggests that natural gas and electricity expenditures should post additional monthly declines and offset some of the strength in goods outlays as seen in the retail sales report.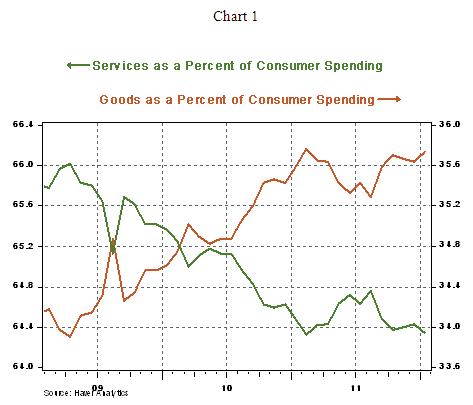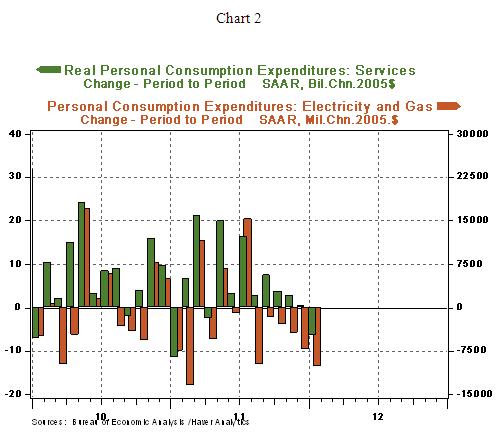 2011:Q4 Current Account Deficit – Reflects Setbacks in Good, Services, and Income

The current account deficit of the U.S. economy widened to $124 billion in the fourth quarter from $107 billion in the third quarter. Of the major components of the current account, the trade gap in goods widened in fourth quarter (see Chart 3), while the surplus in the service and income components declined in the fourth quarter (see Chart 4).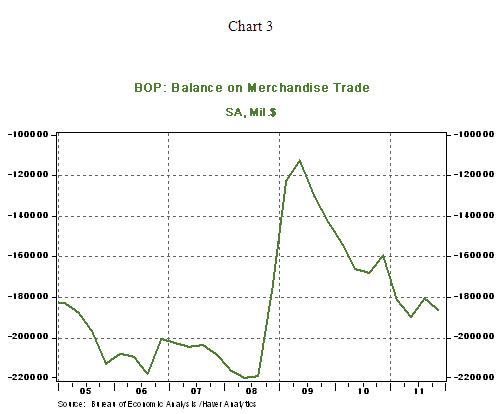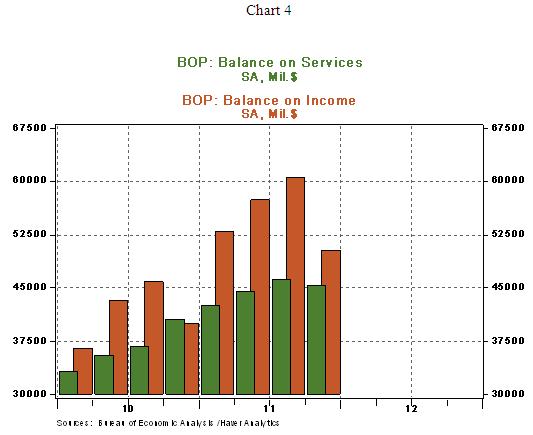 The current account deficit as a percent of GDP stood at 3.24% in the fourth quarter, up from 2.84% in the third quarter.


In related news, import prices rose 0.4% in February, entirely due to higher prices for petroleum and petroleum products (+1.8%). Import prices of imports excluding fuels slipped 0.1%. Overall, the decelerating trend of import prices (see Chart 6) is supportive of the current easy monetary policy of the Fed.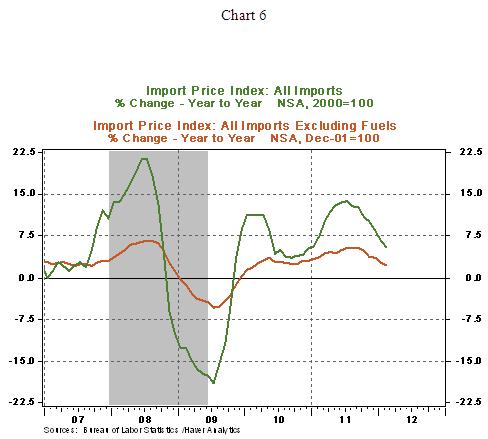 The opinions expressed herein are those of the author and do not necessarily represent the views of The Northern Trust Company. The Northern Trust Company does not warrant the accuracy or completeness of information contained herein, such information is subject to change and is not intended to influence your investment decisions.
© 2013 Northern Trust Corporation