Gas Prices Lift Overall Consumers Prices in February
March 16, 2012
by Asha Bangalore
The Consumer Price Index (CPI) rose 0.4% in February after a 0.2% increase in the prior month. According to the BLS, about 80% of the increase was from higher prices for gasoline. Gasoline prices shot up 6.0% in February to result in a 3.2% increase of the energy price index, despite a 3.4% drop in natural gas prices and a steady reading for electricity. From a year ago, the CPI rose 2.87%, following gains of 2.93% in January and 3.9% in September. Essentially, overall CPI is trending down (see Chart 1). However, the geopolitical/nuclear situation in Iran suggests that the specter of higher energy prices will remain on the radar screen in the near term.
The core CPI, which excludes food and energy, moved up 0.1% in February after a 0.2% increase in the prior month. Lower prices for apparel (-0.9%), recreation (-0.1%), airplane tickets (-0.1%) and a contained owners' equivalent rent (+0.1%) helped to trim the core CPI. New cars (+0.6%) posted the first gain since June and medical care costs rose 0.6%. On a year-to-year basis, the core CPI moved down to a 2.18% increase in February vs. a 2.28% gain in January. The Cleveland Fed's Trimmed-Mean CPI rose 2.4% from a year ago in February vs. a 2.6% increase in January. The decelerating trend of these inflation measures is supportive of the Fed's accommodative stance.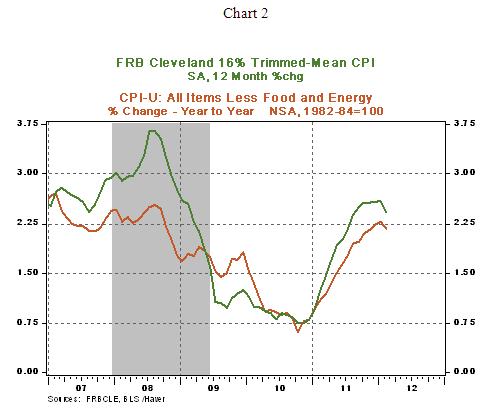 The elevated unemployment rate and depressed conditions in the housing sector are the two areas of concern that will keep the Fed leaning toward providing additional support to the economy. But, it is unlikely to take action until evidence of faltering economic conditions is available to justify a new round of monetary policy easing.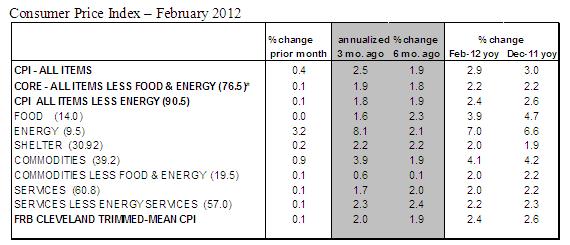 High-Tech and Auto Production Slip in February
Industrial production held steady in February after an upwardly revised gain of 0.4% in January (previously estimated as unchanged). Factory production moved up 0.3% vs. a 1.1% increase in January (earlier estimate was a 0.7% gain). In February, auto production (-1.2%) and high-tech (-0.6%) contracted, but factory output excluding these two components rose 0.3%. The year-to-year changes in factory production, with and without autos and high-tech, show than an upward trend has been in place since mid-2011 (see Chart 3).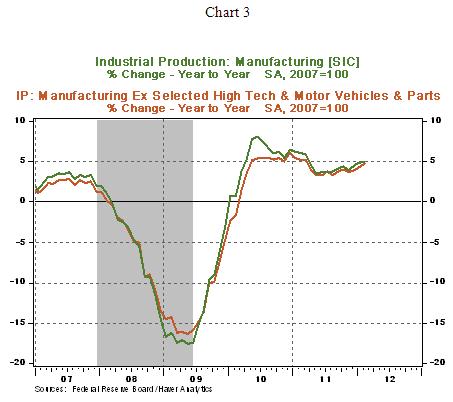 The opinions expressed herein are those of the author and do not necessarily represent the views of The Northern Trust Company. The Northern Trust Company does not warrant the accuracy or completeness of information contained herein, such information is subject to change and is not intended to influence your investment decisions.
© 2013 Northern Trust Corporation