Keep Tabs on the Short End of the Curve Also
March 19, 2012
by Asha Bangalore
Download PDF Version

The 10-year Treasury note yield was trading at 2.39% as of this writing, up from 1.96% on March 6 and 2.04% on March 12. The focus has been on the long end of the yield curve in the last few trading days. Moving over to the short end, the effective federal funds rate has moved up roughly seven basis points since early January (see Chart 1).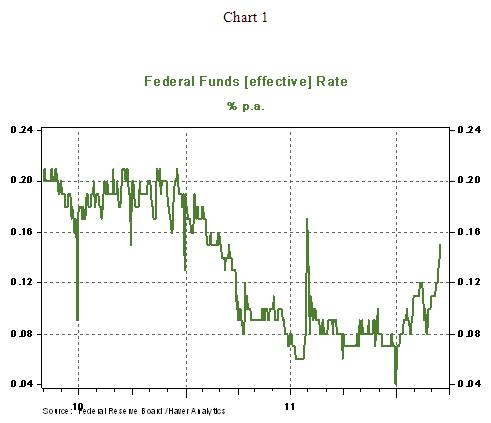 The 2-year Treasury note at 0.39% has registered an increase of about 14bps in a very short span of time (see Chart 2). The bond market views latest economic reports in positive light and is less pessimistic about the near term performance of the economy. The Fed's March 13 policy statement was more upbeat compared with the January missive, but caveats were embedded in it – elevated unemployment rate, depressed housing market and downside risks due to financial market conditions in Europe. Also, the Fed expects contained inflation readings in the months ahead. Essentially, there are two slightly different assessments of the U.S. economy; the bond market's bullish assessment of the economy is prevailing, for now.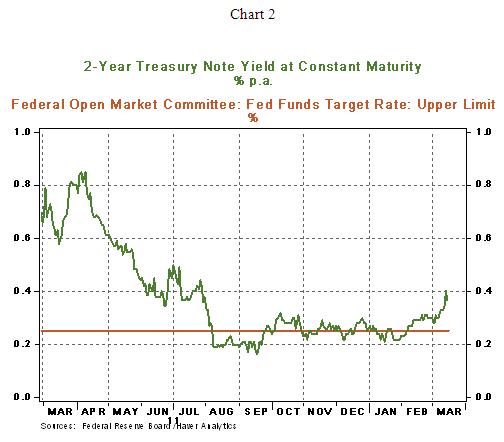 The opinions expressed herein are those of the author and do not necessarily represent the views of The Northern Trust Company. The Northern Trust Company does not warrant the accuracy or completeness of information contained herein, such information is subject to change and is not intended to influence your investment decisions.
© 2013 Northern Trust Corporation