New Home Sales – Disappointing Performance
March 23, 2012
by Asha Bangalore
Sales of new single-family homes fell 1.6% to an annual rate of 313,000 in February. The level of single-family home sales is up 12.6% from the historical low of 278,000 registered in August 2010 (see Chart 1). Sales of new homes rose in the Northeast (+14.3%) and West (+8.0%) but fell in the Midwest (-2.4%) and South (-7.2%).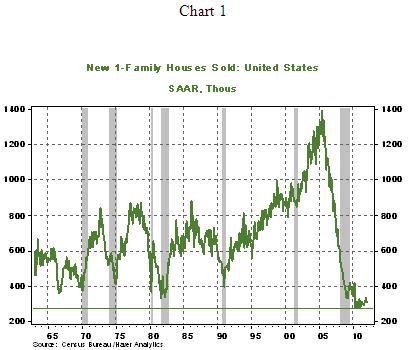 Combined sales of new and existing homes stand at 4.903 million in February, up 18% from a low of 4.159 million in January 2009, excluding the swings related to the first-time home buyer credit program.
The median price of a new single-family home rose 8.3% to $233,700 in February, up 6.2% from a year ago. The median price of new single-family homes is volatile and a clear trend has not emerged.
The supply of new homes in the market hit a historical low in January (150,000) and held steady in February (see Chart 4). The inventory-sales ratio at 5.8 months in February is slightly below the historical median of 6.0-months. Chart 4 and 5 indicate that supply of new single-family homes is not problematic. Sales of homes are tied to the performance of the labor market, which is showing signs of improvement and in turn raises expectations of an increase in home sales in the months ahead.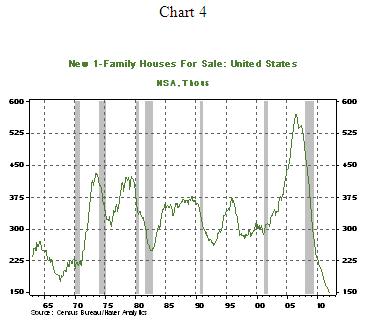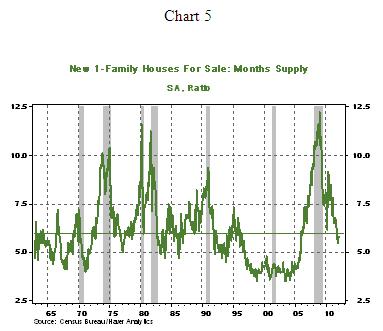 The opinions expressed herein are those of the author and do not necessarily represent the views of The Northern Trust Company. The Northern Trust Company does not warrant the accuracy or completeness of information contained herein, such information is subject to change and is not intended to influence your investment decisions.
© 2013 Northern Trust Corporation