Mixed Factory Reports, With the US Still at the Top
April 2, 2012
by Asha Bangalore
Download PDF Version

Factory surveys of March from across the world show mixed results. The Purchasing Managers' Index (PMI) of the US rose to 53.4 in March from 52.4 in the prior month. Indexes tracking production, employment, and inventories increased, while that of new orders, supplier deliveries, prices, exports and imports declined in March. The good news is that the pace of factory activity in the United States continues to show forward momentum. The decline is new orders, although small, warrants close tracking.
The factory surveys from the rest of world were mixed. The official PMI of China moved up in March (53.1 vs. 51.0) but the early HSBC factory index posted a contraction in activity during March. The conflict between these two measures remains unclear. It should be resolved when data for the months ahead are published. The eurozone PMI has declined each month since August, supporting projections of weakening economic conditions in the region. In sum, of the three main economic engines of the world, the performance in the US and China still points continued growth in the factory sector.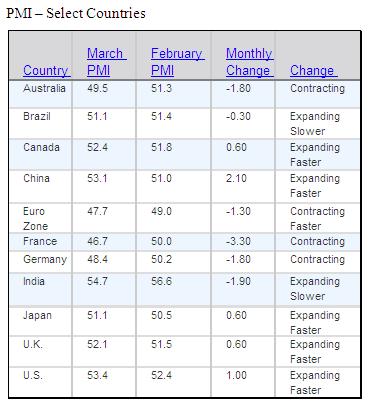 Source: http://blogs.wsj.com/economics/2012/04/02/world-wide-factory-activity-by-country-23/



Residential Investment Expenditures Likely to Post a Decline in 2012:Q1

Overall construction spending fell 1.1% in February following a 0.8% drop in the prior month. Both residential and non-residential construction spending are likely to post declines in the first quarter. The non-residential structures component of GDP slipped 0.9% in the fourth quarter, the January-February data of non-residential construction spending (see table below) point to another quarterly drop. The outlook for residential investment expenditures in the GDP report is also negative. Residential investment expenditures rose a solid 11.6% in the fourth quarter. Residential construction outlays fell 0.1% in January and held steady in February, suggesting a possible drop in residential investment expenditures during the first quarter.

The opinions expressed herein are those of the author and do not necessarily represent the views of The Northern Trust Company. The Northern Trust Company does not warrant the accuracy or completeness of information contained herein, such information is subject to change and is not intended to influence your investment decisions.
© 2013 Northern Trust Corporation