Bullish Data Underscore Improving Labor Market Conditions
April 5, 2012
by Asha Bangalore
Initial jobless fell 6,000 to 357,000 during the week ended March 31. The 4-week moving average of initial jobless claims at 361,750 is the lowest since April 2008. The latest reading of initial jobless claims is not too distant from the 25-year median of 345,345. Continuing claims, which lag initial jobless claims by one week, declined 16,000 to 3.354 million. Continuing claims have dropped during six out of the last eight weeks.
Chart 1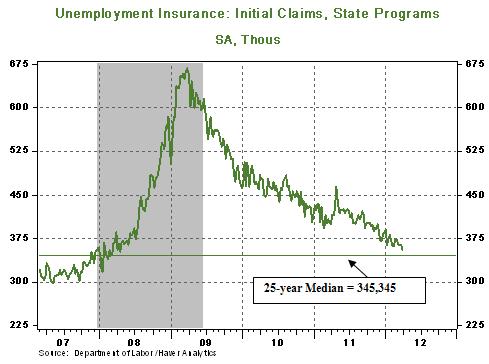 The Challenger report on layoff announcements also points to improving labor market conditions. The seasonally adjusted number of announced layoffs in March was 38,457, the lowest since October 2000, excluding three exceptions in July 2006, February 2010, and January 2011 (see Chart 2).
Chart 2
The March employment report is scheduled for publication tomorrow. Payroll employment is likely to post gains in the neighborhood of 220,000, after an increase of 227,000 in February. The latest 3-month moving average of payroll employment gains is 245,000. The unemployment rate is expected to hold steady at 8.3%.
Chart 3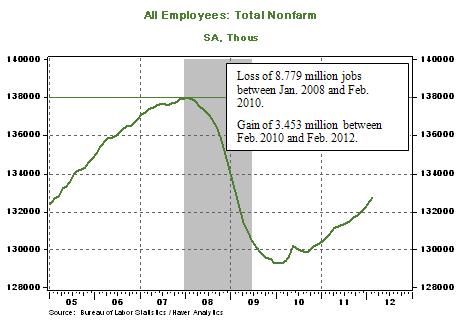 The opinions expressed herein are those of the author and do not necessarily represent the views of The Northern Trust Company. The Northern Trust Company does not warrant the accuracy or completeness of information contained herein, such information is subject to change and is not intended to influence your investment decisions.
© 2013 Northern Trust Corporation