Construction of New Homes – Full Recovery Remains Out of Reach Still
April 17, 2012
by Asha Bangalore
Download PDF Version

Home builders failed to break ground for construction of new homes in March. Housing starts fell 5.8% to an annual rate of 654,000 in March, after a 2.8% drop in February. The March decline is the fourth in the last six months. Construction of multi-family units fell nearly 17%, while that of new single-family units held nearly steady in March, following a 9.1% drop in February. On a regional basis, housing starts rose in the Northeast (+32.8%) and Midwest (+1.0%), held steady in the West and declined 15.9% in the South. On the positive side, starts of single-family units have risen 31% from the trough of March 2009.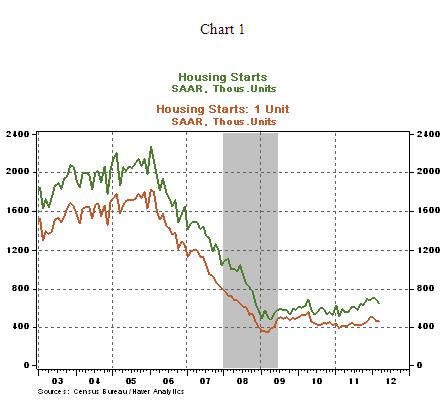 In the first quarter, housing starts rose at an annual rate of 10.5% vs. a 40.8% increase in the fourth quarter (see Chart 2), which implies that residential investment expenditures in the first quarter GDP report would most likely post only a small gain compared with the 11.6% annualized jump in the fourth quarter of 2011.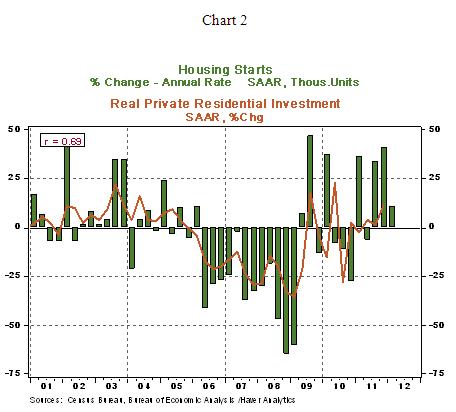 Permits issues for single-family homes slipped to an annual rate of 462,000 in March vs. 479,000 in February but the number of permit extensions for multi-family homes advanced nearly 21%. The overall outlook for home building activity is unimpressive given the large number of unsold homes in the marketplace, particularly foreclosed properties, and soft labor market conditions.


Factory Sector Strengths Wanes in March

Industrial production held steady in March, matching the performance seen in February. However, the mix of data is different in March compared with the details of the February report. Production at the nation's utilities grew 1.5% in March but barely budged in February (+0.1%). Also, factory output dropped 0.2% in March after a 0.8% gain in February.



Auto production (+0.6%) advanced in March, while high-tech output moved up 1.2% following declines in each of the prior two months. Excluding high-tech and autos, factory production slipped 0.4%, the first decline in the past twelve months.


It is not clear if the March report suggests that the factory sector has shifted to a lower gear and warrants close tracking. Manufacturing production is roughly 5.5% below the previous peak after eleven quarters of economic growth.
The opinions expressed herein are those of the author and do not necessarily represent the views of The Northern Trust Company. The Northern Trust Company does not warrant the accuracy or completeness of information contained herein, such information is subject to change and is not intended to influence your investment decisions.
© 2013 Northern Trust Corporation