March Existing Homes - Sales Slip, Prices Stabilize
April 19, 2012
by Asha Bangalore
Sales of all existing homes fell 2.6% to an annual rate of 4.48 million in March. Purchases of single-family existing homes slipped 2.5% in March, after a 0.7% decline in February. Sales of existing single-family homes have dropped in three out of the last six months. The strength in sales of existing single-family homes seen during October and November 2011 and January 2012 is adequate to yield gains in sales on a quarterly basis, albeit small (see Chart 1).
In March, sales of existing homes fell in the Northeast (-2.0%), South (-1.1%), West (-7.4%) but held steady in the Midwest. According to the National Association of Realtors (NAR), 18% of homes sales in March were that of foreclosed properties and short sales made up 11% of sales. The sum of distressed properties as a percent of sales of existing homes stood at 29%. Distressed properties made up 28%-29% of the share of total home sales only on four occasions in the October 2008-March 2012 time span.
The median price of an existing single-family home rose to $163,800 in March vs. $155,600 in the prior month. On a year-to-year basis, the median price of an existing single-family posted the first increase (+1.9%) since July 2006, excluding the price movements when the first-time homebuyer credit program was in place during 2009-2010 (see Chart 3).
Other home price measures for March will be published shortly. At the present time, the Case-Shiller and CoreLogic Home Price Indexes for January and February, respectively, have dropped on a year-to-year basis, but the pace of decline is slowing (see Chart 4). It remains to be seen if these price measures will confirm the message from the NAR report today.
The seasonally inventory-sales ratio of unsold homes in the market moved up slightly to a 6.6-month supply mark in March from a 6.3-month reading in February. Nonetheless, the current number is below the historical median (7.6-month supply) of the inventory-sales ratio (see Chart 5).
Although homes prices are attractive and mortgage rates are at historical lows, demand for homes is constrained by soft employment conditions and tightening of credit conditions. As Chart 6 illustrates, only a small percentage of bankers have eased underwriting standards for mortgage loans, while most bankers have not changed their underwriting standards. At the cost of being repetitive, employment and credit conditions need to turn favorable for a pickup in home sales.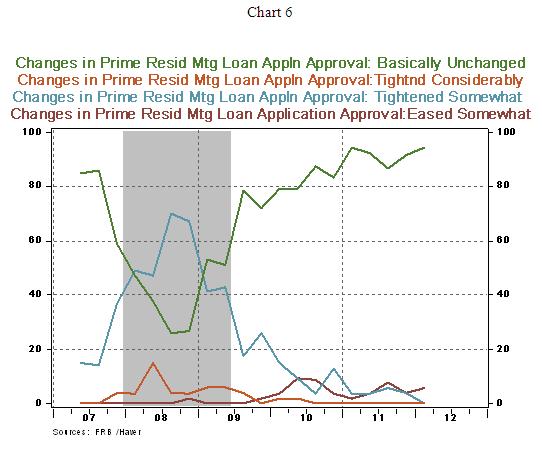 The opinions expressed herein are those of the author and do not necessarily represent the views of The Northern Trust Company. The Northern Trust Company does not warrant the accuracy or completeness of information contained herein, such information is subject to change and is not intended to influence your investment decisions.
© 2013 Northern Trust Corporation