Improving Housing Market?
April 24, 2012
by Asha Bangalore
Download PDF Version

Sales of new homes fell 7.1% in March to an annual rate of 328,000, hold your breath and don't be disappointed. The level of sales would have been much lower if the sales of new homes of February had not been revised to an annual rate of 353,000 from the earlier estimate of 313,000 and January's sales was 318,000 and not 329,000 as the report shows today. Essentially, there were upward revisions of new home sales from December (small upward revision) through February, which has changed the recent trend of new home sales. The 6-month moving average of new home sales has risen to 331,000 in March, up 13.7% from a low of 291,000 in October of 2010 (see Chart 1). So, the good news is there is a small pickup in sales of new homes.
While we are looking at new home sales, it is instructive to peruse data of existing home sales also. Sales of existing homes fell in February (-0.7%%) and March (-2.6%) but increased in January (+5.7%) and raised the quarterly average. The 6-month moving average of existing home sales in March is 4.468 million units, up nearly 15% from a low of 3.888 million units seen in April 2009 (the low of 2010 is excluded because the wide swings were related to the first-time homebuyer credit program (see Chart 2). The main conclusion is that much like the market of new homes, sales of existing homes show a small but noticeable upward trend.
Hopping back to the market for new homes, in March, sales of new homes dropped in the Midwest (-20%) and West (27%) but rose in the Northeast (+7.7%) and South (+3.1%). Inventories of unsold new homes rose to 5.3-month supply during March from a downwardly revised 5.0-month mark in the prior month. The historical median for the inventory-sales ratio is 6.0-months, which implies that the current inventory of unsold new homes is not problematic. The median price of a new single-family home slipped slightly to $234,500 in March from $236,900 during February.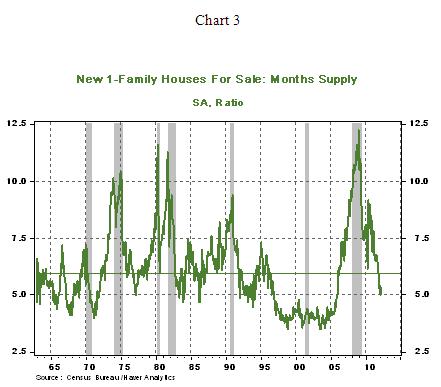 Speaking about home prices, the Case-Shiller Home Price Index for February moved up 0.2%, a rare monthly gain. As shown in Chart 4, the stretch from early 2006 – February 2012 is marked with few monthly gains, with most related to the first-time home buyer program that was in place during most of 2009-2010. But, the Case-Shiller Home Price Index fell 3.5% from a year ago and dampens the enthusiasm related to the monthly increase. The question now is if the February increase is the beginning of a long line of monthly gains in prices of homes. In February, thirteen out of the 20 metro areas posted an increase in the home price index on a monthly basis, but only two metro areas (New York and Miami) show gains from a year ago. It is entirely possible that the February data are a precursor of more positive tidings from the housing market given the recent developments in the labor market. But, it is premature to declare all is clear because home prices are yet to stabilize, let alone posting sustained gains, and home foreclosures and negative equity remain a significant source of concern.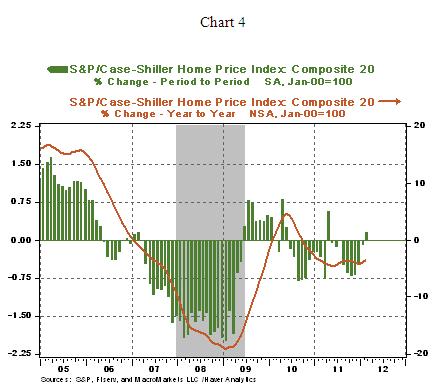 In sum, Chart 5 (quarterly count of home sales and starts) shows that sales of homes are moving up gradually and a mild upward trend of housing starts is also evident. Inventories of unsold homes are not worrisome as they were several months ago and home prices are not in a free falling mode. This brief description of housing market developments should have been better after 11 quarters of economic growth. But, current circumstances are atypical and the turnaround in home sales visible now is noteworthy. Data revisions are possible which could change the current assessment, particularly that of new home sales which are reputed for large revisions.

Consumer Confidence – Virtually Steady, Details Point to a Lower Jobless Rate in April

The Conference Board's Consumer Index at 69.2 in April is not that different from the March reading of 69.5. The Present Situation Index (51.4 vs. 49.9 in March) rose while the Expectations Index (81.5 vs. 82.2 in March) slipped slightly.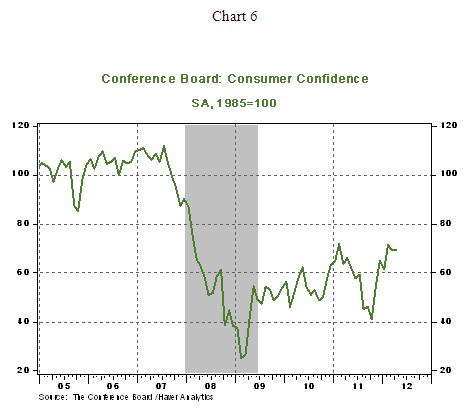 The more interesting aspect of the report is that fewer respondents noted that "jobs were hard to find" in April (37.5%) vs. March (40.7%) and also a small number indicated that "jobs are plentiful" in April (8.4% vs. 9.1%) in March. The net of these two measures (29.1 in April vs. 31.7 in March) has a strong positive correlation with the unemployment rate (see Chart 7). The April reading of this net measure is at the lowest level since November 2008. These data suggest that it should not be surprising to see a lower unemployment rate in April vs. the 8.2% rate reported for March 2012.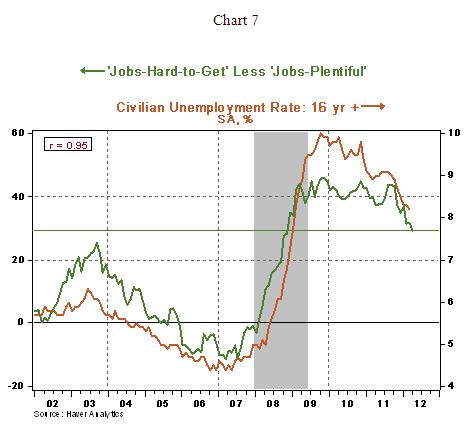 The opinions expressed herein are those of the author and do not necessarily represent the views of The Northern Trust Company. The Northern Trust Company does not warrant the accuracy or completeness of information contained herein, such information is subject to change and is not intended to influence your investment decisions.
© 2013 Northern Trust Corporation