Initial Jobless Claims – Two Steps Forward, One Step Backward?
April 26, 2012
by Asha Bangalore
In the past few weeks, news from the labor market is pointing to less robust hiring than previously thought. Initial jobless claims slipped 1,000 and stand at 388,000 during the week ended April 21, the highest level since November 2011. The four-week moving average has risen to 381,750 from 363,000 during the week ended March 31. Continuing claims, which lag initial jobless claims by one week, increased 3,000 to 3.315 million and have risen 44,000 in the last two weeks. Have job losses increased in the midst of a nearly three year expansion or is it a temporary aberration? It is premature to draw solid conclusions, additional data will be essential to sort this out. However, in light of payrolls posting a 120,000 gain in March vs. a 245,000 average increase seen in the three months ended February, questions about the durability of hiring are legitimate.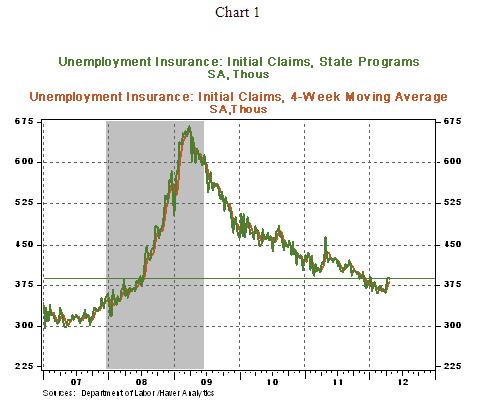 Another Housing Market Indicator Pointing to a Turnaround
The Pending Home Sales Index (PHSI) of the National Association of Realtors increased 4.1% to 101.4 in March, the highest since April 2010. The PHSI reflects contracts not actual closings of sales of existing homes and typically lead actual sales by 1-2 months. The PHSI advanced two months has a strong positive correlation with actual sales of existing homes. Sales of existing homes declined 2.6% in March but advanced 20% in the first quarter. The March jump of the PHSI points to possibly further gains in sales of existing homes in the April-May period.
The opinions expressed herein are those of the author and do not necessarily represent the views of The Northern Trust Company. The Northern Trust Company does not warrant the accuracy or completeness of information contained herein, such information is subject to change and is not intended to influence your investment decisions.
© 2013 Northern Trust Corporation