Thriving Factories in United States and China During April
May 1, 2012
by Asha Bangalore
Download PDF Version

The factory sector performance in China and the United States is in stark contrast to the eurozone that is experiencing a recession. The ISM survey of April shows growth in US factories, with the composite index at 54.8 vs. 53.4 in March. Readings above 50 denote an expansion in factory activity, while numbers below 50.0 stand for a contraction in factory activity. The April mark of the composite index is the highest since June 2011. More importantly, the index tracking new orders increased to 58.2 in April from 54.5 in the prior month. This is the best mark in the past twelve months. The production index moved up to 61.0, the highest since March 2011. The index measuring export orders rose to 59.0 in April from 54.0 in March, another noteworthy aspect of today's report as it is the highest since March 2011.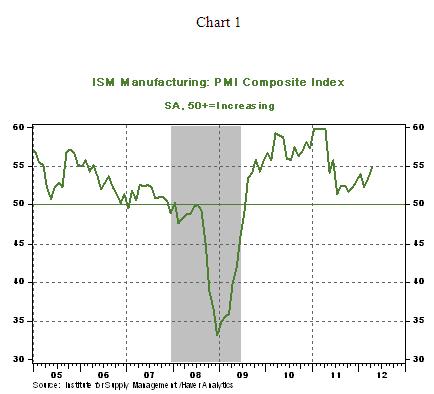 The Purchasing Managers' Index of China increased to 53.3 in April from 53.1 in March, a 13-month high. The index tracking exports of factories in China (52.2 vs. 51.9 in March 2012) also rose to the highest level since March 2011. So, all is well in factories in the United States and China. Today's US factory report justifies the Fed's watch-and-wait stance.

Private Sector Construction Spending Recovered in March

Construction spending increased 0.1% in March, after posting declines in each of the two prior months. Private sector construction spending rose a strong 0.7%, with both residential and non-residential sectors advancing. Residential construction spending was entirely for new construction with outlays for improvements declining. The important question, of course, if the strength in private construction spending seen in March is fleeting or durable.





Auto Sales in April – Virtually Flat

Sales of autos advanced to an annual rate of 14.42 million units in April, up slightly from 14.36 million units in March. This virtually flat reading implies that sales in May and June should be strong to match the 36% annualized increase in auto sales posted in the first quarter. The impressive gain of auto sales in 2011:Q4 (+36%) and 2012 :Q1 (+36%) helped to give a lift to consumer spending in each of these periods.
The opinions expressed herein are those of the author and do not necessarily represent the views of The Northern Trust Company. The Northern Trust Company does not warrant the accuracy or completeness of information contained herein, such information is subject to change and is not intended to influence your investment decisions.
© 2013 Northern Trust Corporation