Will Growth Reaccelerate in Germany Soon?
May 2, 2012
by Asha Bangalore
Download PDF Version

The Purchasing Managers' Index (PMI) of Germany fell to 46.9 in April, which is a nearly three-year low. In other words, Germany, the juggernaut of the region, is experiencing a noticeable setback in factory activity. PMIs of nations have a strong positive relationship with GDP.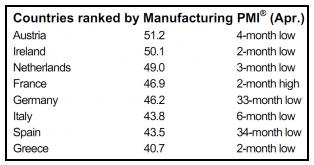 Source: http://ftalphaville.ft.com/blog/2012/05/02/983801/core-infection-and-eurozone-pmis/

The eurozone has recorded a decline in real GDP in the fourth quarter of 2011 (-0.3%). News trickling in suggests that weakness in economic activity in the economic bloc is most likely to prevail in the quarters ahead. The unemployment rate of the euro area is 10.9% in March, up from 9.9% a year ago. By contrast, the jobless rate in Germany has held at 5.6% for five straight months, for now.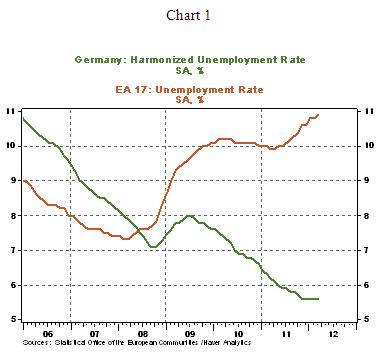 Real GDP of Germany fell 0.2% in the fourth quarter, the first decline since the first quarter of 2009. The April PMI of Germany suggest that economic growth could weaken further. The nature of incoming economic data from the eurozone is disappointing and bodes negatively for Germany because intraregional exports account for a hefty part of German exports. Europe is essentially made up of three geographical parts – eurozone, non-euro EU, and non-EU Europe. These three segments of Europe are recipients of roughly 75% of German exports.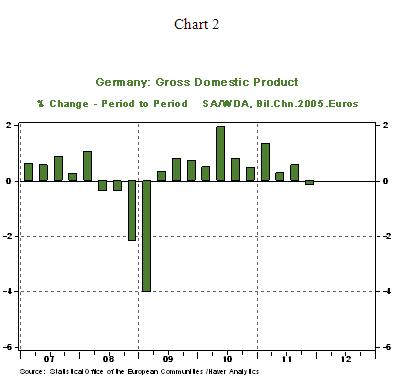 Exports made up a little over 50% of German GDP in the final months of 2011 (see Chart 3). As 75% of total German exports head to customers in Europe, by implication, nearly 38% of German GDP is derived from intraregional exports. If these regional trading partners are facing dire economic straits, is there any doubt how Germany will fare in the near term? Based on this line of reasoning, it should not be surprising to see the German economy face a weakening economic situation in 2012. If this forecast is accurate, the ECB would have to consider an additional round of financial accommodation in 2012. It sounds a bit far-fetched at the moment, but this scenario is entirely conceivable.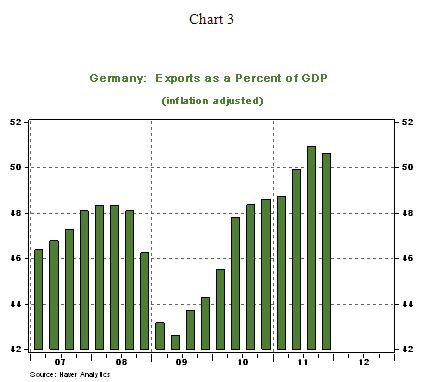 The opinions expressed herein are those of the author and do not necessarily represent the views of The Northern Trust Company. The Northern Trust Company does not warrant the accuracy or completeness of information contained herein, such information is subject to change and is not intended to influence your investment decisions.
© 2013 Northern Trust Corporation