April Employment Situation - Outlook Gets Fuzzy
May 4, 2012
by Asha Bangalore
Civilian Unemployment Rate: 8.1% in April vs. 8.2% in March. The cycle high jobless rate for the recent recession is 10.0%, registered in October 2009.
Payroll Employment: +115,000 jobs in April vs. +154,000 in March. Private sector jobs increased 130,000 after a gain of 166,000 in March. A net gain of 53,000 jobs due to revisions of payroll estimates of February and March.
Private Sector Hourly Earnings: $23.38 in April vs. $23.37 in March; 1.8% y-o-y increase in April vs. 2.0% gain in March.
HIGHLIGHTS OF THE APRIL 2012 EMPLOYMENT SITUATION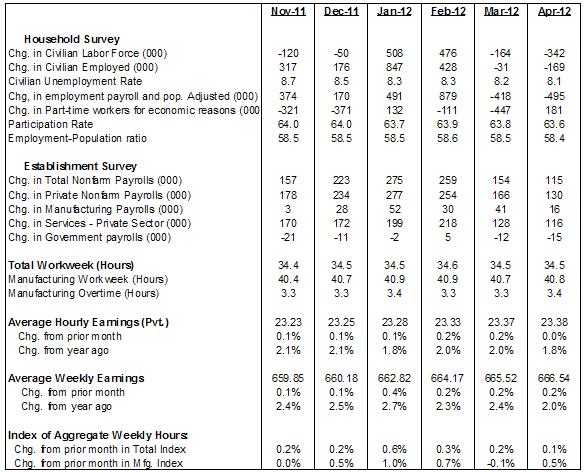 Household Survey – The unemployment rate edged down one notch to 8.1% in April, with the jobless rate posting a reduction of one full percentage point in an eight month period. This is good news, but the details of the April household survey are less rosy. The number of people employed in the United States declined 169,000 during April following a drop of 31,000 in March. People looking for jobs, that is the labor force, fell 342,000. The labor force grew only 0.7% from a year ago and the participation rate dropped to 63.6% during April from 63.8% in March.
Chart 1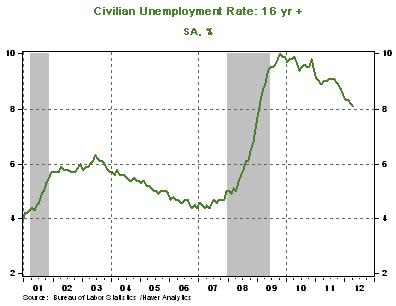 Chart 2
In the last 30 years, the labor force has grown at an average pace of 1.2%, the April reading of 0.7% is nearly half the historical average. Looking for categories that recorded large declines in the labor force, data do not validate the popular belief that baby boomers retiring. The participation rate of those 55 years and over has moved up, not down (see Chart 3)
Chart 3


However, high school graduates without college and those with less than a high school education have left the labor force in noticeable numbers.
Chart 4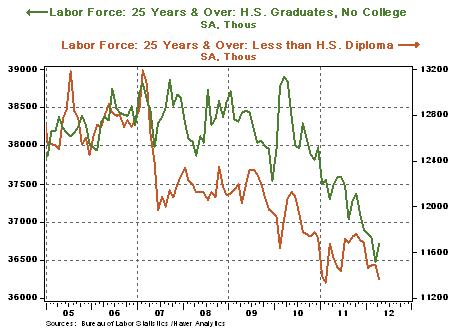 Establishment Survey – Payroll employment increased 115,000 in April, following upward revision to estimates of February and March resulting in a net addition of 53,000 jobs. The three-month moving average of nonfarm payrolls has slowed to 176,000 from 252,000 in February. Private sector payroll employment advanced 130,000 in April vs. a gain of 166,000 in the prior month. From a year ago, payroll employment slowed to a 1.6% year-to-year gain vs. a 2.1% increase in February. Likewise, private sector hiring shows a 1.3% year-to-year increase in April vs. a 1.8% gain in February (see Chart 6)
Chart 5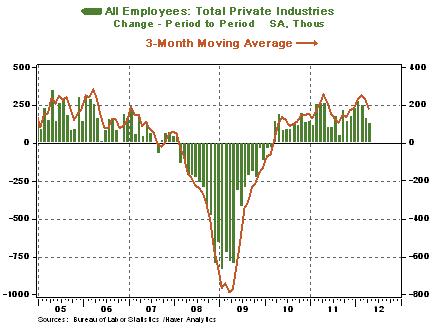 Chart 6


Highlights of changes in payrolls during April 2012:
Construction: -2,000 vs. -3,000 in March
Manufacturing: +16,000 vs. +41,000 in March
Private sector service employment: +130,000 vs. +166,000 in March
Retail employment: +29,000 vs. -21,000 in March
Professional and business services: +62,000 vs. +37,000 in March
Temporary help: +21,100 vs. -9,400 in March
Financial activities: +1,000 vs. +14,000 in March
Health care: +19,000 vs. +25,300 in March
Government: -15,000 vs. -12,000 in March
The recovery of retail sector employment in noteworthy, at the same time health care jobs in the March-April period (+22,150 average gain) vs. January-February (+36,000 average gain) months show an increase but a small deceleration in job growth is in place. Average hourly earnings held steady in April, putting the year-to-year gain at 1.8% compared with a 2.0% increase in March. The earnings and employment numbers suggest a smaller increase in personal income in April vs. the 0.4% gain in March. The strong 0.5% jump in the manufacturing man-hours index points to a robust increase in factory production following a 0.2% reduction in March.
Conclusion – Four business days into the month and economic data send mixed signals and have muddied the outlook of the economy. The composite index of the ISM manufacturing survey presents a bullish picture (54.8 v. 53.4 in March), while the composite ISM non-manufacturing index (53.5 vs. 56.0 in March) shows growth but at a slower pace compared with March. Auto sales in April (14.41 million vs. 14.37 million in March) were virtually steady. The jobless rate moved down because of a reduction in the labor force not because more people were employed, while payroll employment also slowed in April. Initial jobless fell in the latest weekly report to 365,000 after three weekly readings in excess of 385,000. Housing starts and sales of new and existing homes show a small upward trend, based on a six-month moving average. These mixed economic developments leave the Fed on special vigil as Operation Twist expires in June 2012. It is premature to declare that a weak phase of economic activity has commenced but the outlook has been tarnished by the soft April employment data.

The opinions expressed herein are those of the author and do not necessarily represent the views of The Northern Trust Company. The Northern Trust Company does not warrant the accuracy or completeness of information contained herein, such information is subject to change and is not intended to influence your investment decisions.
© 2013 Northern Trust Corporation