U.S. Trade, Initial Jobless Claims – Mixed Signals
May 10, 2012
by Asha Bangalore
The trade deficit widened to $51.83 billion in March from $45.42 billion in the prior month. Exports (+2.9%) and imports (+5.2%) of goods and services both advanced in March, but imports outpaced exports. After adjusting for inflation, the goods trade gap increased to $48.9 billion during March from $44.1 billion in the previous month. A large part of the widening of the trade gap was from the non-petroleum component with oil imports accounting for the relatively smaller share. Capital goods excluding autos (+7.8%), autos (+4.8%), and consumer spending excluding autos (+7.8%) were thelarge components of imports. Exports of capital goods excluding autos rose 2.7% in March. Exports of goods have slowed, while imports of goods moved up somewhat from the past year (see Chart 1). The trade deficit widened vis-à-vis China, Mexico, Japan, Canada, and the euro area. The trade deficit of March could make a small dent to the first quarter estimate of 2.2% growth in real GDP. The downward trend of the growth in exports is indicative of soft economic conditions and suggests that the contribution of exports to GDP is likely to be tepid in 2012.
Initial jobless claims inched down 1,000 to 367,000 during the week ended May. The April hike in initial jobless claims put the 4-week moving average at a recent high of 384,000 and is now being erased gradually. The latest 4-week moving average is 379,000. Continuing claims, which lag initial jobless claims by one week, fell 61,000 to 3.229 million, the lowest since July 2008. Labor market conditions are improving but only at a snail's pace.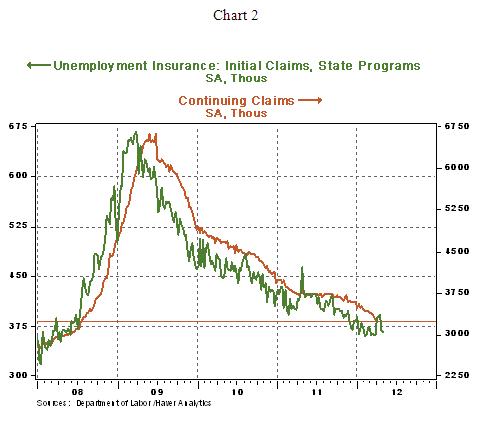 China: Imports and Exports of Goods Post Disappointing Gains
The trade surplus of China increased to $28.1 billion to $22.8 billion in April. However, the growth rate of exports and imports show a setback. Exports grew 4.9% from a year ago in April, down from an 8.9% pace in March. Exports of China rose nearly 21% in 2011 and moved up 14.3% in the fourth quarter of 2011 on a year-to-year basis. The decelerating trend of exports reflects soft economic conditions among China's trading partners. Imports of China have screeched to a halt. Imports rose 0.3% from a year ago in April. On a month-to-month basis, imports fell 7.4% in April, which is the third monthly drop in the first four months of the year. Imports posted a nearly 25% increase in 2011. These numbers place expectations of soft landing of the Chinese economy on shaky ground.
The opinions expressed herein are those of the author and do not necessarily represent the views of The Northern Trust Company. The Northern Trust Company does not warrant the accuracy or completeness of information contained herein, such information is subject to change and is not intended to influence your investment decisions.
© 2013 Northern Trust Corporation