Lower Energy Prices Held Down Wholesale Prices
May 11, 2012
by Asha Bangalore
The US Producer Price Index (PPI) of Finished Goods dropped 0.2% in April after a steady reading in March. The 1.4% drop in the energy price index, with fifty percent of the decline attributable to lower gasoline prices (-1.7%), accounted for holding down the headline number. Food prices advanced 0.2% in April, matching the increase seen in March. The headline PPI increased 1.9% from a year ago in April, which shows a consistent decelerating trend after posting a peak gain of 7.0% in September 2011.
Excluding food and energy, the core PPI of finished goods moved up 0.2% in April. According to the BLS, about 25% of the increase is traced to higher prices for pharmaceutical preparations (+0.4%), while the price index of civilian aircraft also rose 0.3%, and car prices posted a 0.1% increase. The core PPI has increased 2.7% from a year ago, after holding at 3.0% in the November-February period.
Chart 1
At the earlier stages of production, the overall intermediate goods prices index fell 0.5% in April, the first decline since December 2011. The core intermediate goods price index rose 0.2% in April vs. a 0.6% gain in the prior month. The overall trend of intermediate goods prices is moderating from the highs seen in the middle of 2011. The April wholesale price report shows a decelerating trend of wholesale prices and suggests an inflationary threat is not visible and is not the Fed's major concern at the moment.
Chart 2
Producer Price Index – April 2012

In related economic news, the University of Michigan Consumer Sentiment Index shot up to 77.8 in the preliminary May survey, the best reading since January 2008 (see Chart 3). The Current Conditions Index (87.3 vs. 82.9 in April) rose, while the Expectations Index (71.7 vs. 72.3 in April) edged down slightly.

Chart 3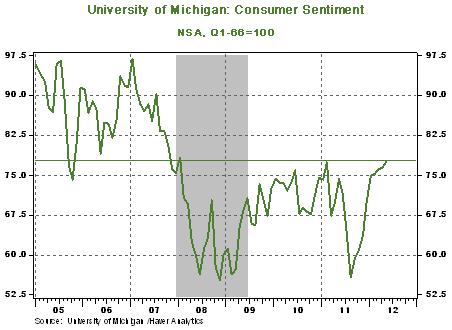 The opinions expressed herein are those of the author and do not necessarily represent the views of The Northern Trust Company. The Northern Trust Company does not warrant the accuracy or completeness of information contained herein, such information is subject to change and is not intended to influence your investment decisions.
© 2013 Northern Trust Corporation