Factory Goods Orders: Soft in April, But Recovering on a Trend Basis
May 24, 2012
by Asha Bangalore
Orders of durable goods increased slightly to 0.2% in April after a 3.7% plunge in the prior month. The 46.6% drop in bookings of civilian aircraft which accounted for the weakness in March bookings of durable goods erased part of the loss with a 7.2% increase in April. General machinery (-2.8%), communications (-16.9%), defense aircraft (-34%), and high-tech (-3.1%) were the categories which posted declines in April. Offsetting these declines were gains in orders of motor vehicle and parts (+5.6%), transportation equipment (+2.1%) and civilian aircraft as noted before. Shipments of all durable goods increased 0.7% but that of non-defense capital goods excluding aircraft, which are inputs for the GDP report, slipped 1.4% in April. Despite the soft tone of the report, shipments and orders of durable goods from a year ago rose faster in April compared with the March readings (see Chart 1).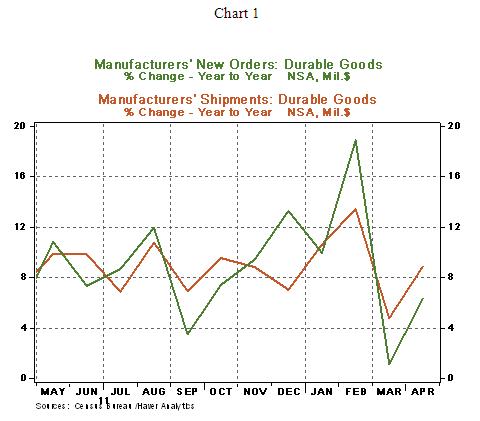 Initial Jobless Claims Have Reversed Part of the April Gain
Initial jobless claims fell 2,000 to 370,000 during the week ended May 19. Continuing claims, which lag initial jobless claims by one week, fell 29,000 to 3.26 million. Initial jobless claims averaged 384,000 in April, which exceeded the March average of 365,000. This uptick in initial jobless claims led to concern about the underlying fundamentals of the labor market. The tally for the first three weeks of May (371,000) removes doubts about the strength of the labor market to some extent.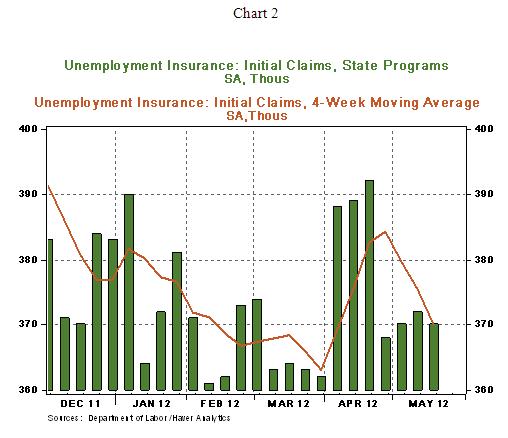 Market Estimates Show a Reduction in Inflation Expectations
Inflation expectations, measured by the difference between the 5-year nominal Treasury note yield and 5-year inflation protected security, stood at 1.80% on May 23, which down from a high of 2.15% on March 14, 2012. Mixed economic reports in the US, economic data with a soft tone from China, India, and Brazil, and the eurozone turmoil are the contributing factors in addition to the drop in oil prices. Brent crude oil quotes were around $105 today versus a high of $128.31 on March 9.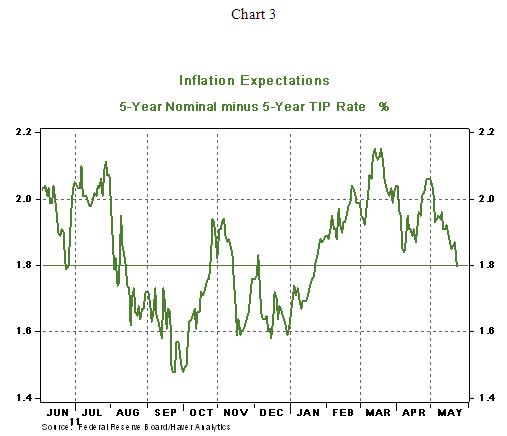 The opinions expressed herein are those of the author and do not necessarily represent the views of The Northern Trust Company. The Northern Trust Company does not warrant the accuracy or completeness of information contained herein, such information is subject to change and is not intended to influence your investment decisions.
© 2013 Northern Trust Corporation