2012:Q1 GDP: Final Sales Moved Up Slightly, While Headline GDP Was Revised Down a Few Notches
May 31, 2012
by Asha Bangalore
Real GDP of the US economy grew at an annual rate of 1.9% in the first quarter of 2012 as per the second estimate vs. a 2.2% increase in the advance report. Final sales in the first quarter are now estimated to have risen at an annual rate of 1.7% compared with the 1.6% increase in the advance estimate after recording a 1.1% annualized gain in the fourth quarter of 2011. Essentially, the final sales number points to an improvement from the fourth quarter.
Gross domestic income (GDI) and gross domestic product (GDP) are two alternate measures of economic activity. Over long periods of time the two measures should be nearly identical but they typically show differences on a quarter-to-quarter basis. The real GDI of the US economy grew at an annual rate of 2.7% in the first quarter, after posting a 2.6% gain in each of the two quarters of the second half of 2011 (see Chart 2).
Rebasing real GDP and real GDI to 100 in the second quarter of 2009 shows that real GDI has grown at a faster pace (+7.8%) compared with real GDP (+6.7%, see Chart 3) during the recovery/expansion period.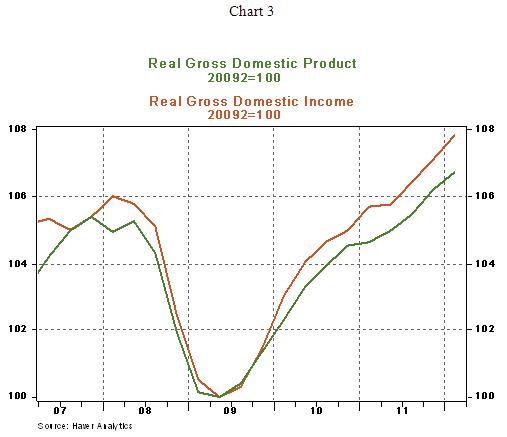 First quarter real GDP data include downward revisions of consumer spending (+2.7% vs. +2.9%), government spending, and inventories which more than offset upward revisions of equipment and software spending, residential investment expenditures, structures, and exports. Imports also show an upward revision, but they represent a drag on GDP growth.
Corporate profits advanced 0.6% in the first quarter after a 0.8% gain in the fourth quarter of 2011, putting the year-to-year gain at 6.5% versus 7.0% jump in the final three months of 2011. After-tax corporate profits slipped 4.1% in the first quarter, the first quarterly decline since 2008.
Going forward, the U.S economy is projected to advance at a moderate pace in the second quarter followed by a stronger performance in the second half of 2012. Tailwinds in the form of bank credit growth remain supportive of forward economic momentum in the US. The Fed's June 19-20 FOMC meeting is expected to end without any change in the current stance of monetary policy.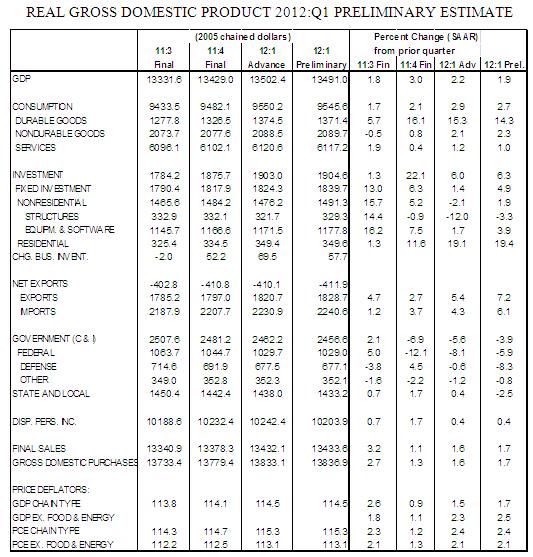 The opinions expressed herein are those of the author and do not necessarily represent the views of The Northern Trust Company. The Northern Trust Company does not warrant the accuracy or completeness of information contained herein, such information is subject to change and is not intended to influence your investment decisions.
© 2013 Northern Trust Corporation