U.S. Exports Take a Noticeable Hit in April
June 8, 2012
by Asha Bangalore
The trade deficit of the U.S. economy narrowed to $50.1 billion in April from $52.6 billion in the prior month. Exports of goods and services fell 0.8%, while imports of goods and services declined 1.7% in April. After adjusting for inflation, exports of goods fell 1.5%, marking the fourth monthly drop in the last six months, while imports of goods dropped 1.6%.

Chart 1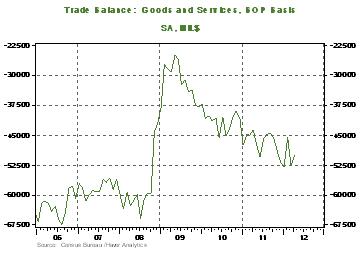 More importantly, U.S. exports to all major destinations show a marked slowing or a decline, with the exception of South America.
Chart 2


Exports to the EU fell 4.7% on a year-to-year basis in April, the first decline since December 2009 (see Chart 3), which is expected given the financial crisis that is underway. The decelerating trend of exports to Canada and Mexico (+4.8% vs. 16.4% in April 2011) is worrisome.
Chart 3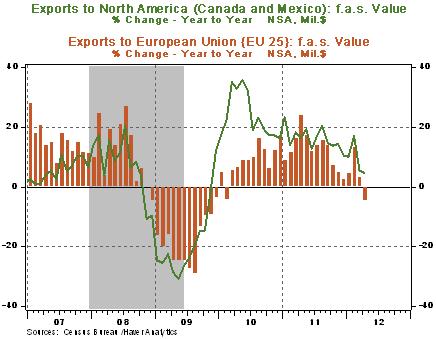 Exports to the Pacific Rim (China, Japan, Taiwan, Australia, Indonesia, etc) grew only 3.0% in April from a year ago compared with double-digit gains in April 2011 (see Chart 4). The slowing trend of exports to this part of the world reflects a weakening of economic conditions. Exports to South and Central America advanced 11.7% in April on a year-to-year basis, the only pocket of strength. The weakness in U.S. exports is one of the aspects, among others, that are likely to trim the pace of economic growth in 2012.
 
Chart 4


International Trade – April 2012
The opinions expressed herein are those of the author and do not necessarily represent the views of The Northern Trust Company. The Northern Trust Company does not warrant the accuracy or completeness of information contained herein, such information is subject to change and is not intended to influence your investment decisions.
© 2013 Northern Trust Corporation