Growth of Federal Government Revenues: Trajectory Remains Disappointing
June 12, 2012
by Asha Bangalore
Download PDF Version

The federal budget deficit widened slightly in the twelve months ended May 2012 ($1.214 trillion vs. $1.147 trillion during twelve months ended April). The growth in federal government revenues maintains a downward trajectory since April 2011 (see Chart 1). The 12-month moving total of federal government revenue advanced only 3.6% from a year ago vs. a 4.6% in the prior 12-month period. At the same time, federal outlays posted a small increase (+0.3%) during the twelve months ended May vs. a 3.1% decline in the prior 12-month period. The persistent decline in the growth rate of revenues will be reversed only if the U.S. economy grows at a faster pace than the recent 1.9% gain in the first quarter.

Small Business Survey – Optimism Index Stalled in May

The National Federation of Independent Business (NFIB) survey of May points to a virtually steady Business Optimism Index at 94.4 versus 94.5 in April (see Chart 2). Of the sub-indexes, the percent of respondents reporting sales as the "single most important problem" moved up slightly to 20% from 19% in April. Also, 6.0% of survey participants during May noted they would increase payrolls compared with 5.0% in April. The results of NFIB survey of May largely present unchanged business conditions.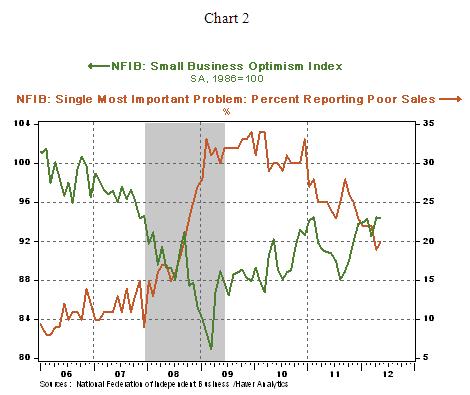 Import Prices Point to the Absence Inflationary Pressures

The import price index dipped 1.0% in May, reflecting largely lower prices for petroleum. On a year-to-year basis, the import price index fell 0.3% in May. Excluding fuel, the import price index slipped 0.2% taking the year-to-year gain to 1.00%. Both price indexes show a marked deceleration of import prices (see Chart 3) from the highs seen in 2011. These numbers allow the Fed to reduce their near term concern about inflation and focus on growth and employment in policy deliberations.
The opinions expressed herein are those of the author and do not necessarily represent the views of The Northern Trust Company. The Northern Trust Company does not warrant the accuracy or completeness of information contained herein, such information is subject to change and is not intended to influence your investment decisions.
© 2013 Northern Trust Corporation