Construction of New Single-Family Homes Improves
June 19, 2012
by Asha Bangalore
Download PDF Version

Housing starts fell 4.8% to an annual rate of 708,000 in May, after a 5.4% increase in the prior month. The headline is misleading because the decline was entirely due to a 21.3% drop in starts of multi-family starts. Construction of new single-family homes advanced 3.2% in May to an annual rate of 516,000, which also marks the third consecutive monthly increase. On a regional basis, ground breaking for new houses fell in the Northeast (-20.3%), Midwest (-13.3%), and South (-6.1%) but advanced in the West (+14.4%). Single-family starts have increased 31% from the low seen in February 2011 (see Chart 1).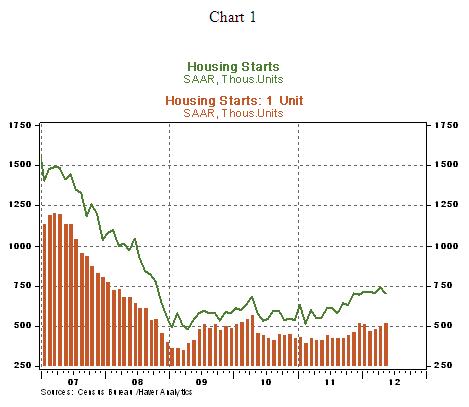 Permit extensions for new multi-family homes rose 15.3% to an annual rate of 286,000 in May compared with an 18.2% drop in April, while permits issued for single-family homes also advanced 4.00% to an annual rate to of 494,000. These numbers are indicative of future growth in construction of new homes. The June19-20 FOMC meeting is currently underway; we continue to hold that the call is close and most likely the Fed will stand by until the situation stabilizes in Euroland. Alternatively, the Fed may take action if financial markets become unstable.
The opinions expressed herein are those of the author and do not necessarily represent the views of The Northern Trust Company. The Northern Trust Company does not warrant the accuracy or completeness of information contained herein, such information is subject to change and is not intended to influence your investment decisions.
© 2013 Northern Trust Corporation