New Home Sales – Headline and Details Remain Encouraging
June 25, 2012
by Asha Bangalore
Sales of new single-family homes rose 7.6% to an annual rate of 369,000 units, after a nearly steady reading in April. Regionally, sales of new homes fell in the Midwest (-10.6%) and West (-3.5%), while they moved up in the Northeast (+36.7%) and South (+12.7%).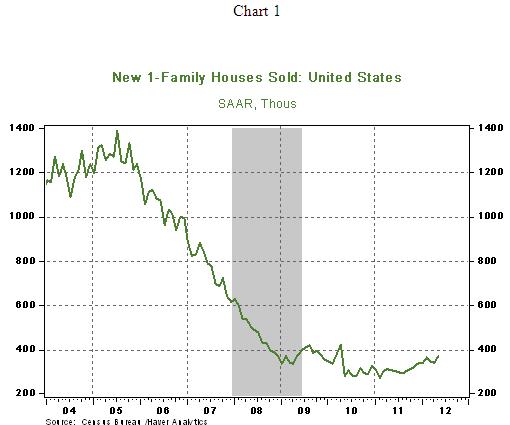 The median price of a new single-family home fell 0.6% to $234,500 in May from the prior month's reading, marking the third consecutive monthly decline. However, on a year-to-year basis, the median price of a new single-family home posted a 5.6% increase, the fourth straight monthly gain.
The May report shows that it takes a shorter period of time to sell a new single-family home (7.9 months) in the past three months compared with the situation a year ago (9.2 months).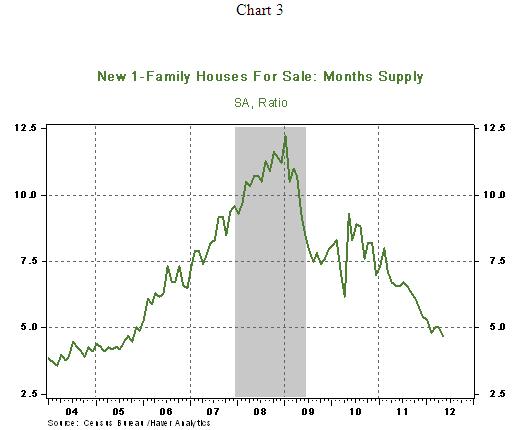 The number of homes for sale has dropped to a 4.7month supply mark from a 6.6 months' supply in May 2011. The May reading of the inventory-sales ratio is significantly below the historical mean of 6.2-months (see Chart 4). Essentially, there is a small supply of new homes in marketplace at the present time.
The six-month moving average of sales of new and existing homes has increased 6.0% to 4.852 million units from the December tally of 4.578 million units (see Chart 5) but the pace of gains is small enough for the Fed to depict the housing sector as "depressed" in its June 20 policy statement. At the cost of being repetitive, labor market conditions have to show robust improvements for the housing sector to gather noticeable momentum.
The opinions expressed herein are those of the author and do not necessarily represent the views of The Northern Trust Company. The Northern Trust Company does not warrant the accuracy or completeness of information contained herein, such information is subject to change and is not intended to influence your investment decisions.
© 2013 Northern Trust Corporation