Reacceleration of US Consumer Spending is Key to 2012:H2 Performance
June 29, 2012
by Asha Bangalore
Real consumer spending grew only 0.1% in May after a similar gain in April. Purchases of durables fell 0.4% in May, marking the third straight monthly decline. The 3-month annualized decline in durables, at 8.1%, stands out (see Chart 1). Spending on non-durables (+0.3%) and services (+0.2%) moved up. As a result of the weakness in spending on durable goods, overall consumer spending in the three months ended May has slowed to an annual rate of 0.4%, the smallest increase since June 2011 (see Chart 2). The soft trend of consumer spending is new evidence supportive of the Fed's current monetary policy stance.

Chart 1


Chart 2

The May report contained goods news in terms of real disposable income, which increased 0.3%, putting the year-to-year gain at 1.1%. This is an impressive improvement from the worrisome trend of real disposable income seen in recent months (see Chart 3), which has been the underpinning of a great deal of concern pertaining to the lack of support for consumer spending. Although a single data point is inadequate, the May reading of real disposable income is a positive sign.

Chart 3

At the same time, personal income in nominal terms rose 0.2% in May and the saving rate as a percentage of disposable personal income also moved up to 3.9% after holding at 3.7% for two months.

Chart 4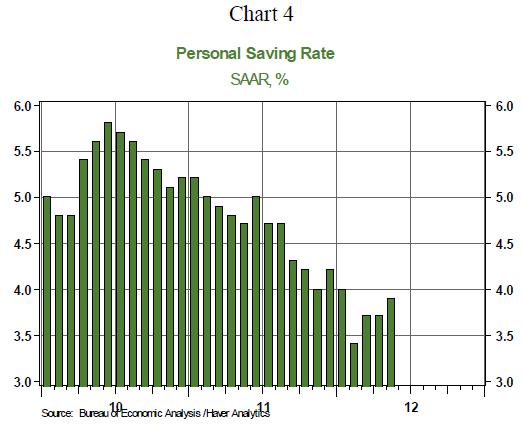 The personal consumption expenditure price index declined 0.2% in May after holding steady in April largely due to lower prices for gasoline. The core personal consumption expenditure price index increased 0.1% in May, matching the increase seen April. Both of these price gauges show a decelerating trend of inflation (see Chart 5) and are below the 2.0% target of the Fed, which gives the Fed wiggle room to focus on policies that are suitable for promoting growth and employment.
Chart 5

EU Private Sector Lending Has to Reverse Trend, Summit Announcements Are Important But Insufficient
The two-day EU summit ended with several key announcements, one of which is the recapitalization of the Spanish banks, allowing Spain to exclude the cost of this operation from the tally of its sovereign debt. But, this will occur only after a single system-wide bank supervisor is set up in place of the current 17 different supervisors. Italy also obtained aid under significantly less stringent conditions compared with Greece. As a result of these key developments, borrowing costs of Italy and Spain declined. The outcome of the summit is largely positive but in terms of economic developments, markets will be watching if these measures will eventually translate into a pickup in private sector lending in the eurozone. Today's report on lending to the private sector in the eurozone shows that lending to the private sector declined 0.2% from a year ago, the first negative reading since January 2010 (see Chart 6). The European Central Bank's provisions of funds of one trillion euros since December 2011 through the Longer Term Refinancing Program has only eased funding issues in the banking system but is yet to revive lending. A robust economic recovery in Euroland is unlikely until there is a turnaround in lending to the private sector.
Chart 6

The opinions expressed herein are those of the author and do not necessarily represent the views of The Northern Trust Company. The Northern Trust Company does not warrant the accuracy or completeness of information contained herein, such information is subject to change and is not intended to influence your investment decisions.
© 2013 Northern Trust Corporation