June Employment Report – Labor Market is Standing Still, the Case of FOMC Doves is Strengthening
July 6, 2012
by Asha Bangalore
Civilian Unemployment Rate: 8.2% in June, unchanged from May. Cycle-high jobless rate for the recent recession is 10.0%, registered in October 2009.

Payroll Employment: +80,000 jobs in June vs. +77,000 in May. Private sector jobs increased 84,000 after a gain of 105,000 in May. A net loss of 1,000 jobs due to revisions of non-farm payroll estimates of April and May.

Private Sector Hourly Earnings: $23.50 in June vs. $23.44 in May; 2.0% y-o-y increase in June vs. 1.8% gain in May.
HIGHLIGHTS OF THE JUNE 2012 EMPLOYMENT SITUATION


Household Survey – The civilian unemployment rate held steady at 8.2% in June. The labor force grew at a slower pace in June (+156,000) vs. May (+624,000). The participation rate was unchanged at 63.8% in June. The broader measure of unemployment, which includes those marginally attached to the labor force, moved up slightly to 9.7% in June from 9.6% in May. Essentially, the household survey suggests there was no perceptible change in labor market conditions during June.
Chart 1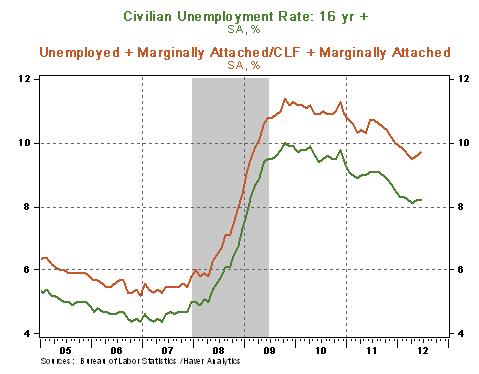 Establishment Survey – Nonfarm payrolls increased 80,000 in June, after a revised gain of 77,000 in May. There were small revisions to earlier estimates of April and May payrolls resulting in a loss of 1,000 jobs. In the second quarter, payroll employment increased 75,000, on average compared with a jump of 226,000 in the first quarter. These numbers suggest that the justification of seasonal distortions accounting for soft hiring trends is losing ground.
 

Chart 2


Highlights of changes in payrolls during June 2012:

Construction: +2,000 vs. -35,000 in May
Manufacturing: +11,000 vs. +9,000 in May
Private sector service employment: +84,000 vs. +105,000 in May
Retail employment: -5,000 vs. +2,000 in May
Professional and business services: +47,000 vs. +24,000 in May
Temporary help: +25,200 vs. +18,600 in May
Financial activities: +5,000 vs. +9,000 in May
Health care: +13,000 vs. +33,300 in May
Government: -4,000 vs. -28,000 in May

Factory employment continues to advance but the pace of hiring in the second quarter slowed to 10,000 new positions from 41,000 in the first quarter. The increase in professional and business service employment reflects to a large extent a gain in temporary hiring. Health care employment edged up, while employment in the retail sector and government declined during June.

The bright spot in the June employment report is the longer workweek and an increase in earnings. The factory man-hours index increased 0.2% and is supportive of a moderate gain in factory production in June after a 0.4% drop in May. The weekly earnings numbers and employment numbers suggest a slightly higher increase in personal income during June compared with the 0.19% gain posted in May.

Conclusion – The headline and details of the June employment report suggest nearly stable employment conditions. In other words, there was no deterioration in firms hiring or a robust improvement. Therefore, questions about the underlying momentum of the labor market remain unsettled.

Other recent economic reports present a mixed picture. Initial jobless claims are declining once again (374,000 vs. 388,000), auto sales increased in June (14.1 million units vs. 13.8 million units in May), the May housing numbers have not been entirely gloomy (sales of new homes moved up, single-family housing starts advanced, the Pending Home Sales Index of May rose, and home prices posted year-to-year gains in May), and private residential and non-residential construction outlays show noticeable strength in the April-May period. At the same time, the ISM manufacturing composite index fell below the critical mark of 50 denoting a contraction of factory activity in June (49.7 vs. 53.5 in May), with indexes tracking new orders and exports showing worrisome losses. Retail sales excluding autos, gasoline, and building materials rose only 0.1% in April and May, implying tepid growth in consumer spending in the second quarter after a 2.5% annualized increase in the first quarter. Going forward, headwinds from the protracted sovereign debt crisis in Europe and slowing economic conditions in Asia present challenges for economic growth in the United States.

Pulling these diverse economic strands together, the Fed's current bias toward easing of monetary policy will continue to remain in place without a doubt. The odds of a third round of quantitative easing in the months ahead continue to move up; Bernanke's testimony of July 17 should offer additional insights about the timing of new monetary policy support.
 

Change in nonfarm payrolls from prior month ('000s)
The opinions expressed herein are those of the author and do not necessarily represent the views of The Northern Trust Company. The Northern Trust Company does not warrant the accuracy or completeness of information contained herein, such information is subject to change and is not intended to influence your investment decisions.
© 2013 Northern Trust Corporation