Wholesale Prices Reversed Part of Recent Decline
July 13, 2012
by Asha Bangalore
The Producer Price Index (PPI) of Finished Goods moved up 0.1% in June, following a string of three monthly declines. The energy price index fell 0.9% in June vs. a 4.3% decline in May. Wholesale gasoline and natural gas prices moved up in June but residential electricity costs declined and provided a large enough offset to bring down the overall finished energy price index. The 0.5% increase in food prices was one of the culprits for a gain in the headline index.
Chart 1


The core PPI, which excludes food and energy, increased 0.2% in June to mark the fourth consecutive monthly increase. According to the BLS, the 1.4% increase in the price of light trucks accounts for 70% of the increase in the core PPI in June. On a year-to-year basis, the core PPI has hovered in the 2.0-2.3% range for four straight months. This aspect is not too worrisome because of the weak pass-through of wholesale core prices to retail consumer prices (see Chart 2). The Fed's preferred inflation measures are the personal consumption expenditure (PCE) price index and the core personal consumption expenditure price index; both of these price gauges show contained readings below the Fed's target of 2.0%.

Chart 2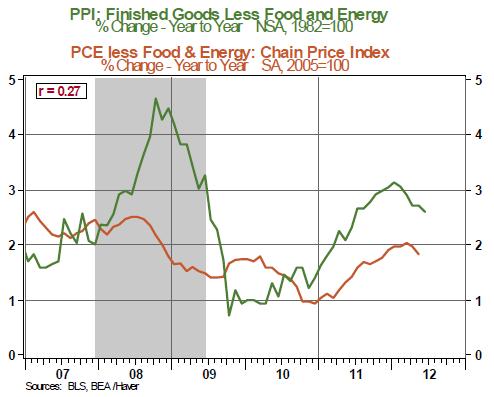 Producer Price Index – June 2012
China: Economic Growth Slows in 2012:Q2
Real GDP for China slowed to a 7.6% pace from a year ago in the second quarter compared with an 8.1% increase in the first quarter. The latest read on GDP growth in China is the slowest since the first quarter of 2009 not only on a year-to-year basis but also on a quarterly basis (See Chart 3), with the second quarter gain at 6.4%.
 
Chart 3


The two important questions are: (1) Do Chinese policy makers have room for policy accommodation? (2) What is the global impact of the recent trend?
The important advantage of China is that the authorities have ample wiggle room to manage policy. Inflation is trending down after the aggressive monetary policy actions of 2010 and 2011 and has allowed the People's Bank of China to lower reserve requirements and cut the policy rate twice in the a short span of time in June and July 2012.
Chart 4


With respect to the second question, if the decelerating trend of China's imports persists, it would portend setbacks to growth among its trading partners.
Chart 5

The opinions expressed herein are those of the author and do not necessarily represent the views of The Northern Trust Company. The Northern Trust Company does not warrant the accuracy or completeness of information contained herein, such information is subject to change and is not intended to influence your investment decisions.
© 2013 Northern Trust Corporation