Housing: Not So Fast
July 19, 2012
by Carl R. Tannenbaum
We're all rooting for recovery in the housing sector. A recent visit to Zillow revealed that the value of our home has declined so far that I'll need to work until 85 to make up the lost equity.
Our hopes lead us to greet any recent sign of housing progress, no matter how modest, with enthusiasm. Unfortunately, it might be best to curb that enthusiasm for now. The optimism generated in some corners by yesterday's report on housing starts was dashed a bit earlier today by the reading on existing home sales, which dropped to their lowest level in eight months. Viewed over a longer window, activity is not too far above the lows seen at the depth of the financial crisis.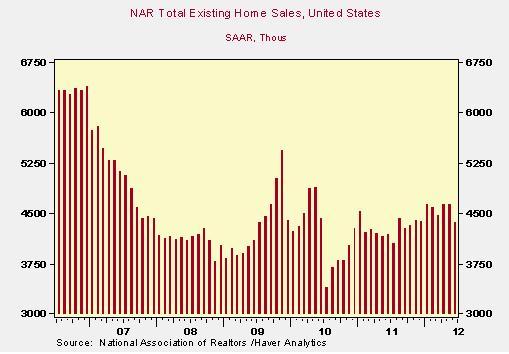 This malaise has endured in spite of considerable stimulus aimed at the housing sector. Most prominently, the Fed's large scale asset purchases have brought mortgage rates down to all-time lows. This is reflected in "affordability" measures that make home purchases seem especially accessible. Unfortunately, prospective home buyers often lack down payments sufficient to meet today's underwriting standards, and those who have the means continue to wait for even better values.
There are anecdotes of houses in some markets selling quickly, and for decent prices. But broadly speaking, it's unlikely that housing will be the contributor to recovery that it has traditionally been. That's bad news for those of us who base our sense of financial well-being on Zillow.
The opinions expressed herein are those of the author and do not necessarily represent the views of The Northern Trust Company. The Northern Trust Company does not warrant the accuracy or completeness of information contained herein, such information is subject to change and is not intended to influence your investment decisions.
© 2013 Northern Trust Corporation