Fed Fails to Offer Stimulus, But Assures Support if Necessary
August 1, 2012
by Asha Bangalore
Download PDF Version

The two-day FOMC meeting concluded without any change in monetary policy. Expectations had ranged from a possible change in language to extend the exceptionally low interest rate period to 2015 from the current late 2014 stipulation to a reduction in interest on excess reserves or another round of purchases of long term assets. Hopes were not entirely dashed as the Fed expressed a strong willingness to provide monetary policy support if economic conditions weaken. The Fed's message runs as follows:
"The Committee will closely monitor incoming information on economic and financial developments and will provide additional accommodation as needed to promote a stronger economic recovery and sustained improvement in labor market conditions in a context of price stability."
The easing bias in today's policy statement is new and strengthens expectations of Fed action at the September 12-13 FOMC meeting. Bernanke could use the Jackson Hole summit to prepare markets, provided economic numbers call for new monetary policy action.
Speaking about economic data, the July ISM survey results were disappointing. The composite index held below 50.0 for the second straight month. Readings below 50.0 denote a contraction in activity. The July Purchasing Managers' Index (PMI) at 49.8 in July following a 49.7 mark in June is sending worrisome signals. The index measuring new orders (48.0 vs. 47.8 in June) remained below 50 as did that of new export orders (46.5 vs. 47.5 in June).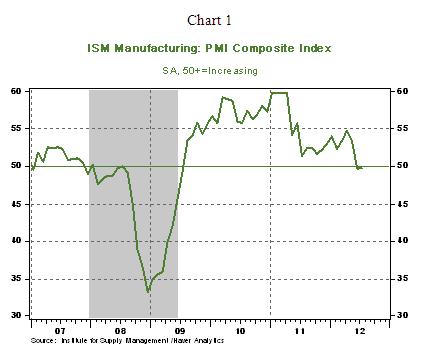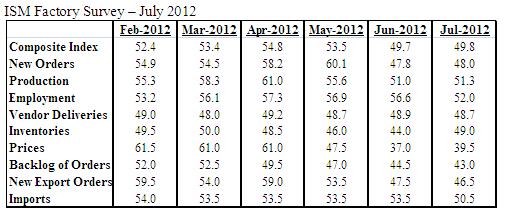 The decline in auto sales during July to 14.08 million units from 14.4 million units in June is another piece of not very bullish economic information. A small consolation is that the July auto sales tally is close to the second quarter average (14.15 million units). Employment numbers will be published on August 3. If the July payroll employment number is under 100,000 and the unemployment rate is either steady or advances, the case for Fed action at the September FOMC meeting would be stronger than it is today.
The opinions expressed herein are those of the author and do not necessarily represent the views of The Northern Trust Company. The Northern Trust Company does not warrant the accuracy or completeness of information contained herein, such information is subject to change and is not intended to influence your investment decisions.
© 2013 Northern Trust Corporation