Employment: Quality Matters
August 13, 2012
by Carl R Tannenbaum
I typically don't like to talk about economics at social gatherings, since that's all I do during the week. But this weekend's announcement of Paul Ryan as the Republican nominee for Vice President piqued the interest of family and friends. Things went way over the line, though, when a cousin asked about the fiscal cliff during the baptism of my newest niece. Couldn't we focus on how cute that little girl is for a little while before worrying about how we're going to cover her medical care when she retires?
Ryan and Mitt Romney appeared later that evening on 60 Minutes, offering a critique of our economic performance since 2009. Among the areas they expressed concern about was employment.
Interestingly, payrolls today are at almost exactly the same level as they were when President Obama took office. But that surface observation obscures the fact that we lost about 4 million jobs from the beginning of 2009 to the beginning of 2010, and regained them in the two years since. Depending on your perspective, that could be interpreted as stagnation or progress.
Also obscured by the aggregates is the shifting composition of employment. Some sectors have rebounded fairly well, while for others, cyclical change may have prompted more permanent shifts.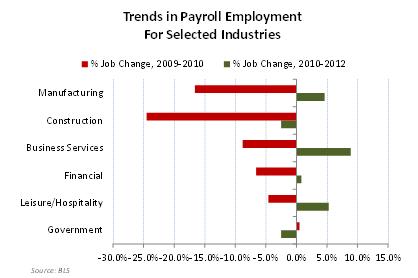 A client recently asked if there were sectors where there might be a long wait to regain former levels of employment. Three of them stand out in the chart. Construction will remain slow as we work though a substantial inventory of residential and office property. The financial services industry, a huge engine of job creation over the past generation, is in the midst of a retrenchment that could last for some time. And government employment is under tremendous pressure as legislators attempt to address budget shortfalls at the national and local levels.
These shifts are important because of their implications for transition times (some carpenters and investment bankers may need to be retrained) and because of their implications for personal income. Some of the employment categories that are growing more strongly carry lower wages than those which are shrinking.
As politicians debate who deserves blame or credit for these developments, the Federal Reserve is looking for ways to promote maximum sustainable employment. Considering both the quality and quantity of job creation may lead them to implement additional stimulus at their next meeting, especially since Congress is unlikely to do so for the foreseeable future.
The opinions expressed herein are those of the author and do not necessarily represent the views of The Northern Trust Company. The Northern Trust Company does not warrant the accuracy or completeness of information contained herein, such information is subject to change and is not intended to influence your investment decisions.
© 2013 Northern Trust Corporation