Housing Starts - Take Note of Composition
August 16, 2012
by Asha Bangalore
Housing starts fell 1.1% during July to an annual rate of 746,000. This level is about 56% above the low (478,000) registered in April 2009. In July, new home building activity advanced in the multi-family sector (+12.4%) but declined in the single-family sector (-6.5%). Despite these mixed numbers, as Chart 1 indicates, there is a steady but small upward trend of total housing starts in place, with most of the gain occurring since early-2011.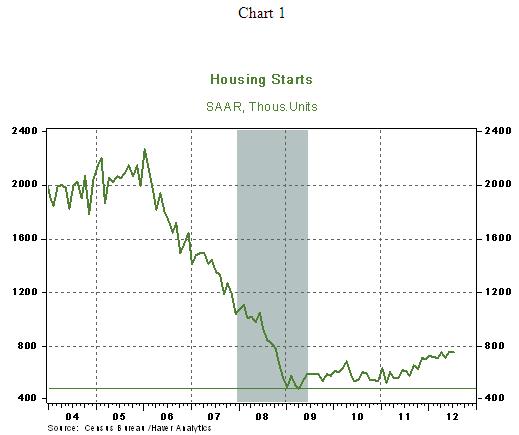 It is more interesting to examine the composition of housing starts because it gives clues as to which sector has done the heavy lifting. Single-family starts, which make up the bulk of total housing starts, have moved up roughly 42% through July (502,000) from a low of 353,000 established in March 2009 compared with a hefty 321% jump in starts of multi-family units from the cycle low of 58,000 seen in October 2009.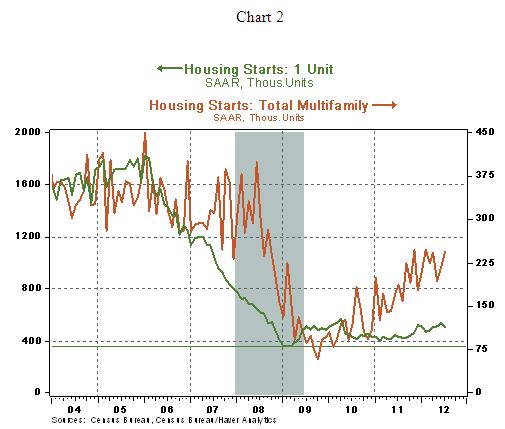 The concentration of home building activity in the multi-family sector is explained by incentives. Rental demand for living has increased in the face of a weak labor market recovery and tight mortgage credit conditions and resulted in rising rents. In lieu of better measures of rent, rental costs from the Consumer Price Index report show an accelerating trend that exceeds the increase reported for owners' equivalent rent (see Chart 3).
Looking ahead, permit extensions for construction of new single-family homes rose 4.5%, while that of multi-family units rose 11.2%. These data suggest that new home construction activity should show an improvement in the near term.
Jobless Claims - Update
Initial jobless claims rose slightly (+2,000) to 366,000 during the week ended August 11. Distortions from summer auto plant shutdowns are in the past now, with the level of initial jobless claims now standing close to the levels posted in the early part of the year.
Continuing claims, which lag initial jobless claims by one week, fell 31,000 to 3.305 million; they have remained nearly flat since March 2012. While the level of initial and continuing claims for unemployment insurance has declined to levels last seen in the early phase of the recession, this trend seems somewhat at odds with the lingering high rate of unemployment. One element which might reconcile these two trends is the end of benefit eligibility for the long-term unemployed; we're looking into the influence that this phenomenon has had on recent claims data
The opinions expressed herein are those of the author and do not necessarily represent the views of The Northern Trust Company. The Northern Trust Company does not warrant the accuracy or completeness of information contained herein, such information is subject to change and is not intended to influence your investment decisions.
© 2013 Northern Trust Corporation