Home Prices and Consumer Confidence Data Cast the US Economy in Positive Light, For Now
September 25, 2012
by Asha Bangalore
Download PDF Version

The Case-Shiller Home Price Index (HPI) of 20 metro areas rose 0.4% in July, marking the sixth consecutive monthly increase. An alternate price measure such as the CoreLogic Home Price Index shows almost a similar trend. However, it should be noted that these gains are occurring from extraordinarily low levels (see chart below) and the underlying trend is one of slight deceleration, which reduces the optimism rendered by the headline, somewhat.


From the details of the report, the Case-Shiller HPI fell only in Atlanta, Chicago, Las Vegas, and New York when considering the year-to-year change in the index, with the remaining sixteen metros posting year-to-year gains. The general tone of the July home price report is encouraging despite the absence of strong readings.
In related economic news, the Conference Board's Consumer Confidence Index increased nine points to 70.3 in September. Indexes tracking the present situation (50.2 vs. 46.5 in August) and expectations (83.7 vs. 71.1 in August) moved up in September. The optimistic outlook of households displayed in September survey results is the best since February 2012. Respondents upgraded their assessment of the labor market situation. In their opinion, "jobs were more plentiful" in September (8.3 v. 7.2 in August), while fewer reported that "jobs were hard to get"(39.9 vs. 40.6 in August). The net of these two indexes narrowed in September (31.6 vs. 33.4 in February). Typically, a narrowing of the net of these two indexes is associated with a lower jobless rate. This prediction will be validated or refuted when the September employment report is published on October 5.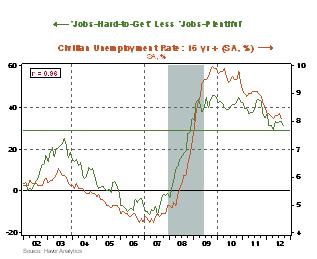 Buried in the details of the consumer survey is the answer to the following question: Do you have plans to purchase a house in the next six months? Five percent responded in the affirmative to this question in September, the 6-month average of responses to this survey question suggests that households are gradually stepping into the housing market. Homes are highly affordable and that is encouraging prospective buyers to make the hard decision to purchase a home.
We're certainly not anywhere close to the energy we had in the housing sector six years ago. But it is slowly returning to health.
The opinions expressed herein are those of the author and do not necessarily represent the views of The Northern Trust Company. The Northern Trust Company does not warrant the accuracy or completeness of information contained herein, such information is subject to change and is not intended to influence your investment decisions.
© 2013 Northern Trust Corporation