U.S. corporate earnings are in the middle of a "recession" – but how big of a problem is that?

Stock market investors take it as gospel that stocks follow earnings, and there is considerable effort expended by brokerage firms and the financial press to analyze quarterly earnings reports from public companies. However, our experience over the years has been that this effort isn't always fruitful at the macro level – the near-term performance of earnings seems to have little forecasting value over the next year's market returns. While its predictive value improves modestly when you extend your horizon to five years, the long-term importance of earnings to stock prices remains undisputed. The greater than 50% drop in energy prices over the last nine months has led to a slashing of energy company earnings estimates, leading to an "earnings recession" in the United States (defined as two or more quarters of declining earnings). How unusual is this – and what does it mean for stock prices? Also, what is the outlook for earnings over the next year or two? Will growth be sufficient to keep investors' interest in stocks? Our research indicates that earnings recessions that occur outside of economic recessions (which have been just under 40% of the occurrences over the last 80 years) have led to increased volatility but continued positive stock market returns.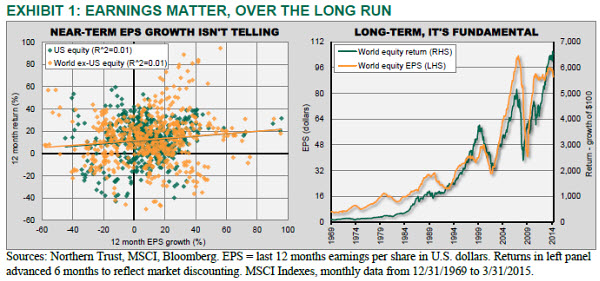 Our analysis of the relationship between earnings growth and stock prices shows a consistent message globally – there is no discernable relationship between earnings growth and one-year stock price movement. We calculated an R-squared of 0.014 for both U.S. and World ex-U.S. equities when regressed against stock prices (we advanced stock prices by six months to capture the market discounting mechanism). This R-squared increased modestly to 0.099 when we increased the study period to five years, but even this isn't very predictive. The bottom line: it is the interplay of many factors (such as investor sentiment, monetary policy, inflation, broader economic growth, etc.) that affects stock market returns in addition to the earnings outlook. However, this hasn't quieted the concerns over the current "earnings recession" in the United States and the potential that this portends problems for the stock market.

We have quarterly earnings data for the U.S. market going back to 1936, so we focused our study on this region (our experience has been that investor behavior tends to be similar across most markets). We defined an earnings recession as two consecutive quarters of declining earnings. A recent article in Bloomberg News caught our eye when they stated that an earnings recession of three quarters or longer has triggered a bear market 82% of the time over the last eighty years – now that is a little worrisome! However, to better understand the phenomenon, we looked at the data from a different perspective – whether the earnings recession occurred alongside an economic recession (a "double" recession) or during a continued economic expansion. It's our theory that the earnings shortfall in the latter case would be viewed as temporary and would therefore be of less concern to the market. Happily, the data bears this out. We determined that there have been 21 earnings recessions in the United States since 1936. As shown in Exhibit 2, the stock market reacted poorly to the "double" recessions (falling an annualized 12.8% in the six months leading up to the earnings recession) while the market looked past the other earnings recessions.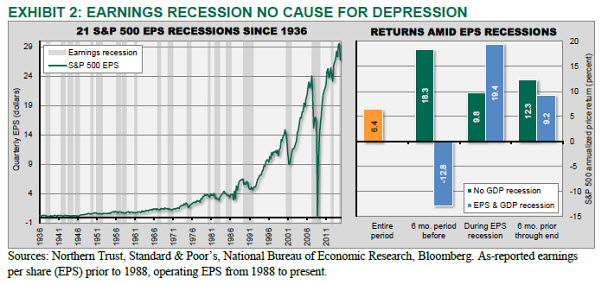 The median return in the six months ahead of an earnings recession in a continuing economic expansion was 18.3%. In our current earnings recession, the comparable figure is a positive 11% – indicating the market isn't overly concerned we are headed into recession. Stocks actually have had strong performance during the double recessions, jumping 19.4%, as investors react to likely easier monetary policy and begin discounting an eventual economic recovery.

The nature of the economy and markets has matured over time, so we tend to put a heavier weighting on more recent experience. Since 1976, we have had three periods of falling earnings outside of a recession, although only two (1986 and 2012) lasted for two or more quarters. The third period was an earnings dip of 5% in the third quarter of 1998. Volatility in the market during these periods was elevated, with corrections of 10% or greater each time. In addition, these periods included material weakness in oil prices, with peak price declines ranging from 29% to 58% during the year. Despite these challenges, the full year stock market returns of 15% in 1986, 29% in 1998 and 16% in 2012 show that these earnings dips proved to be temporary affairs. The promise of easier monetary policy has historically provided a cushion to markets during these periods, but that cushion is currently pretty thin this cycle in the United States as the Fed has limited tools that remain unused. That meaningfully increases the criticality of a continuation of the U.S. economic expansion. As we believe the United States is in a slow – but durable – economic expansion, the historic data bolsters the case for staying the course with equities.

Turning to the outlook for earnings, we have been cutting our earnings estimates since late 2014 due to the fall in energy prices, and to a lesser extent, the strength of the U.S. dollar. Reflecting the globalization of the economy and revenue streams of publicly traded companies, the correlation of earnings between the United States and Europe has been relatively high (see Exhibit 3) in recent times. The correlation between U.S. and European earnings steadily increased during the long expansions of the '90s and last decade. Though all U.S. domiciled, S&P 500 companies earn approximately 35% of their revenues outside the United States; while roughly 50% of European public company revenues come from outside Europe. The outlier remains Japan, where the correlation has generally been negative over the last 20 years. However, these numbers seem less convincing due to the impact of losses (i.e. negative earnings numbers on the growth computations and eventual correlation coefficients) – rendering them less meaningful.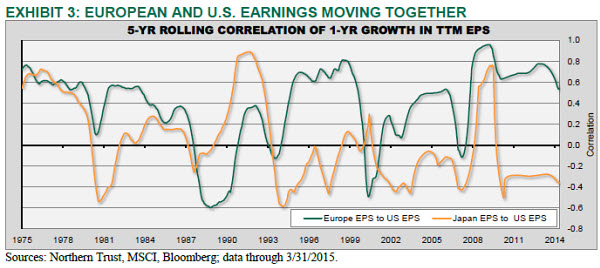 An area of particular concern has been the impact of falling energy prices on U.S. earnings, given the boom in shale oil and gas production over the last five years. Exhibit 4 shows the relative contribution of earnings at the sector level. Energy earnings have fallen to under 5% of S&P 500 earnings (from 12% in mid-2014), and greater percentages outside the U.S. Energy earnings have fallen across the board, but more significantly in the U.S. due to the high leverage of the domestic producers.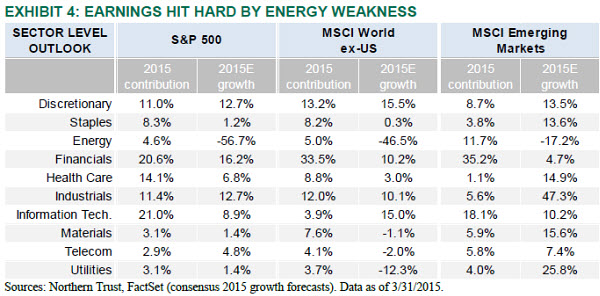 Our forecast for S&P 500 next-twelve month's earnings growth of 3% reflects an organic growth assumption of 7%, less an estimated $3 reduction from the strong dollar and a $5 reduction from the energy sector. We do think the negative energy impact will be offset somewhat by around $1.50 from improved consumer spending and reduced energy input costs. The impact from currency translation on stock prices is of considerable debate, but recent research from Empirical Research backs up our experience from our days doing securities analysis. Their research indicates that for more than 95% of large-cap stocks, movements in the dollar have failed to explain their performance. To summarize, investors worry about companies that may lose business from a stronger currency, but worry much less about existing international earnings that are suddenly translated into lower numbers due to an appreciating currency.





Our relatively modest expectation of earnings growth of 4% for the MSCI World ex-US disguises some fairly major differences, from Eurozone growth estimated around 15%, to Australian and UK growth of -1% and -9%, respectively. While European earnings have benefitted in some sectors from euro depreciation (such as consumer staples), other sectors have seen earnings estimates cut in line with their global peers (such as financials, consumer discretionary and industrials). Australia is suffering from a projected 30% drop in materials earnings, while the UK is being hurt by a 46% drop in energy earnings and a 23% drop in materials earnings. In the emerging markets, China's expected growth of 5% is emblematic of the group – reflecting the overall pace of growth and the effect of maturation of their economy. Stronger growth is expected in India (up 13%) as their economy retains momentum, while the energy and materials markets are punishing Russia and Brazil (down 28% and 8%, respectively).

While the intent of this piece is to analyze the importance of – and outlook for – earnings, a final word on valuations is in order. Global equity valuations have been pushed up by the multi-year bull market, and most recently by the whiff of an economic rebound in Europe. As a reminder, our research indicates that valuations are an ineffective timing tool, (having no real proven impact on next 12-month returns) but they demonstrably impact longer term (5-year and longer) returns. The MSCI U.S. Index is trading at 20 times trailing earnings, a 20% premium to its long-term median, while the MSCI Europe Index is at a 37% premium. While Europe does have improved economic momentum, we believe the market is pricing in a bigger earnings rebound than may be justified. Japan's multiple is probably better assessed relative to its developed market peers, as its historic valuation measures are inflated by their massive bubble. Emerging markets look attractive relative to history, but will need to regain economic momentum to be able to catalyze that valuation opportunity.




So while the broad developed markets look expensive relative to history, we remain in a central bank supported world where the relevant risk-free rates in each region are extraordinarily low. The S&P 500 dividend yield of 2% beats the 10-year yield of 1.90%, and the European and Japanese comparisons become somewhat absurd with the German 10-year at 0.19% and the Japanese 10-year yielding 0.34%. We expect this relative valuation game to continue to provide some support to the equity markets, with investors needing to become very concerned about the growth outlook before valuations are likely to come under pressure. The other potential game-changer would be a jump in interest rates, which would immediately feed through to less-attractive risk asset valuations and more competition from bonds. We remain of the view that this is not a likely scenario over the next five years.

CONCLUSION

The market's obsession with earnings is unlikely to end soon, but hopefully our work provides a useful framework to consider the impact of earnings. While individual company reports will continue to have a meaningful impact on that particular equity, the impact of overall earnings on the market tends to be a long-term affair. The primary exception is those instances of the "double recession," where clairvoyant traders could profit by selling the market ahead of the recession and buying back near its end. Analysts have cut earnings forecasts for 2015 and 2016 to reflect the drop in energy prices, and the overall pace of earnings growth is fairly consistent globally. We don't expect today's equity market valuations to be a headwind to returns over the next year, but do believe they will impact longer-term returns. A significant downturn in economic growth is the most likely enemy of the stock market, but we expect moderate and durable growth to continue over at least the next couple of years.