Click on the links to access the printable versions
The extraordinarily long period of financial market calm broke last month, with the proximate cause being worry over China's economic growth in the wake of its August 11 currency devaluation. The adjustment of the renminbi's trading band led to a 3% depreciation of the renminbi against the dollar, a small adjustment compared with its 15% to 18% appreciation against the euro and yen during the last two years. The market's real concern is the weakness in the Chinese economy that has led to a flurry of policy actions to buttress growth. We do think China's policy actions will provide some downside protection against an economic hard landing, but this again raises concerns about the limited tools available to developed central banks to combat financial market turmoil. We don't think further monetary easing from the Federal Reserve, such as additional quantitative easing, would be well received by the markets.

While equity markets finally recorded their long overdue 10% correction, and equity market functioning showed some strains for a short period, the message from the fixed income markets was more reassuring. The long feared lack of liquidity in fixed income trading never materialized, and credit spreads have tightened as volatility has receded. The fixed income markets gradually have been pricing in a slowing economy during the last year, along with digesting a surge in supply. We find the stability in U.S. Treasury yields to also be instructive: They're not signaling concern about a fresh downturn in economic growth. Our discussions with company management teams also shows growth trends consistent with expectations, with recent data continuing to show stable developed-market growth and emerging-market growth that's stronger in the consumer sector than the industrial sector.

Based on our review of fundamental developments, it's our assessment that the recent market weakness is more likely a typical correction than the start of a new bear market. Therefore, we chose to take advantage of improved valuations to recommend an increase in exposure to developed equity markets outside the United States, at the expense of investment-grade bonds. We think investor expectations have been broadly reduced during the last year, with a better understanding of the likely low-growth environment globally. Near term, we face potential volatility around the start of "lift-off" — that is, the start of the Fed's interest rate normalization policy. While investors could be negatively surprised in the short term, we expect the slow pace of rate hikes to be more conducive to risk taking over the intermediate term.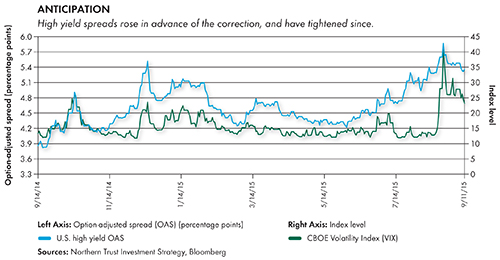 ---
U.S. EQUITY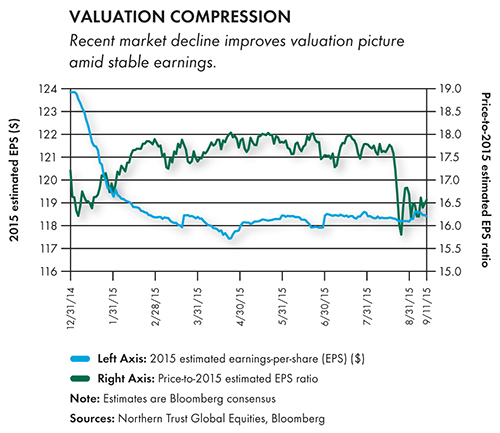 The recent market correction was a result of a price-to-earnings ratio contraction.
U.S. earnings were little changed by global growth concerns, particularly relative to emerging markets.
Market concerns over the pace of growth in China, as well as the prospect of the Fed finally raising interest rates, led to an 11% drop in U.S. equities in just six trading sessions. With direct links to China believed to account for only 2% to 3% of S&P 500 earnings, it comes as little surprise that the market weakness has primarily been price-to-earnings (P/E) ratio contraction. As seen in the accompanying graph, the market multiple expanded early in the year as the market gained despite estimates declining. During the past 30 years, the market has been higher the three months following nearly every 10% correction — as of this writing, the market is up 4.5% from the August 25 lows. With fundamentals only marginally affected by the source of the recent concerns, we remain constructive on U.S. equities during the next 12 months.
---
EUROPEAN EQUITY



Foreign demand is a source of weakness for Europe.
European unemployment and inflation reports show domestic resilience.
European equity markets joined the global market pullback last month, with the STOXX Europe 600 off about 10%, offset marginally by a stronger euro. While growth continues to be hampered by external demand, notably in the emerging markets, domestic improvements in areas like auto sales continue. The unemployment rate across the eurozone continues on a downward trajectory, from a high of 12.1% to 10.9% currently. The improvement in labor markets are beginning to show up in service-sector inflation and accelerating core CPI growth, which currently sits at 1% year-over-year. The fact that core CPI is rising, and headline CPI is stabilizing while oil prices declined by roughly 25%, is an indication that there's sufficient strength to offset energy deflation, and that the eurozone economy is still headed in the right direction.
---
ASIA-PACIFIC EQUITY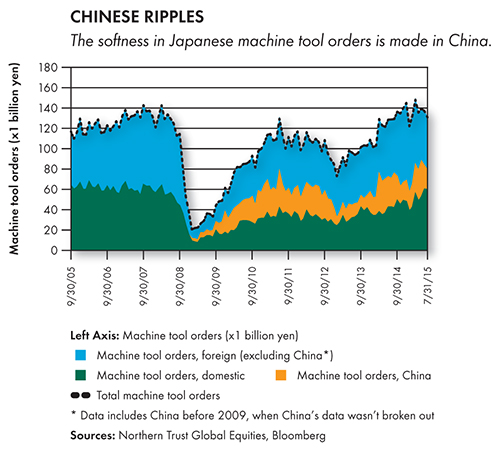 Falling foreign machine tool orders are the result of lower demand from China.
Domestic demand and improved corporate governance will be increasingly important for the Japanese equity market.
Japanese equity markets declined by 12% last month, while the yen strengthened by roughly 3%. Japanese foreign machine tool orders have been declining since last November, and data indicates that the foreign demand weakness is coming from China. The good news is that total machine tool orders are still near pre-crisis highs because of slowly improving domestic demand, thanks in large part to the construction industry. If foreign demand remains weak, the ability of Abenomics' corporate governance reforms to improve corporate profitability will be even more crucial. Through the second quarter, Japanese corporate profits reached an all-time high of 20 trillion yen, with mostly favorable outlooks from management.
---
EMERGING-MARKET EQUITY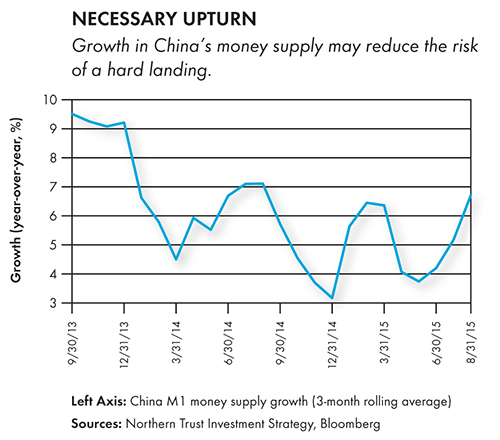 The Chinese economy continues to show signs of a slowdown.
A government policy response may be setting the stage for financial market stabilization.
The vigorous response of Chinese policymakers to the country's slowing economy and falling equity markets continues to drive risk markets. In the more important real economy, consumer spending is holding up well (up 10.8% in August), while industrial production (up 6.1%) and investment (up 10.9%) are falling modestly short of forecasts. Policymakers have been cutting interest rates and easing lending constraints since late 2014 in an effort to support growth, and they're experiencing a second upturn in money supply growth this year. (The first upturn was associated with the Chinese New Year.) While this is a hopeful sign that some stabilization may appear in the second half of this year, we're still facing other indications of weaker growth (such as the purchasing managers' surveys) that keep us cautious on both Chinese and broader emerging-market growth.
---
REAL ASSETS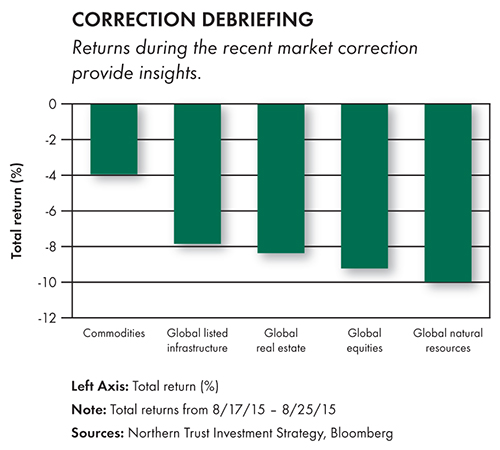 Real assets behaved (mostly) as one would expect during the recent correction.
Market movements endorse a view that this was a correction, not the start of a bear market.
The brunt of the recent market correction occurred between August 17 and August 25, with global equities falling 9.2%. Analyzing real assets during this time frame resulted in some key observations. First, global listed infrastructure (GLI) provided some of the downside protection for which it's known. However, that downside protection was somewhat muted, attributed partly to the resilience in interest rates (from which GLI typically benefits). Second, commodity prices held up fairly well, with the broad commodities index falling only 3.9%. Commodity price weakness during the past year and already low interest rates suggest that the recent correction was merely the equity markets — and asset classes with material equity exposure — "catching up" with the low-growth outlook of other markets.
---
U.S. HIGH YIELD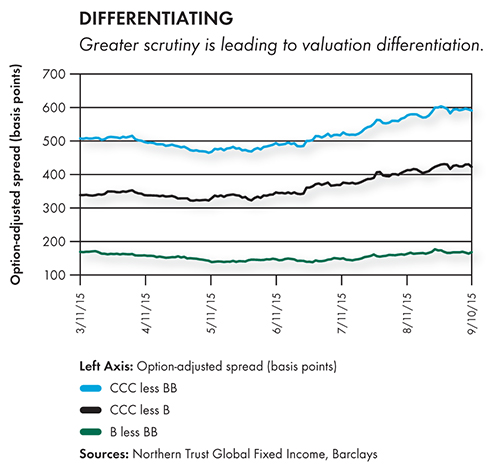 Market volatility has increased the spread differentials between rating categories.
The differentiation by credit fundamentals is a positive for the market.
Through the recent period of financial market volatility, the high yield market has become more discerning about valuing securities on credit fundamentals. There's been an extended period in which the Fed's monetary policy has generally resulted in a high correlation among a broad range of assets. The accompanying graph shows the spread differentials between rating categories during the past six months. Securities rated B are just 30 basis points (bps) wider than BB's. However, CCC's are 101 bps wider than B's. The rating category spread differential across the market increased by 127 bps from its tightest level. This is a positive development in that fundamentals have again become the primary driver of returns, and the distortions caused by monetary policy have been reduced. This will provide opportunities for investors, but also require an increased focus on risk management.
---
U.S. FIXED INCOME



10-year TIPS break-even rates have dropped 40 bps since the end of the second quarter.
Weak demand for commodities and slow economic growth will keep inflation well anchored.
Oversupply and weak global demand for commodities has caused a significant correction in the price of various raw materials during the past year. Most recently, investor concerns around economic growth in China, the world's largest user of energy, grains and metals, have extended the downward trajectory of commodities prices. Along with the decline in commodities, inflation expectations, as measured by Treasury inflation-protected securities (TIPS) break-even rates, have fallen 40 bps during the past three months. With nominal yields falling 18 bps during this period, the moderate increase in real yields indicates some confidence in the overall outlook for U.S. economic growth. We expect that the lack of demand for commodities, combined with a strengthening U.S. dollar and slow global economic growth, will keep inflation and inflation expectations well anchored going forward.
---
EUROPEAN FIXED INCOME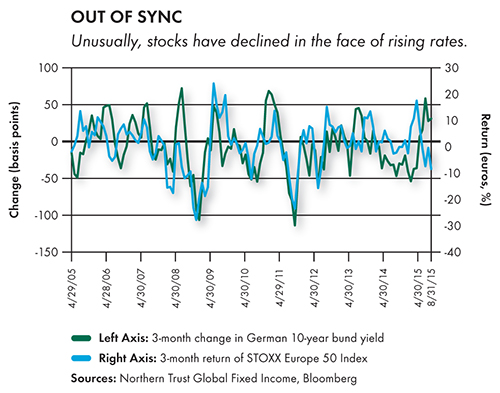 In European bond markets, the flight to quality has been short lived.
New general elections are keeping Greece in the spotlight.
The safe haven bid for German bunds returned in August as global equity markets unraveled, led by China. However, unlike during other major equity market downswings, the flight to quality has been short lived, even after the European Central Bank's re-emphasis of the potential for further monetary policy easing. Bond investors may be suffering indigestion in the persistent low yield environment, but even with a correction, 10-year bund yields aren't likely to return to their near-zero lows. In Greece, political uncertainty intensified following the approval of a third European bailout package. Greek Prime Minister Alexis Tsipras' resignation and a call for a new general election could backfire as the pro-Europe New Democracy Party appears to be gaining in the polls. Whatever the outcome, markets will be more focused on the new government's ability to implement its rescue program.
---
ASIA-PACIFIC FIXED INCOME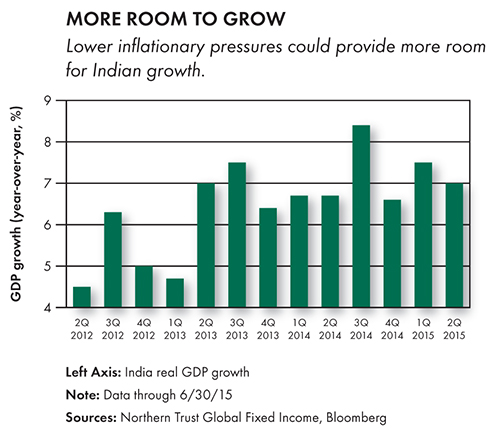 Despite stable growth, India has room for interest rate cuts.
The People's Bank of China is feeling pressure to ramp up monetary policy stimulus.
India's economy remains robust despite Asian headwinds. Although its gross domestic product (GDP) growth came in slightly below consensus, at 7% year-over-year, India looks well placed to generate stronger growth than China this year (understanding that India has restated its GDP accounting, so both growth numbers are opaque). We still look for reform under Prime Minister Narendra Modi's government to support investment and domestic consumption, and with inflation remaining comfortably below its 6% target, India's central bank is likely to consider further interest rate cuts in coming quarters. While sentiment toward China is impaired, growth this year is still expected to be above 6% year-over-year, which is more akin to a soft landing. However, owing to the perceived challenges of direct market interventions, China's central bank will be under pressure to undertake more aggressive policy easing.
---
CONCLUSION

We're experiencing much greater volatility in the financial markets than in the real economy. While we haven't been overly enthusiastic about the growth outlook for the U.S. economy, we see evidence of steady demand in areas such as credit growth. We think the European economy will continue to slowly gain momentum, as domestic demand is helping to offset a less certain export outlook. The emerging-market growth outlook remains soft, with the greatest uncertainty around the scope of Chinese policy and its impact on stabilizing growth. The countries most dependent on Chinese growth, mostly in emerging markets, continue to be hardest hit.

We've been of the view that the increase in credit spreads wasn't a reflection of a deteriorating economic outlook, and has been influenced by a surge in supply. In fact, high yield bonds have been one of the best performing assets this year, as the income generated has offset the widening in spreads. The healthy performance of the fixed income markets during the recent equity market selloff gives us some confidence that we've just experienced a correction and not the start of a bear market. The correction in stock prices has improved equity valuations, and with our fundamental outlook unchanged, we've taken advantage of the volatility by recommending an increase in risk in our global tactical asset allocation models. Specifically, we've reduced our recommended exposure to investment-grade bonds by 3%, with the proceeds going into developed-ex U.S. equities. This is the first increase in risk we've implemented since starting to reduce risk in October 2014. At this point, it's best thought of as a measured response to the recent decline in stock prices as opposed to an "all clear" signal for the markets.

We updated our risk cases this month, removing the concern over U.S. growth and also the upside potential surrounding European reform. Our current risk cases include the potential for a hard landing in China, U.S. dollar strength leading to credit problems in emerging markets and the potential for valuation compression because of heightened volatility. China likely would be best off letting its stock markets find their own natural level, while focusing on supporting healthy economic growth. After all, the labor and housing markets are much more important to the Chinese population than the equity market, due to limited stock ownership. The relentless appreciation of the U.S. dollar has stalled during the last six months, partially because of uncertainty around Fed policy. This has served to relieve some concerns over dollar-denominated debt, but the calls from emerging-market central bankers for the Fed to raise rates highlights their frustration over market volatility and uncertainty. Finally, equity valuations have benefitted from a low volatility environment during the last several years. Should we be moving into a more traditional market environment, investors could demand a higher equity risk premium from stocks — removing some upside from the valuation expansion that we expect.