Click on the links to access the printable versions
OUTLOOK
In a significant surprise to political and financial analysts, Donald Trump has won the U.S. presidential election, and the Republicans continue to control both houses of Congress. While there remain significant uncertainties about the future path of policy, we think the Republican sweep accelerates a trend that's been developing over the last year — the transition from monetary to fiscal policy as the primary tool to combat slow economic growth. Divided government in the United States during the last six years has led to little legislative progress, with ideological differences stifling compromise. Exit polls of U.S. voters revealed that the economy is their highest priority and that they value the ability of a candidate as a change agent more highly than the candidate's perceived competency. We think this will push Republicans to prioritize economic growth and will hopefully constrain initiatives that would hurt that effort, such as a significant trade war.

We think this transition from monetary to fiscal policy has an immediate impact on the outlook for interest rates, raising both the growth and inflation component of the rate outlook. It also may lead to a less-dovish Federal Reserve. Interest rates started moving up in recent months based on the initial consideration of a shift away from unending easy global monetary policy, but the election outcome is a catalyst for further rate increases. This will be well received by the Fed, as the market has already done some of the hard lifting. In addition, an improved growth outlook would further support some increase in the Fed Funds rate.

We categorize the risks of the new U.S. political environment into two areas — economic risk and geopolitical risk. While there will likely be significant political noise around trade policies, we think the overall risk to economic growth is reasonably low because the new administration will prioritize growth. The policy, or geopolitical risk, environment is more uncertain; therefore we characterize this risk as medium. This could moderate over the near term as we learn of the nominees for such important positions as Secretary of Defense and Secretary of State. While geopolitical risks have so far proven to have only transitory impacts on financial markets, this will remain a concern of investors until the new administration establishes a track record.


---
U.S. EQUITY

The S&P earnings recession ended in the third quarter.
Despite the resumption of growth, estimates for 2017 nudged lower.
S&P earnings grew 2.7% in the third quarter, marking the first positive growth since the first quarter of 2015. Full-year 2016 estimates moved modestly higher, driven by financials, information technology and utilities. Including expectations of 5% growth in the fourth quarter, earnings are expected to grow just under 1% for the full year as broader-based growth is offset by declines in energy. Forward-looking management commentary was somewhat cautious, and 2017 estimates subsequently moved lower driven by negative revisions in industrials, telecommunication services, consumer discretionary and healthcare. Even though growth estimates for 2017 have drifted lower, we continue to believe next year's consensus of 12% is too high. We remain constructive on U.S. equities, however, given the resumption of earnings growth and potential benefits from seeing improved economic growth.
---
EUROPEAN EQUITY

Eurozone Manufacturing PMI is at 53.5, the highest since early 2014.
Germany, France and Spain are showing strength, while Poland and Italy contributed less..
The stronger read from the Eurozone Manufacturing Purchasing Managers' Index (PMI) in October reduces concern that businesses would delay most investing until the political environment settles down. Instead, Germany and France put up numbers that were the best since early 2014. The index provider, Markit, also stated that companies were able to pass through commodity costs and increase selling prices for the first time since August 2015. For European equity holders on the whole, this is a positive sign of business health. We'll be looking for confirming management commentary in companies' quarterly results and 2017 outlooks, but these results support continued exposure to European equities. Offsetting the relatively stable growth outlook will be the upcoming election season, starting with the Italian referendum on constitutional reform in December.
---
ASIA-PACIFIC EQUITY
Japan didn't meet its inflation target despite asset purchases and negative interest rates.
Japan's new inflation target is a 2% Consumer Price Index reading by spring 2019.
Bank of Japan Governor Haruhiko Kuroda finally admitted what the market had already noticed: Sustained and steady inflation has failed to materialize despite a quantitative easing program that involved purchasing enormous amounts of financial securities, including equities, and a push into negative interest rate territory. Japanese equity investors should take this as a positive change in attitude, as it gives current policies more time to take effect. The alternative would have been more aggressive quantitative easing measures, which risked further dislocating markets relative to global peers. The Japanese economy continues to lurch between positive and negative growth, and a sustained improvement in this trend will likely be needed to boost the outlook for Japanese equities, which have generated disappointing returns so far this year.
---
EMERGING-MARKET EQUITY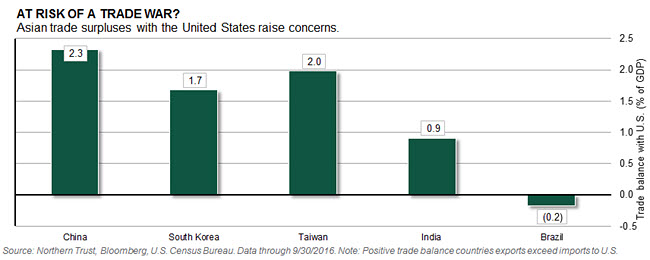 Concerns over trade are pressuring emerging-market equities.
It's not yet clear how big a threat trade uncertainty represents.
President-elect Trump's campaign was filled with anti-trade rhetoric, and emerging-market assets have been under pressure since the U.S. election. The strength of the U.S. dollar has also likely hurt. However, we aren't yet sure how much difficulty emerging-market exporters may actually face in the new U.S. political environment. The weak global economy has already affected emerging-market growth and increased the reliance on domestic consumption. In addition, a U.S. withdrawal from the Trans-Pacific Partnership trade pact might actually benefit China, who was excluded from the deal. Finally, President-elect Trump has started softening some of his more strident positions since the election. We continue with an equal-weight recommendation on emerging-market equities, as we see them as beneficiaries of stronger U.S. growth, with the potential risk of increased trade tensions.
---
REAL ASSETS

The outcome of the U.S. election is likely to result in a pro-growth agenda and increased fiscal spending.
Commodity prices are expected to benefit from increased demand tailwinds.
As the U.S. presidential election results rolled in, investors quickly began to position portfolios for increased economic demand driven by new fiscal stimulus — even if it wasn't immediately clear what the specifics would be. On the campaign trail, President-elect Trump spoke of an infrastructure package "at least double" that proposed by Hillary Clinton, implying approximately $550 billion in new infrastructure projects. Newer numbers floated are closer to $1 trillion. Even the low-end number of $550 billion spread over 10 years represents a double-digit increase in construction spending. Many details still need to come, but it's hard to deny the growing momentum for infrastructure spending. This should allow commodity prices to overcome the headwinds of higher interest rates and a stronger dollar.
---
U.S. HIGH YIELD

The upgrade/downgrade ratio moved heavily toward downgrades as commodities prices fell.
The ratio has turned more positive, which is a supportive indicator for high yield valuations.
As commodity sectors came under pressure in 2015, the upgrade/downgrade ratio skewed significantly toward downgrades. Downgrades peaked in the first quarter of this year and the ratio moved to 0.21. This trend coincided with an increase in the default rate from less than 2% to a high of 5.7% in August 2016. Although downgrades still outnumber upgrades, the ratio improved to 0.46 in the second quarter and to 0.55 in the third quarter. The high yield option-adjusted spread tightened from 656 to 480 during this period. The improvement in the ratio is an indication that the market's credit profile has stabilized. This is also reflected in Moody's estimated 12-month forward default rate, which has declined to 4.1%. These indicators are supportive of high yield valuations, and we remain tactically overweight.
---
U.S FIXED INCOME

10-year U.S. Treasury yields have risen significantly in the last three months.
In the near term, yields may continue to rise but uncertainty reigns.
Since hitting a record low of 1.38% in July, 10-year U.S. Treasury yields have risen as investors have sensed less willingness from central banks to continue with their ultra-accommodative policies. While much uncertainty still exists around what President-elect Trump's economic policy will entail, our current belief is that the chance of stimulating growth and inflation through tax cuts and deregulation has risen significantly. These policies may also lead to less monetary accommodation from the Fed. This is appropriately being reflected in higher interest rates and a steeper interest rate curve. Should pro-growth policies be enacted, we expect long-term interest rates to continue to rise during the next six months.
---
EUROPEAN FIXED INCOME

The Bank of England has moved back to a neutral policy bias.
Markets are anticipating further announcements from the ECB as bund yields move higher.
The Bank of England's (BOE's) credibility is back in focus with a shift to a neutral policy bias at its November meeting. After announcing an extensive stimulus package tied to Brexit concerns only three months prior, BOE Governor Mark Carney's message that the bank could consider policy adjustments in either direction based on inflation developments took markets by surprise. Currency weakness has led inflation expectations higher for 2017, as indicators of activity have remained intact. Europe hasn't escaped the global selloff in longer-dated bonds, with 10-year bund yields at their highest level in seven months. The European Central Bank's (ECB's) December macroeconomic forecasts will be pivotal, with markets anticipating further technical changes to quantitative easing.
---
ASIA-PACIFIC FIXED INCOME

The U.S. election results pave the way for further yuan weakness.
The Reserve Bank of New Zealand cut policy rates for the third time this year.
Markets have raised the spotlight on China, with President-elect Trump potentially taking a more protectionist stance that could be detrimental to the exporting nation. This has supported the weakening trend in the yuan, which may be psychologically undesirable for China with its recent debut in the International Monetary Fund's reserve basket and the risk of more bearish sentiment developing. Only three months after the last policy easing, the Reserve Bank of New Zealand lowered its key interest rate by 25 basis points to 1.75%, citing the need to bolster inflation expectations. Markets had widely anticipated the move owing to currency strength concerns. Although the bank has indicated this may be the last hike in the near future, developments in the currency market may change that outlook.
---
CONCLUSION
Our investment strategy discussions this month straddled the U.S. election, as we had significant deliberations pre- and post-election. While we thought the most likely outcome was a continuation of divided government, we also concluded that an unexpected sweep by the Republicans would be the second most likely outcome. In this scenario, we felt that the elimination of the legislative logjam in Congress would be a positive for the growth and risk-taking outlook. However, this improved growth outlook would be due to increased fiscal spending, tax cuts and deregulation. This is an environment likely to lead to higher interest rates, which was another important conclusion from our deliberations. It'll also lead to a more hawkish Fed, another factor contributing to a deteriorating outlook for bonds.

We entered this month with a moderate overweight to risk in our tactical asset allocation recommendations, and we've increased that positioning in this month's meeting. Because of our expectations that interest rates will rise, we've recommended a 4% reduction in investment-grade bond positions. As we expect a stronger growth and inflationary environment, we've recommended splitting the proceeds evenly between U.S. equities and global natural resources. U.S. corporate earnings have finally exited the earnings recession, helping to support further gains during the next year. We expect natural resources to benefit from increased infrastructure spending, as well as serving its historical role as an effective inflation hedge.

Our risk cases have evolved along with our fundamental outlook for growth, inflation and monetary policy. While we believe inflation will see only a cyclical uptick during the near term, we worry about a more sustained increase tied to looser fiscal policy. We also have some concerns about the market's dependency on accommodative monetary policy and the negative effects of a more rapid normalization policy. Finally, a more intermediate-term risk involves the global economy's dependency on multilateral structures such as NATO, the IMF, global trade agreements and mutual defense pacts. Campaign rhetoric focused on the perceived shortcomings of these structures from the United States' perspective, but only time will tell if these views moderate. In the meantime, investment markets will likely focus primarily on the growth outlook, which we think is improving.