The U.S. economy bounced back in the second quarter and dispelled doubts planted after a weak first quarter (although special factors played a role in holding down growth). Consumer spending largely drove the 2.3% increase in real gross domestic product (GDP) for the most-recent quarter.

Looking ahead, real GDP is projected to advance at a more-even pace in the second half of the year. This should set the stage for the Federal Reserve to commence monetary policy tightening for the first time since 2006.

Key Economic Indicators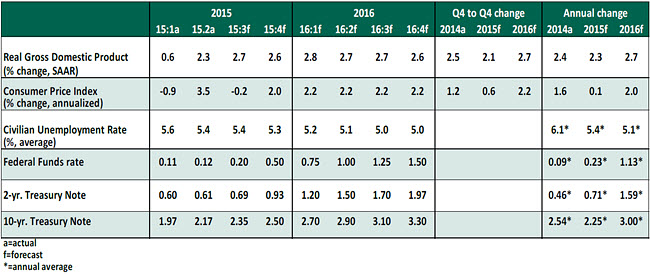 Key Elements of Forecast:
Consumer spending recovered in the second quarter after a muted increase in the prior quarter. Labor market conditions continue to improve and support expectations of growth in consumer expenditures. Although it is a challenge to pin down when consumer spending data will show the impact of lower gasoline prices, it is nearly certain that there will be an extra lift from lower energy prices in the near term. Auto sales were stronger than expected in July (17.5 million units), the second-best sales mark for the current cycle.


Incoming data from the housing sector present a mixed picture. Housing starts rose sharply in the second quarter to reach a new high for the expansion on a quarterly basis. Sales of existing homes (5.49 million) also reached an expansion high in the second quarter. New home sales slipped in June, however, and have fallen during the past quarter. The latest Senior Loan Officer Opinion Survey points to an easing of mortgage lending standards, which should be helpful for the housing market.


Business spending was disappointing in the second quarter. Both oil industry investment and the information processing component recorded declines. The soft trajectory of business spending has resulted in setbacks to productivity growth and a reduction of potential GDP. This development is being watched closely, as it has implications for monetary policy.


Inventories in the second quarter held nearly steady after a large accumulation in the first quarter. It should not be surprising to see a significant correction in the next two quarters.


Labor market developments stand out and make a case for a higher policy rate. The 5.3% unemployment rate, consistently impressive non-farm payrolls numbers and a reduction in labor market underutilization indicate strong labor market fundamentals.


A pick up in wage growth has yet to materialize; Fed Chair Janet Yellen has indicated it is not a pre-condition for a rate hike. The Employment Cost Index (ECI), a favorite wage measure of several Fed officials, rose 2.0% from a year ago in the second quarter, following a 2.6% increase in the prior quarter. The Fed is likely to look through this, as a drop in sales commissions, a volatile component of wage compensation, led to slower ECI growth.


Inflation readings are far from the Fed's target. The year-to-year changes in price indexes the Fed prefers are noticeably below 2.0%. Inflation expectations have been trending down since mid-June. The latest decline in oil prices also augurs poorly for headline price gauges. Although the progress on the inflation front is less satisfactory than labor market improvements, it is a lagging economic indicator. The Fed can tighten the policy rate with the expectation that inflation will move up as economic growth advances.


The movements of the 10-year U.S. Treasury note partly reflect a move away from China's shock wave. Exposure of the United States to China in terms of exports and U.S. investment in Chinese securities is limited. Nonetheless, China's travails could have a series of direct and indirect effects if its economic and market performance does not stabilize. China presents a significant risk to global economic growth.