Northern Advantage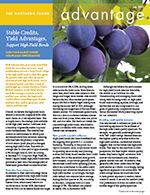 Guide to Northern Funds mutual funds and services.
Stable Credits, Yield Advantages, Support High-Yield Bonds —High Yield Market Offers Compelling Opportunities
High-Yield Fixed Income Fund earns a 4-Star Rating from Morningstar
Northern Funds Summary Prospectuses Available in July
Shares of the Northern Funds are offered only by a current Prospectus and are intended solely for persons to whom shares of US registered funds may be sold. This site shall not constitute an offer to sell or the solicitation of an offer to buy nor shall there be any sale of shares of the Northern Funds in any jurisdiction in which such offer, solicitation or sale would be unlawful.