My boss came to me recently and asked if I would be willing to take on some additional responsibility. I was flattered that he'd think I could be of assistance, but my plate is already quite full. After trying to divine the course of the global economy, enumerate risks to the outlook and accept blame from partners and clients for pretty much anything that goes wrong, I have little capacity left.

On a broader scale, many are wondering how much capacity is left in the American labor market. Joblessness is at a very low level, and yet wage growth has not accelerated. One potential explanation for this seeming contradiction is that the level of untapped human resources in the economy is greater than that suggested by the unemployment rate. A look through the details of the data finds that this contention is not likely true.

The left-hand chart below gives a broad breakdown of who's doing what (or not doing anything) in the United States. Comments on each segment follow.
As we highlighted in our piece "
Still Laboring
" a couple of weeks ago, an increasing fraction of senior citizens are choosing to remain within the labor force, whether by necessity or choice. Enticing experienced workers to remain at their posts might certainly expand the capacity in the American labor markets. And some of those workers may not necessarily insist on the highest wages, as their finances are already in good order.
A considerable amount of attention has been paid to the decline in participation among workers between the ages of 25 and 54. Starting from well over 83% in 2007, the participation rate for these "prime-aged" women and men dropped below 81% in 2015 before beginning a slow recovery.
Retirement is a minor factor in this trend, as few have accumulated sufficient fortunes by their mid-fifties. Instead, the leading theories for labor force departure include:

a) Disability. The Federal Reserve Bank of St. Louis
estimates
that 11 million Americans have a disability that limits their ability to work. About 4.5 million are receiving disability benefits from the Social Security Administration; some are unable to work and others would require wage offers in excess of their benefits to change status. One economist estimated that disability accounts for about 0.3 percentage points of the recent decline in the LFPR.
b) Inertia. While the ranks of the long-term unemployed have almost returned to pre-crisis levels, this metric does not include those whose unemployment led them to leave the labor force. When workers are away from work for a long time, their skills atrophy and their attraction to employers diminishes. Economist Erik Hurst has found that young people who are jobless have gotten more comfortable with their condition, and even prefer it.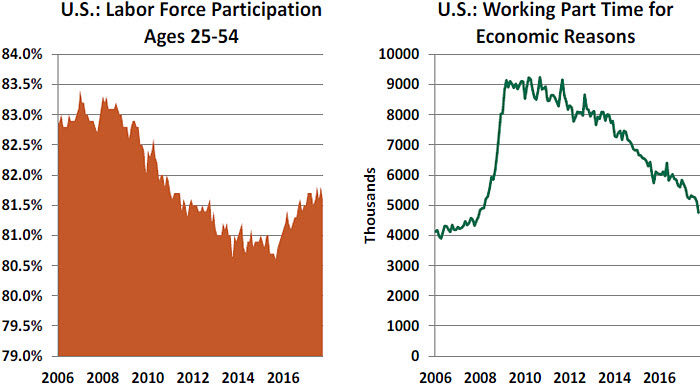 c) Addiction. A
study
from economist Alan Kreuger found that nearly half of workers who are not in the labor force are taking pain medication on a daily basis. The issue of opioid addiction has been rising in the national consciousness, and was recently identified by the president as an epidemic. Those who suffer from addiction may not be able to work, and if they are, employers would be reluctant to hire them.
Bringing these challenged cohorts back to full-time employment will require the aggressive application of social policy and personal responsibility. These efforts will take time, and are not likely to result in substantial amounts of new labor supply.