Investors have been rewarded handsomely by overweighting U.S. equities since the financial crisis, with a cumulative excess return of 100% over developed ex-U.S. equities. We think this landscape is shifting, as economic momentum, political stability, and currency valuations are starting to favor markets outside the U.S. Accordingly, our tactical asset allocation recommendations have been shifting toward these markets this year.
As shown in Exhibit 1, the relative performance between U.S. (roughly half of global equities) and developed ex-U.S. equities can run for multi-year cycles. In this report, we examine the outlook for earnings, valuations, politics, currencies and asset flows for "the other half" to assess whether we are at a turning point for regional performance. While earnings in the U.S. are hovering near their cycle highs, earnings in Europe, Australasia and Far East (EAFE) are 41% below their prior peak and are showing better momentum. On a cash flow yield basis, U.S. stocks are the most expensive, while Japanese shares are the cheapest. And while political risk has risen in the U.S. over the last year, it has fallen in Europe and remains low in Japan. The U.S. dollar was undervalued at the end of the global financial crisis, but now looks overvalued against the euro, pound and yen – improving the odds of outperformance in dollar terms. Finally, middling asset flows to the developed markets outside the U.S. over the last 18 months convince us that the shift to these markets has plenty of room to run.
---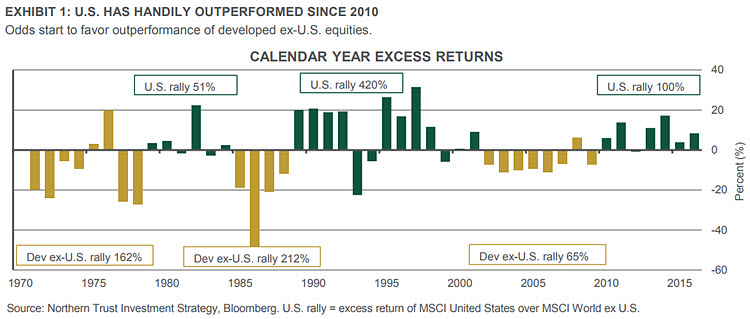 GREATER EARNINGS MOMENTUM OUTSIDE THE U.S.
As shown in Exhibit 2, earnings in the U.S. have fully rebounded from the global financial crisis and are near cycle highs. Revenue growth has been bolstered by the continued economic expansion, although this was interrupted in 2015 by the drop in energy prices. Profit margins have risen to three-year highs, with the S&P 500 net margin just above 9%. Demonstrating good current earnings momentum, earnings revisions (the ratio of companies seeing rising estimates vs. falling estimates) have been steadily increasing since March of this year.
---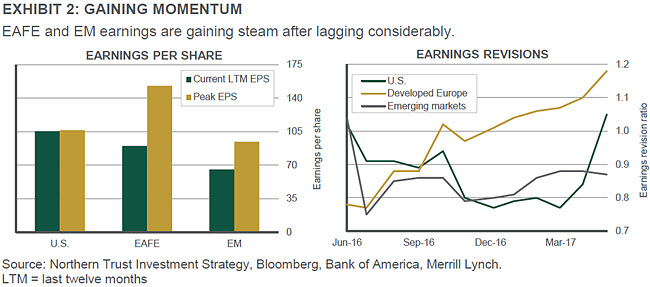 In contrast to the U.S. earnings picture, earnings across EAFE are still well below their prior cycle high. This is generally tied to the delayed economic cycle across Europe, where earnings are still roughly 40% below their prior peak. The primary outlier is Germany, which has returned to peak earnings as the German economy has benefitted from less austerity and strong exports. In contrast, earnings are 18% below peak in France, 24% off peak in the UK, and 45% below peak in Spain. The turnaround in the outlook for European earnings is well illustrated by the earnings revision data, which shows a strong improvement over the last two years.

One important contributor to the different pace of earnings rebound is that there is greater operating leverage in Europe and Japan than in the U.S. Said another way, U.S. companies have lower fixed costs and therefore earnings aren't hit as badly during economic downturns. On the upside, this means that U.S. earnings have less leverage than in Europe and Japan. In fact, every dollar of revenue increase has led to $1.2 of cash flow (EBITDA) in the U.S. since 1996, while it has led to $1.5 of incremental cash flow in Europe (ex-UK) and $1.6 in Japan.

Some investors view investing in Japan too skeptically as they don't sufficiently differentiate between "countries and companies." In other words, they put too much weight on Japan's growth and debt challenges, and not enough weight on the actual performance of the public companies. Japanese shares have benefitted from improving profitability and increased capital returns to shareholders. Japanese companies in the top quintile of profitability have increased their profitability relative to their developed ex-U.S. peers by a full 6.5% since 2012 and overall net margins, at 7.5%, are at a 30-year high. Dividends are growing at a 7% annual rate, and the percentage of Japanese companies raising their dividends is higher than the percentage of companies raising their dividends in other developed ex-U.S. countries, a rarity over the last 27 years.

VALUATIONS FAVOR DEVELOPED EX-U.S. EQUITIES
Equity valuations are an important part of the longer-term return outlook. We have done a lot of research over the years into equity valuations, including the impact on forward returns. While we don't find a correlation between valuations and short-term (1 year) returns, we do find a strong relationship with long-term (5 years and longer) returns. While investors frequently focus on price/earnings (p/e) ratios, we have found a much stronger relationship when using cash flow yields (the higher the yield, the higher the future return). The left panel of Exhibit 3 shows the valuation history over the last 20 years for the U.S., Europe, Japan and emerging markets. Cash flow yields in the U.S. fell to a low of 5.1% in March 2000 – setting the stage for the significant outperformance of developed ex-U.S. stocks shown in Exhibit 1. At that time, European and Japanese cash flow yields both hit 6.3% – a premium over U.S., but well below the current yield differential.
---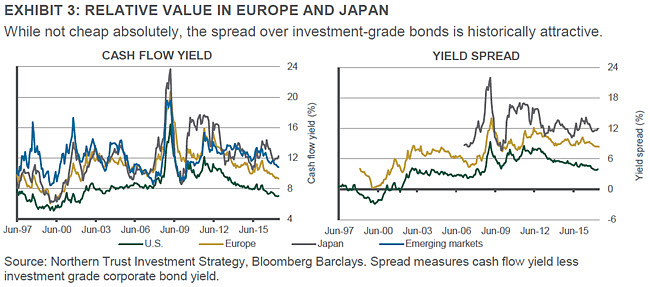 The current cash flow yield on U.S. equities is around 7.0%, nicely above the March 2000 levels but also noticeably below the 9.3% and 12.3% cash flow yields found in Europe and Japan, respectively. All other things being equal, this provides a valuation tailwind for EAFE equities. We also examined the spread between the cash flow yield on equities and corporate debt – as shown in the right hand panel in Exhibit 3. Investors are frequently making a primary choice between investing in stocks vs. bonds – so we believe looking at relative valuations is important. While some may argue the suppressed nature of interest rates is due to global quantitative easing, we don't think this invalidates the comparison because this is, after all, the yield environment investors are making decisions in. Additionally, we don't expect a material jump in interest rates over the next five years as we expect monetary policy to remain accommodative and inflation to stay contained.

At the height of the technology stock bubble in 2000, the yield spread in the U.S. actually turned negative, before hitting a peak of 9.4% in February 2009. The current yield spread of 4% is reasonable compared with history. The yield differentials are now more substantial in Europe and Japan, which will further encourage those investors to turn to their stock markets instead of bonds. The current yield spread in Europe is 8.4%, while it tops out at 12% in Japan. The European spread of 8.4% represents a cash flow yield on equities of 9.3% less the investment-grade bond yield of 0.9%. There is also relative value when considering just dividend yields, which currently sit at 3.4% for the STOXX Europe 600 index – a representative index of large, mid and small capitalization companies.

EUROPEAN POLITICAL RISK IS RECEDING
From Boston to Beijing, client conversations around political risk have shifted noticeably over the last two years. After years of defending the European Union from the prospect of break-up, attention is now shifting to the political situation in the U.S. While predictions of the Franco/German alliance leading to a dramatic resurgence in the European Union are likely exaggerated, so too are some concerns about the outlook for the U.S. Nevertheless, investors have turned more favorable toward European political leadership while becoming less confident in the prospects for significant legislative progress in the U.S. One measurement of this shift is in the currency markets, where the euro and yen are up 8% and 3%, respectively, against the U.S. dollar so far this year.

As shown in the left panel of Exhibit 4, Emmanuel Macron's En Marche party came out of nowhere to capture a majority in the French Parliament, while Marine LePen's National Front party garnered just 8 seats in the recent elections. Most importantly, it removed the potential negative that a National Front presidency could bring to French politics – a hard move away from the European Union. Secondly, it has raised the possibility of upside to the French economy, and European Union leadership, should Macron succeed with his reform efforts. However, some caution is warranted as his parliamentary majority was achieved in a low turnout election.
---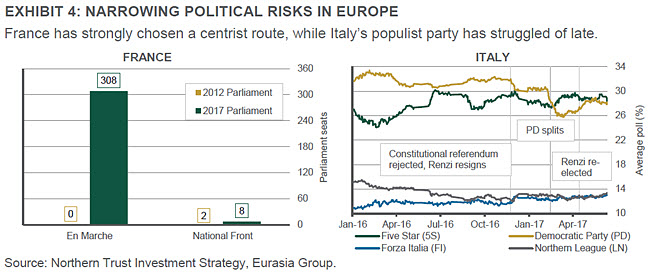 The right panel of Exhibit 4 shows the current support levels of the major national parties in Italy. The primary political risk around Italy has been the potential for the Eurosceptic Five Star Movement to build a coalition with a like-minded party to capture a parliamentary majority. However, recent trends may be creating some real headwinds to this scenario. Not only have populist candidates underperformed across several countries this year, the Five Star Movement performed very poorly in the recent municipal elections. After winning the Rome and Turin mayoral elections in 2016, the Five Star Movement failed to advance to the second round of elections in any major city last month.

The current state of political affairs has led us to conclude that European political leadership is strengthening, while U.S. political leadership is weakening. Prime Minister Abe's strong hold on Japanese politics is starting to be questioned after a weak showing in the Tokyo elections last weekend. Overall, the shifting power dynamics argue for an increased allocation to developed ex-U.S. equities. We are confident that the downside risks to Europe have been mitigated, while the upside to U.S. growth from the political channel has been reduced as the new administration and Congress have struggled to pass meaningful legislation.

CURRENCIES COULD BECOME A TAILWIND
Currency fluctuations can have a meaningful impact on realized returns, so a review of the current fundamentals is warranted. We shy away from making regular "bets" on currency movements, as this is a particularly challenging asset class to forecast. Our investment philosophy is to avoid currency risk in our fixed income portfolios, as currency risk is undesirable with an asset being used to fund liability streams into the future. With equities, our preference is to access this asset class in an unhedged manner as we don't generally think the expense of hedging is warranted for a long-term asset where price volatility is more acceptable.

When looking at a longer-term return outlook, currency valuations can be a useful input to assess. To do this, we look at Purchasing Power Parity (PPP) of the various major currencies across time. PPP is the exchange rate at which two countries have the same price level. The simplest version of this is the Economist's "Big Mac Index," which shows how much a country's currency would have to change for a Big Mac in that country to cost the same as in the U.S. In this exercise, we used the PPP calculations from the Organization for Economic Cooperation and Development (OECD).
---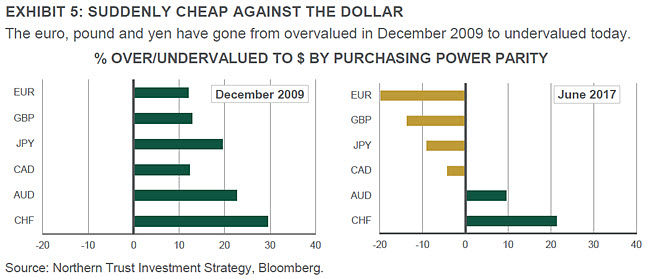 As shown in Exhibit 5, the euro, pound and yen were overvalued on a PPP basis by 10% to 20% as of December 2009. The landscape has shifted significantly over the ensuing eight years, as the U.S. dollar rally has led to 10% to 20% undervaluation of those same currencies. While the PPP calculation is theoretical in nature, similar moves have been realized in these individual currencies. Over this time frame, the euro has dropped from 1.43 to 1.14 (20%), the pound has fallen from 1.62 to 1.30 (20%), and the yen has dropped from 93 to 112 (also 20%).

The Big Mac Index shows similar, but more exaggerated, levels of misvaluation. For example, the euro is currently 17% undervalued on this basis, as compared a 31% overvaluation in December 2009. While the pound was 2% overvalued on this basis in 2009, it registers as 19% undervalued as of June 2017.

THIS TRADE IS STILL IN ITS EARLY DAYS
We have heard from some investors that they believe a move to increase exposure outside the U.S. now may be too late, as many investors have already positioned for this change. In Exhibit 6, we show the fund flows from the U.S. into non-U.S. markets. Fund flows, notably, have only materially picked up in the last month or two. Flows in 2016 were actually the weakest of the years presented, and flows in 2017 only began accelerating in April.
---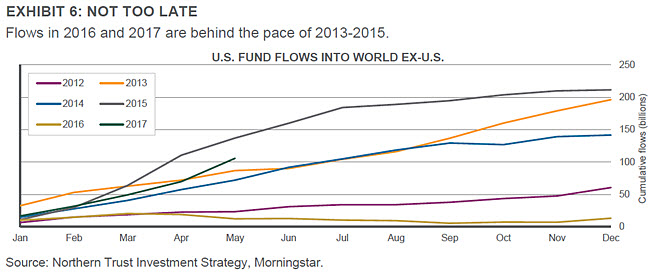 The weakest flow periods tie to periods of greater macro uncertainty. The modest flows in 2012 were directly tied to the European financial crisis and its lingering effects, while the softer numbers in 2016 and early 2017 were likely more tied to political concerns. As we discussed earlier in the report, the political picture in Europe has improved markedly over the last 18 months and this should help mollify some investor concerns. This doesn't look like an "overbought" asset class to us.

CONCLUSION
After a long period of outperformance of U.S. equities, we think the conditions are supportive of better relative performance of developed ex-U.S. markets. The U.S. economic expansion is more mature, with less upside, than Europe for example. This has the potential to drive better relative earnings growth. The strong outperformance of U.S. equities has led to less attractive valuations, improving the prospects for developed ex-U.S. equities. Political developments have also shifted investor concerns away from Europe as populism has – at least for now – hit some limit in its appeal. The dollar rally in recent years has favored U.S. investment, but that may now be changing as the dollar looks expensive relative to the euro, pound and yen. Finally, we don't think investors have fully embraced this regional shift – setting up the potential for valuation benefits from fund flows. We think these factors all combine to make the case for increasing the allocation to developed markets ex-U.S. – a move we began advocating in early 2017.

Special thanks to Tom O'Shea, investment analyst, and Daniel Ballantine, investment analyst, for data research.
---
© 2017 Northern Trust Corporation.

IMPORTANT INFORMATION. This material is provided for informational purposes only. Information is not intended to be and should not be construed as an offer, solicitation or recommendation with respect to any transaction and should not be treated as legal advice, investment advice or tax advice. Current or prospective clients should under no circumstances rely upon this information as a substitute for obtaining specific legal or tax advice from their own professional legal or tax advisors. Information may not be duplicated in any form or disseminated without the prior consent of Northern Trust. Northern Trust and its affiliates may have positions in, and may effect transactions in, the markets, contracts and related investments described herein, which positions and transactions may be in addition to, or different from, those taken in connection with the investments described herein. All material has been obtained from sources believed to be reliable, but the accuracy, completeness and interpretation cannot be guaranteed. The opinions expressed herein are those of the author and do not necessarily represent the views of Northern Trust. Information contained herein is current as of the date appearing in this material only and is subject to change without notice. Indices and trademarks are the property of their respective owners. All rights reserved.

Past performance is no guarantee of future results. Returns of the indices also do not typically reflect the deduction of investment management fees, trading costs or other expenses. It is not possible to invest directly in an index. Northern Trust Asset Management comprises Northern Trust Investments, Inc., Northern Trust Global Investments Limited, Northern Trust Global Investments Japan, K.K., NT Global Advisors, Inc. and investment personnel of The Northern Trust Company of Hong Kong Limited and The Northern Trust Company.