---
OUTLOOK
The past month has provided some clarity to the global political outlook, which has taken center stage since last summer's Brexit vote and the U.S. election upset. The markets responded positively to the strong win in India by Prime Minister Narendra Modi's Bharatiya Janata Party. Likewise, Emmanuel Macron's first-round win in the French elections led to a strong rally in French stocks as investors correctly predicted his victory over Marine Le Pen in the second round. The upcoming French National Assembly elections in mid-June will provide more clarity as we see how President Macron's governing coalition unfolds. But populist risks are far from over, as politicians are still responding to the pressures that gave rise to these movements.

The uncertainty over the contrast between the strength of "soft" economic data such as confidence surveys and the weakness of "hard" economic data such as gross domestic product (GDP) has lifted somewhat. The most dramatic sign of economic improvement has come from strong first-quarter earnings. The "laggard" among the developed economies has been the United States, where earnings are beating expectations by 5% and have grown 14% over the prior year. In Europe, earnings are beating estimates by 11% and increased 24% over the prior year. Boosted by the weaker yen, Japanese companies have beaten expectations so far by 15% on the way to earnings growth of 25%.

The durability of global growth and the restrained inflation environment have underpinned the continued rally in stock markets and the historically low level of market volatility. We are often asked if dormant volatility indicates looming problems because investors have gotten too complacent. Our research indicates that the only reliable signal from volatility measures such as the Chicago Board Options Exchange Volatility Index (VIX) is that a significant rise in volatility has historically been a good "buy" signal for stocks. With the global economy generating relatively stable growth, the candidates for a negative surprise are central banks and politicians. We don't expect inflation pressures to force the Fed's hand, allowing it to increase the Fed Funds rate by just another 0.5% this year and initiate the process of slowly shrinking its $4.5 trillion balance sheet. A surprise on the political front seems relatively low. The markets are increasingly inured to the U.S. political environment and the next major event in Europe is the Italian elections, which could occur in late 2017 or early 2018.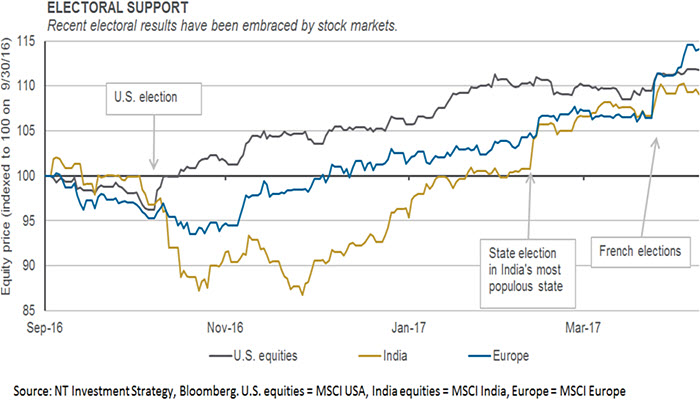 ---
INTEREST RATES
Money market reform in the United States has created opportunities in short-term municipal debt.
Reduced political risk in Europe has supported yields.
We expect relatively modest increases in interest rates over the next year.
Market dislocation resulting from money market reform has created relative value in short-term tax-exempt U.S. securities. Market technicals have caused spreads between municipal securities and treasuries to significantly widen. Since January, on a tax-equivalent basis, municipal money markets have provided investors a large premium over government funds. Amid market expectations for additional Fed rate hikes, we believe short-term municipal securities provide an attractive option for tax-exempt income generation. Additionally, with sustained demand for short-term government paper, we believe the yield advantage on short-term municipal securities will offer investors a compelling risk-reward tradeoff. As U.S. monetary policy begins to normalize, the "cost" of holding cash has started to diminish. As a result, the front end of the yield curve offers investors attractive relative value.

Turning to European bond markets, French government bonds have reacted well to Macron's decisive victory in the French elections. This is likely well received by the European Central Bank, which might be thinking about the timing and strategy for paring back monetary stimulus. Market reaction to the surprise U.K. election has also been positive, with a jump in the pound sterling alongside more hawkish rhetoric from the Bank of England. We still think the odds of a rate hike from the BOE this year remain low, however.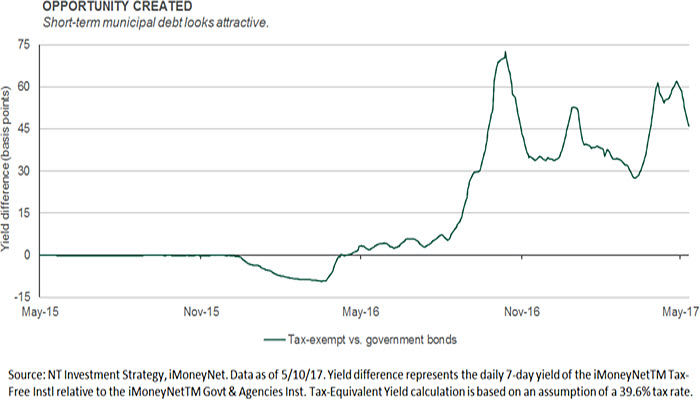 ---
CREDIT MARKETS
Credit spreads are tightening as economic conditions improve.
While high yield is no longer cheap, it still provides nice income in a low interest rate world.
We remain modestly overweight high yield and prefer it over other fixed income asset classes.
After a bout of volatility in March and April, credit spreads have moved back toward the lower end of their recent range – with the average investment grade credit spread currently at 1.1% and the average high yield spread at 3.6%. A common fixed income investing rule-of-thumb is that the ratio between high yield and investment grade spreads should sit at around 4:1. By that measure, the current 3.4 ratio would suggest high yield is a bit pricy.

We agree that high yield's "value play" days are behind it, but we remain overweight in the asset class given its ability to provide income in a low rate environment. The key to high yield's constructive outlook is the way in which credit spreads are inversely related to interest rates. Interest rates generally go up because of improving economic conditions, which pushes defaults lower and credit spreads tighter. To wit, the default rate peaked at 5.9% in January 2017, as the asset class has worked through energy- and retail-related challenges.

It is here where another ratio comes into play: the upgrade/ downgrade ratio is simply the number of ratings upgrades for every rating downgrade – and is a leading indicator for the default rate. This ratio has been trending positive since hitting a low of 0.21 in early 2016 and currently sits at 0.83 (see chart). The upgrade/ downgrade ratio is reflecting a neutral to positive credit environment, which is supportive to the high yield asset class.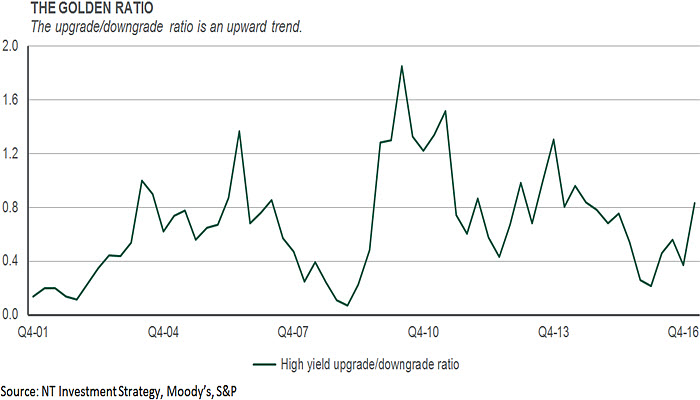 ---
EQUITIES
Strength in equity markets has surfaced some skepticism.
We think strength is supported by earnings gains and acceptable valuations.
We remain overweight all major regions globally.
The continued rally in global equities has raised concerns in some quarters about both fundamentals and valuations. While valuations are certainly above historic averages, we feel they are supported by low interest rates, growing earnings and, to some extent, a market shift to higher valuation sectors. On the fundamental front, earnings in the first quarter look to be stellar. Coming off the earnings recession of 2016, the growth of earnings in the United States, Europe and Japan of 14%, 24% and 25% has been well received. This has been supported by revenue growth of 8% in the United States and 12% in Europe. Japanese earnings have been bolstered by yen weakness, with revenues growing a more modest 3%.

While current valuations in the developed markets are several price/earnings ratio multiple points above historic medians, those medians were observed during periods of higher interest rates and therefore more competition from bonds. The market also has shifted somewhat toward companies that usually have higher valuations, leading to a higher overall market multiple. As shown in the graph, the weight of technology, health care, real estate and consumer discretionary stocks has increased significantly over the last nine years. We don't find current equity market valuations to be overly worrisome, and continue to recommend overweight positions in U.S., developed ex-U.S. and emerging market equities.
---
REAL ASSETS
Natural resources have given back some post-election gains and are slightly positive year-to-date.
We believe China demand fears are overblown on a tactical basis; supply issues are dominating.
We remain overweight natural resources and neutral global listed infrastructure and real estate.
Natural resources saw gains of more than 10% in the three months following the U.S. election, but have since softened and are now barely positive for the year. This softness has three primary drivers: Chinese demand concerns; pro-growth regime-shift disappointment; and the continued production bonanza from U.S. oil producers.

Starting with China, investors have growing concern that the fiscal stimulus introduced last year is wearing off, reducing one of the primary drivers of industrial metal demand. Second, the enthusiasm for pro-growth reforms has been dampened by the Republican party's struggles in Congress. While equities continue to rally, we have clearly seen those stocks that would have benefitted most from infrastructure spending give back their outperformance. Finally, oil supplies remain stubbornly high. While OPEC has mostly kept its promise on freezing production levels, U.S. fracking operations continue to pump and oil prices have fallen back to the levels seen prior to the OPEC announcement.

Despite these challenges, we remain modestly overweight natural resources. We believe the Chinese government will continue to support the economy ahead of its important political transition this fall, which will also be assisted by the rising tide of continued global economic growth. Meanwhile, high oil inventories are largely a supply issue – demand growth remains steady. The past few years of low oil prices have reduced cost structures, resulting in leaner, more profitable companies and better opportunities.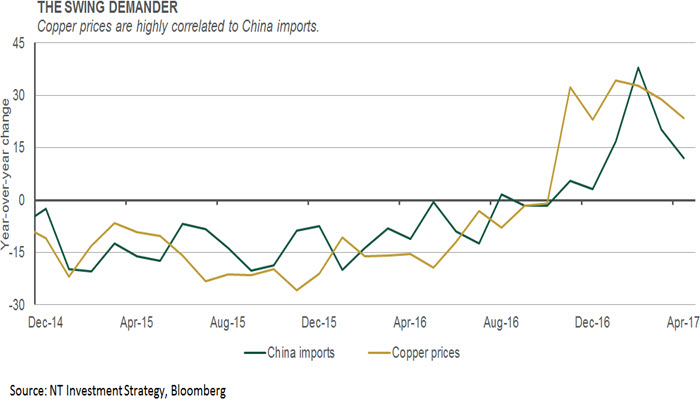 ---
CONCLUSION
We've been active in our tactical recommendations so far this year, with three recommended changes in the first four months. This relatively high level of activity did contribute to our decision to stand pat in our May strategy meeting, along with our confidence in our "risk on" positioning. A major theme of our tactical moves has been increasing exposure to equity assets outside the United States – where markets have materially underperformed over the last five years. During this period, the cumulative total return of U.S. equities has been 95%, compared to 50% in developed ex-U.S. and just 19% in emerging market equities. We see these latter regions as benefitting from both the improved global growth environment and investor rotation into cheaper equities.

Growth across Europe has been a positive surprise over the last year, and these companies have greater exposure to global growth than their U.S. counterparts. We have been in print with our view that risk taking in Europe wasn't going to be upended by increased political risk in 2017, and the results of the Dutch and French elections support that view. Thankfully, the improved growth outlook is also translating into a better earnings environment, as European companies have good operating leverage at this stage of the cycle. Earnings in the United Kingdom and Japan are also expected to exceed the MSCI World aggregate pace, as those countries have benefitted from currency depreciation over the last year.

The risks to our tactical (12 month) outlook have been relatively consistent this year, but have been fine-tuned along with fundamental developments. Our first risk case, the potential for a negative inflation surprise, remains even though the most recent price data shows some moderation globally. With the unemployment rate in the United States hitting a cycle low of 4.4% last month, we remain on the lookout for a breakout in wage inflation. Equity valuations are underpinned by low interest rates, and this risk case could upend that support. We have also fine-tuned our political progress risk case: with the French election come and gone, the focus is now on building a governing coalition and jockeying with Germany on the future contours of the European Union. In the United States, political progress risk centers on the Republican Party's ability to capitalize on its political majority to pass legislation to improve the growth outlook. The checks and balances inherent in the U.S. system remain an important reason that investors haven't been too unsettled by the volatility coming out of Washington – and we expect this dynamic to continue for the foreseeable future.


-Jim McDonald, Chief Investment Strategist
---
INVESTMENT PROCESS

Northern Trust's asset allocation process develops both long-term (strategic) and shorter-term (tactical) recommendations. The strategic returns are developed using five-year risk, return and correlation projections to generate the highest expected return for a given level of risk. The objective of the tactical recommendations is to highlight investment opportunities during the next 12 months where our Investment Policy Committee sees either increased opportunity or risk.

Our asset allocation recommendations are developed through our Tactical Asset Allocation, Capital Markets Assumptions and Investment Policy Committees. Committee membership includes Northern Trust's Chief Investment Officer, Chief Investment Strategist and senior representatives from our fixed income, equities and alternative asset class areas.

Indexes used: Bloomberg Barclays (BBC) 1-3 Month UST (Cash); BBC Municipal (Muni); BBC Aggregate (Inv. Grade); BBC TIPS (TIPS); BBC High Yield 2% Capped (High Yield); JP Morgan GBI-EM Global Diversified (Em. Markets Fixed Income); MSCI U.S. Equities IMI (U.S. Equities); MSCI World ex-U.S. IMI (Dev. ex-U.S. Equities); MSCI Emerging Market Equities (Em. Markets Equities); Morningstar Upstream Natural Resources (Natural Res.); FTSE EPRA/NAREIT Global (Global Real Estate); S&P Global Infrastructure (Global Listed Infra.)

If you have any questions about Northern Trust's investment process, please contact your relationship manager.
---
© 2017 Northern Trust Corporation.

IMPORTANT INFORMATION. This material is provided for informational purposes only. Information is not intended to be and should not be construed as an offer, solicitation or recommendation with respect to any transaction and should not be treated as legal advice, investment advice or tax advice. Current or prospective clients should under no circumstances rely upon this information as a substitute for obtaining specific legal or tax advice from their own professional legal or tax advisors. Information may not be duplicated in any form or disseminated without the prior consent of Northern Trust. Northern Trust and its affiliates may have positions in, and may effect transactions in, the markets, contracts and related investments described herein, which positions and transactions may be in addition to, or different from, those taken in connection with the investments described herein. All material has been obtained from sources believed to be reliable, but the accuracy, completeness and interpretation cannot be guaranteed. The opinions expressed herein are those of the author and do not necessarily represent the views of Northern Trust. Information contained herein is current as of the date appearing in this material only and is subject to change without notice. Indices and trademarks are the property of their respective owners. All rights reserved.

There are risks involved in investing including possible loss of principal. There is no guarantee that the investment objectives of any fund or strategy will be met. Risk controls and models do not promise any level of performance or guarantee against loss of principal.