Managing Personal Wealth as a Corporate Executive
Steps to take at each stage of the journey.
By Suzanne L. Shier and Devin W. Blackburn
Corporate executives face innumerable challenges at the helm of a company — maintaining stock value, embracing innovation and weathering public scrutiny. Yet an executive's biggest challenge is arguably navigating these corporate complexities while simultaneously staying focused on achieving their personal wealth goals.

What should you do when you are highly engaged at work, at home and in your community, with time being your scarcest and most sacred resource? Not only do you face time constraints but as a corporate executive your personal financial well-being is highly dependent on company performance. While there is no single wealth planning blueprint for executives, there are common recurring themes you will encounter on the path of your unique journey. Without proper guidance, an unintentional oversight may result in the loss of financial opportunities and jeopardize your wealth creation and preservation.

This Wealth Planning Insights frames the journey and addresses the issues encountered from early-stage wealth accumulation to mid-career wealth concentration to, eventually, career and wealth transition. Begin with the end in mind, make the most of current opportunities and be aware of the potential disruptions along the way. With mindful planning, you can confidently manage and sustain wealth to realize your ultimate goals.


WHO IS THE CORPORATE EXECUTIVE?
Our focus is on the senior-level executives of a company who are leaders directly responsible for company strategy, day-to-day operations and profitability — the "C-suite." Common titles include chief executive officer, president, executive vice president and managing director.
Despite titles, rank and responsibility, what really sets this group apart is their complex compensation paradigm, which commonly includes:
a formal employment agreement
base salary considerably higher than other employees
compensation partly dependent on the achievement of specific goals and standards
equity or equity-based rights
extensive benefits packages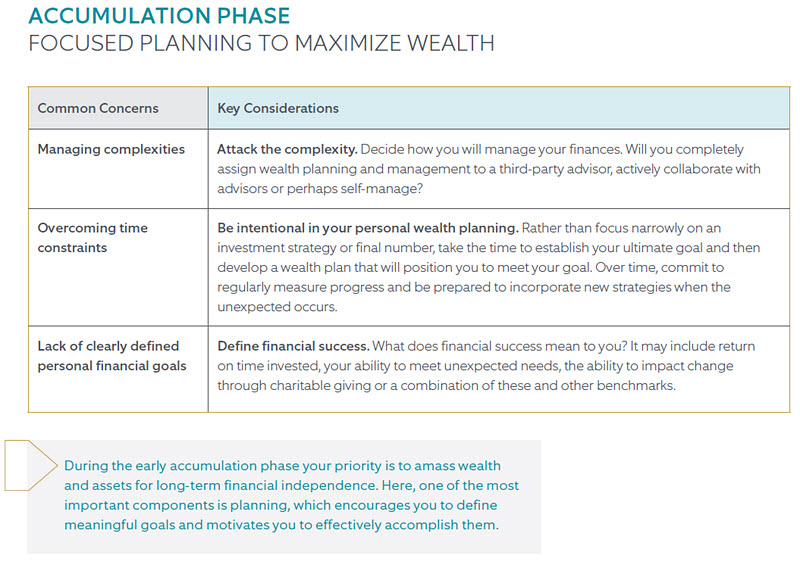 BUILD A TEAM
Serving as an executive leader with a high level of professional responsibility presents a unique opportunity to acquire substantial wealth. Effectively managing this wealth requires enhanced support to identify personal wealth planning and management solutions and assist with effective execution.
Begin at home. If you have a partner, consider what level of engagement and influence each of you will have in shared decision-making related to ongoing wealth planning and investment management. As you cultivate a path to engagement, thoughtfully reflect on and honestly assess each of your individual strengths and interests. At a minimum, provide for a base line of common understanding of household finances and communicate regularly as your financial circumstances evolve.
Next, consider your allies at work. Know who the experienced points of contact are in human resources. Utilize resources provided by your company, including any company-offered stipend for financial and estate planning. As your relationships allow, seek advice from your predecessor and other executives at your level. You may be surprised to discover the nuances of the many lessons learned by others similarly situated and the best practices they employ.
To complete your team, seek comprehensive counsel from capable legal, tax, insurance and wealth advisors. This is by no means a suggestion that you abdicate control of your financial destiny to third-parties, but embrace the true value qualified advisors offer to optimize wealth planning and management. Although crucial to any plan for long-term financial independence, sound advice can be particularly beneficial for you as an executive.
Oftentimes, the initial concern is fees. While it is essential to understand how  your advisors will be compensated, fees should not be the deciding factor in the selection of your advisors. Instead, consider a three-prong approach to evaluate their expertise, experience and empathy.
Expertise. Research, vet and interview multiple advisors. Learn about the licenses and credentials they possess to determine whether they have the requisite expertise necessary to provide the quality advice you require.
Experience. As an executive, you require an advisor who can offer customized solutions for your complex financial situation to protect your hard-earned money. Ensure your advisor has extensive knowledge and experience with the distinct characteristics of your executive compensation. Deferred compensation, section 83(b) elections, option tracking and rule 10b5-1 plans should be familiar concepts to the advisor you choose.
Empathy. Understanding is essential. Your advisor should undertake a holistic approach to support the realization of your personal fulfillment as you strive to accomplish your life goals. Your advisor's cadence, their communication, their strategy and their approach should be compatible with you and, if you have a partner, your partner. Match and fit matter.
MAXIMIZE  COMPENSATION
Remember the adage of beginning with the end in mind? The starting point for maximizing compensation is not creation of a detailed inventory of the many elements of your compensation and a stock plan schedule (although they will come). Rather, the cornerstone is the employment agreement. Ultimately, the employment agreement defines the scope and nature of your relationship with the company from the company's perspective. Before executing an agreement that will influence your level of financial success, determine whether it aligns with your goals, vision and needs. In our ever-evolving world, consider the assurances you require in the event of change of corporate control or in the unfortunate event of severance. And with volatile markets looming, contemplate how comfortable you are with the implications of the performance incentive plan and whether metrics are impacted more by individual efforts or by market conditions. Explore a full spectrum of potential outcomes of "what if" scenarios and analyze the ripple effect to you, your portfolio and your family.
You have significant influence in the negotiation of your employment agreement as an executive. Think through your defined goals and how they will be reflected in the terms and provisions of your employment agreement from the outset. Prioritize being proactive in leading the discussion regarding the structure of your employment agreement, rather than reactive and executing what your company presents to you. Advocate and negotiate for the protections and incentives you believe will provide the level of comfort you need. However, be mindful of the level of negotiation that is appropriate. A junior executive in a large publicly traded company will have far less negotiating power than a senior executive being courted to spur growth at a private company on the verge of an IPO. Take a sensible approach and accept that a certain amount of compromise will be required.


---
FOR MORE INFORMATION
As a premier financial firm, Northern Trust specializes in Goals Driven Wealth Management backed by innovative technology and a strong fiduciary heritage. Our Wealth Planning Advisory Services team leverages our collective experience to provide financial planning, family education and governance, philanthropic advisory services, business owner services, tax strategy and wealth transfer services to our clients. It is our privilege to put our expertise and resources to work for you.
If you would like to learn more about these and other services offered by Northern Trust, contact a Northern Trust professional at a location near you or visit us at northerntrust.com.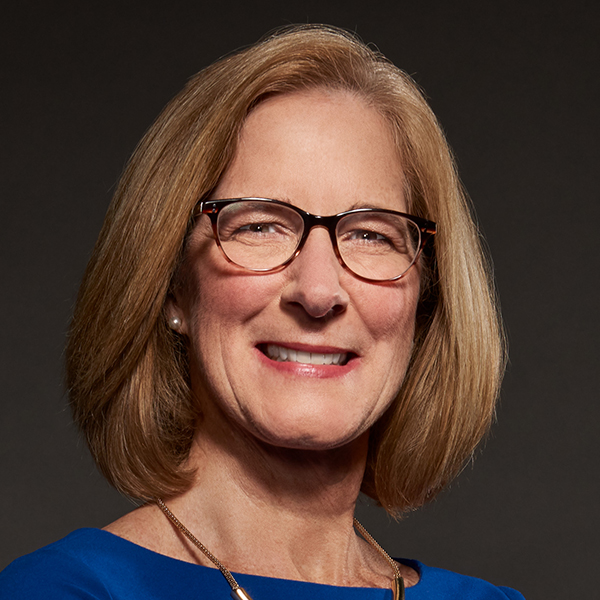 Suzanne L. Shier
Wealth Planning Practice Executive & Chief Tax Strategist/ Tax Counsel
Suzanne L. Shier is the Wealth Planning Practice Executive and Chief Tax Strategist/Tax Counsel for Wealth Management at Northern Trust and serves on the Wealth Management Operating Group.
RELATED ARTICLES
Optimizing equity-based compensation starts with understanding the scope of its intricacies.
What questions should you be asking to develop a goals driven investment strategy? Katie Nixon shares her insight with readers about where their focus should be.
Individuals acquire art not only for personal satisfaction, but also investment purposes. Find considerations that can best position you for seamless art ownership and succession as part of your overall wealth plan.