Fixed Income Update: First Quarter 2019
Fixed Income Update: First Quarter 2019
By Ian Birtch and Arch King
KEY POINTS
U.S. economic data has slowed, but has recently shown signs of bottoming.
The Federal Reserve abruptly reversed course, abandoning their messaging for additional rate hikes and pivoted back to maintaining an accommodative monetary policy.
Credit markets rallied during the quarter, largely reversing the widening experienced at the end of 2018.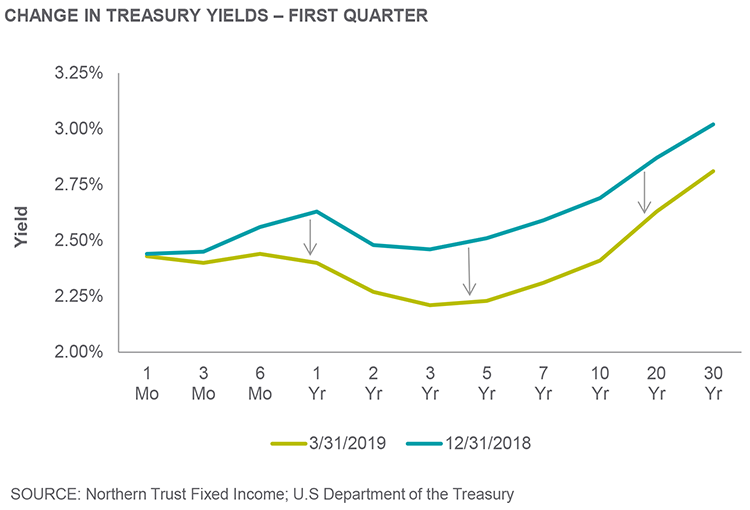 Yields across the curve moved lower as the Fed attempts to backtrack from a potential policy mistake.
Economic growth in the U.S. has slowed but we expect the expansion, which is poised to become the longest in history, to continue for the near future.
Continued progress on U.S.-China trade discussions may prove to be a positive for economic growth.
Long-Term Views
Despite growth in the global economy moderating, ongoing trade tensions, and an inverted yield curve, we do not expect a recession to unfold over the next year.
While the possibility of a Fed mistake remains a risk case, the market expects them to largely remain on the sidelines.
We expect global central banks to largely be synchronized, supporting easy monetary policy.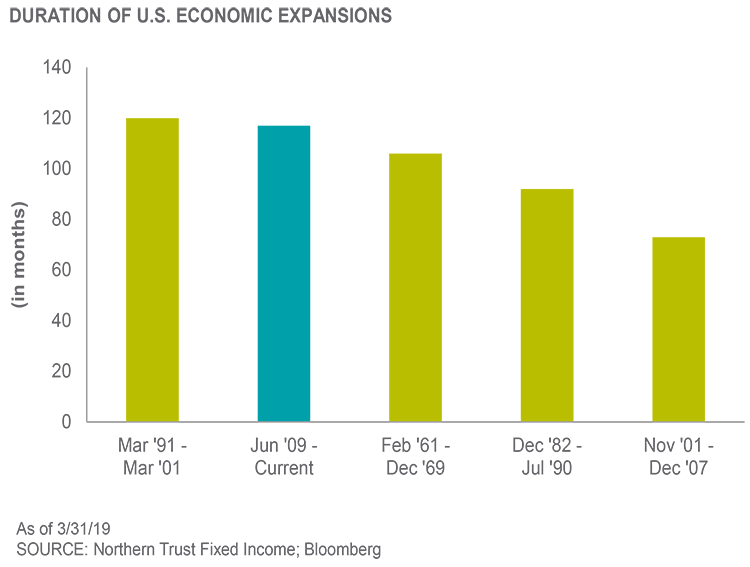 Based on an acknowledgement of slowing growth and inflation, the Fed halted its hawkish rhetoric, removing all forecasted 2019 rate hikes and communicating to investors that they will be "patient" moving forward.
After stating that the balance sheet was on auto-pilot in December, the Fed reversed course announcing it will end normalization earlier than expected.
The European Central Bank announced an additional round of targeted longer-term refinancing operations (TLTROs) and indicated that no lift off in interest rates will occur in 2019.
In many investors eyes the Fed has moved out of the way in an attempt to let the economy regain its footing, providing a tailwind for risk assets.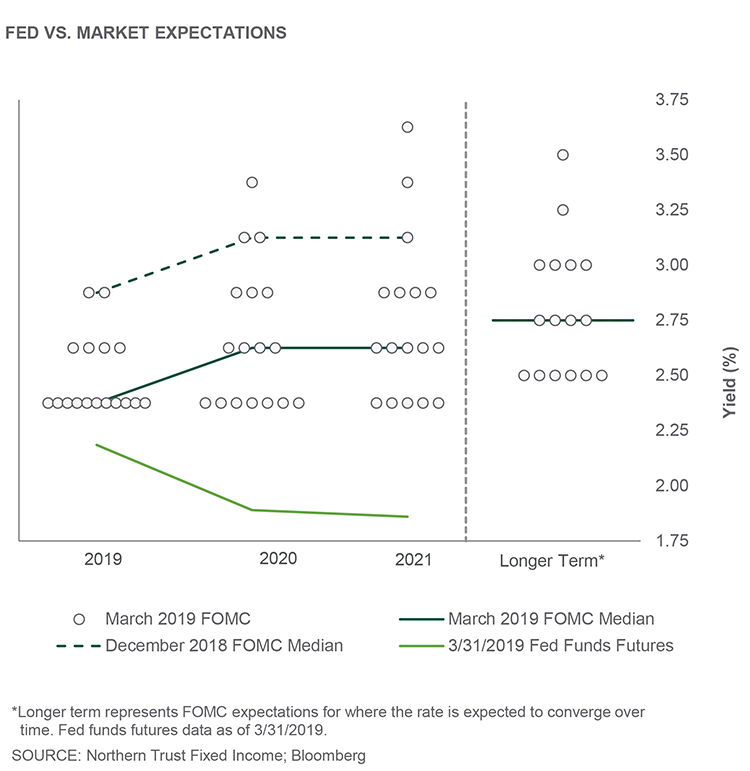 Market Overview:
Overnight rates remain unchanged in the 2.25% - 2.50% channel and the Fed's removal of all forecasted 2019 rate hikes may have signaled that money market yields have topped out.
A benign inflation environment coupled with dovish central bank sentiments have led some investors to believe that the next policy move may be a cut.
Ultra-Short Performance:
Contributor - Sector Allocation
Detractor - Duration
Current Positioning:
We remain constructive on corporate credit and neutral on our duration target.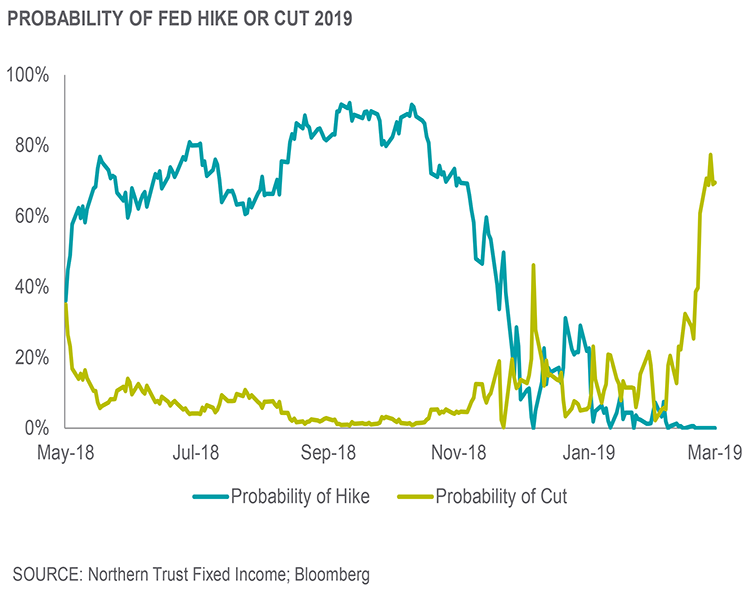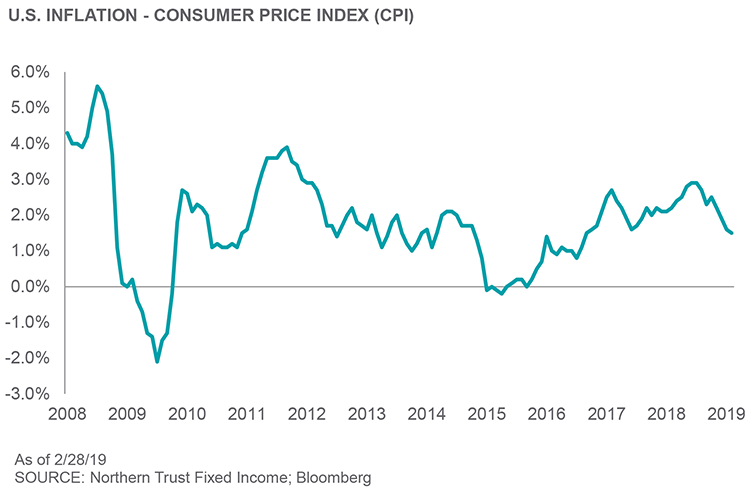 Fed Fund futures are pricing in a lower Fed Funds rate by year end with a 70% chance of at least one rate cut.
Market Overview:
The 10-year U.S. Treasury note and 3-month U.S. Treasury bill temporarily inverted before reversing, further signaling the markets concerns over a slowdown in economic growth.
Global Interest rates declined during the first quarter, with the 10-year U.S. Treasury yield falling below 2.4% for the first time in over 1 year.
Rates Performance
Modest Contributor - Duration
Current Positioning:
Portfolios are positioned with a neutral duration relative to their benchmarks.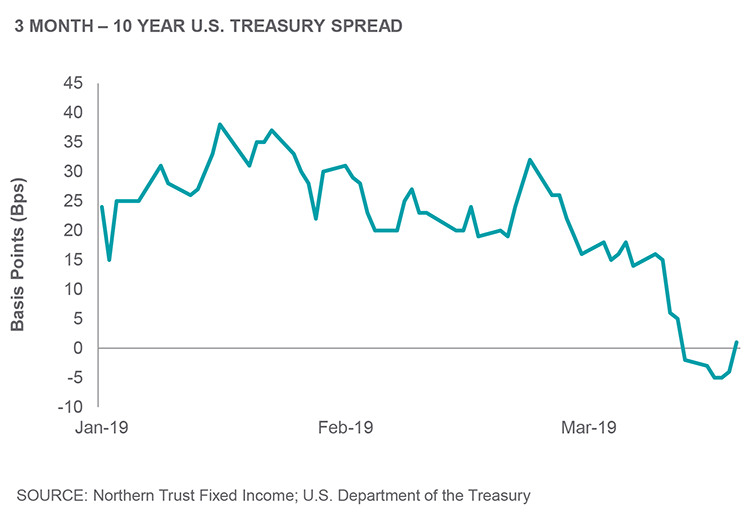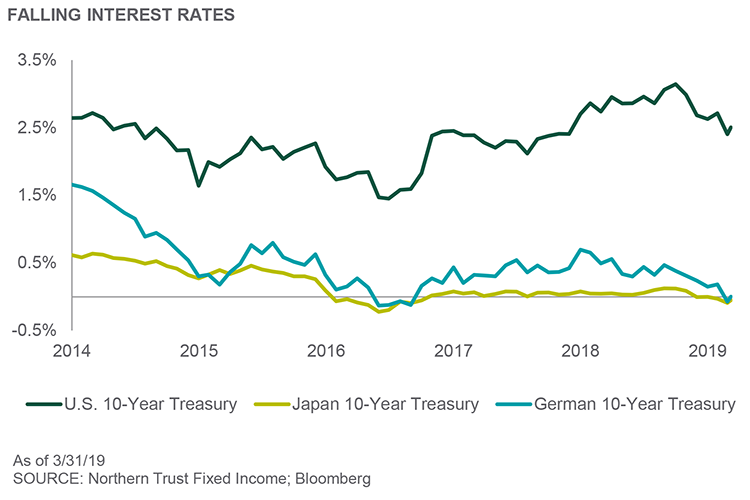 German and Japanese 10-year bond yields have shifted into negative territory.
Market Overview:
Following the fourth quarter 2018 selloff, investment grade credit spreads have demonstrated a significant rebound this year.
The spread tightening during the first quarter supports the view that credit fundamentals remain fairly solid and the spike higher was just indicative of a broader risk-off sentiment.
Credit Performance
Contributor - Security Selection and Sector Allocation
Current Positioning:
Our overweight to credit has been reduced compared to that of historical levels, but we remain modestly overweight lower quality BBB credit.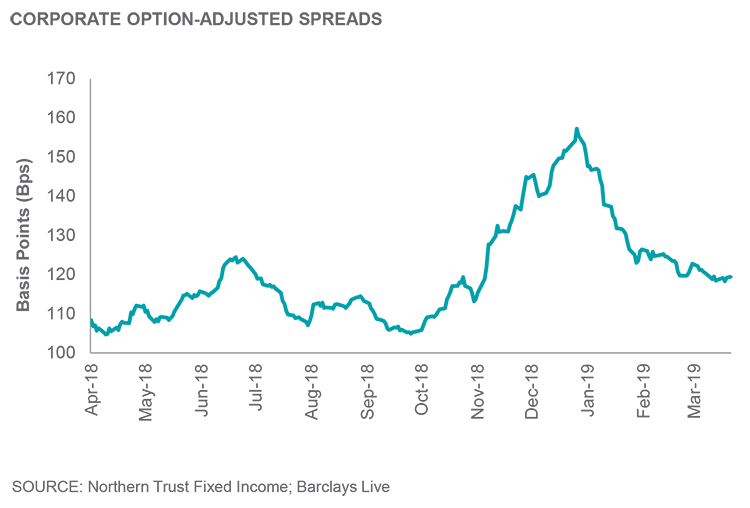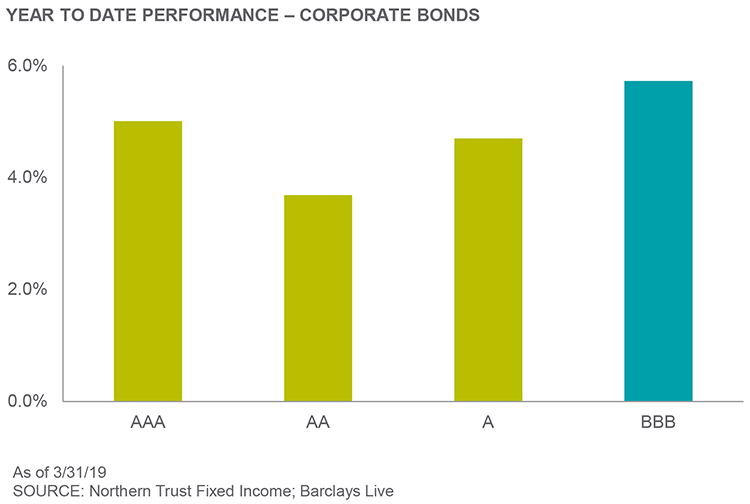 Greater IG demand pushed the OAS of the Bloomberg Barclays U.S. Corporate Index 34 basis points tighter during the quarter.
Market Overview:
After significant outflows in 2018, fund flows turned positive at the start of the year responding favorably to dovish commentary from the Fed and investors renewed appetite for risk.
The backdrop for high yield remains strong as default rates remain low and interest coverage ratios remain high. Additionally, issuance is expected to remain low for the remainder of 2019.
High-Yield Performance
Contributor - Sector Allocation and Security Selection
Detractor - Curve Positioning and Duration
Current Positioning:
Portfolios are positioned in the mid-range of the credit quality spectrum. Issuer selection is of utmost importance as we have few sector overweights outside of banks and energy.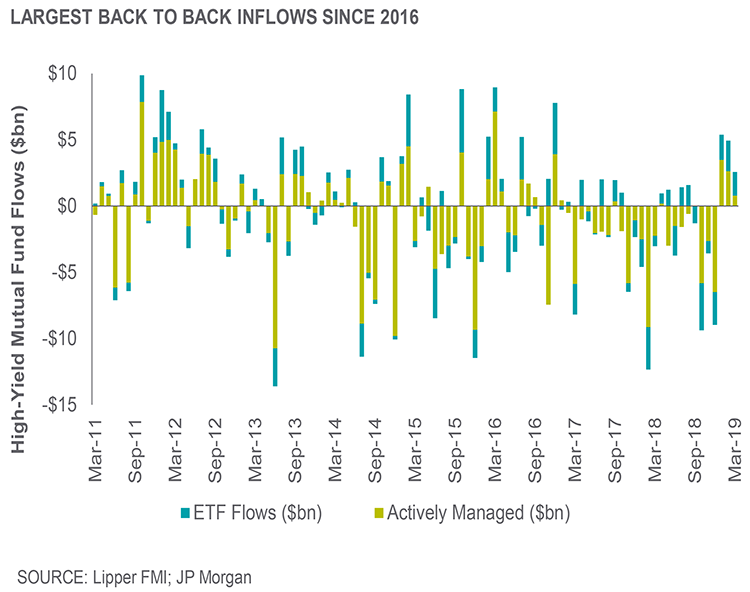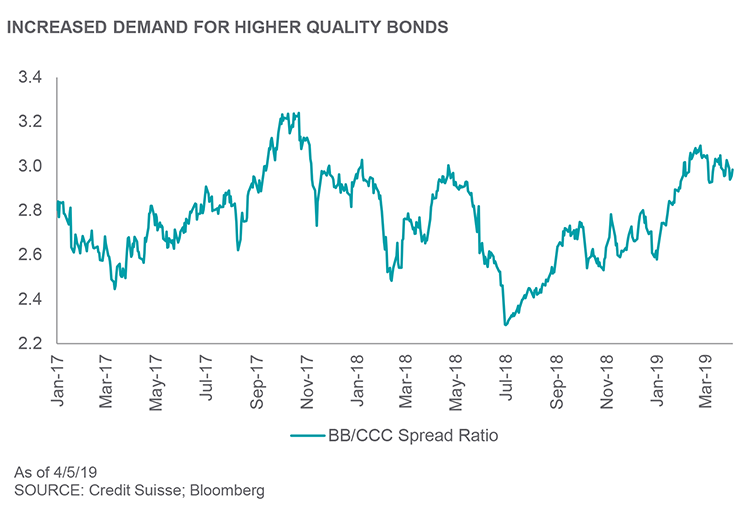 HY flaunted a 6% return through 1Q19 - demonstrating the best start to the year since 2001.
The ratio of CCC spreads to BB spreads is near its widest level since the end of 2016 during the commodity crisis.
Market Overview:
Longer maturity rates fell more than shorter ones, but we expect continued rewards for investors with extended maturity objectives.
Muni-U.S. Treasury ratios are expensive out to 10 years, and are below historical averages at all maturities.
Municipal Performance
Contributor – Yield Curve Positioning
Detractor – Quality Bias
Current Positioning:
Interest rate exposure should be defensive, expecting a spring with better opportunities to invest at higher yields and cheaper ratios. General obligation issuers with well managed pensions and essential service revenue bonds are favored. Lease revenue and appropriated debt for specific projects should be reduced.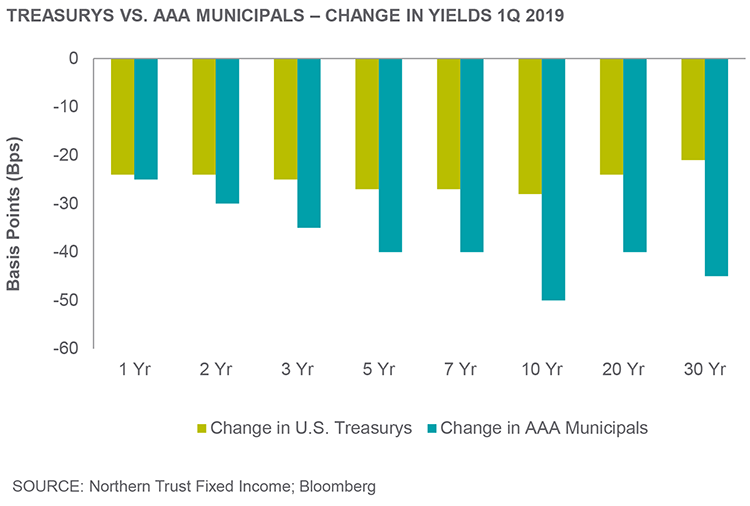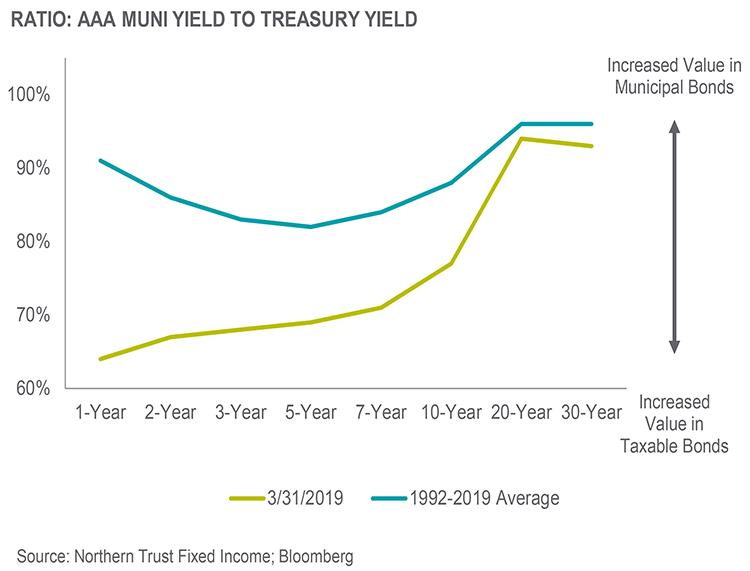 IMPORTANT INFORMATION. The information contained herein is intended for use with current or prospective clients of Northern Trust Investments, Inc. The information is not intended for distribution or use by any person in any jurisdiction where such distribution would be contrary to local law or regulation. Northern Trust and its affiliates may have positions in and may effect transactions in the markets, contracts and related investments different than described in this information. This information is obtained from sources believed to be reliable, and its accuracy and completeness are not guaranteed. Information does not constitute a recommendation of any investment strategy, is not intended as investment advice and does not take into account all the circumstances of each investor.
This report is provided for informational purposes only and is not intended to be, and should not be construed as, an offer, solicitation or recommendation with respect to any transaction and should not be treated as legal advice, investment advice or tax advice. Recipients should not rely upon this information as a substitute for obtaining specific legal or tax advice from their own professional legal or tax advisors. References to specific securities and their issuers are for illustrative purposes only and are not intended and should not be interpreted as recommendations to purchase or sell such securities. Indices and trademarks are the property of their respective owners. Information is subject to change based on market or other conditions.
Forward-looking statements and assumptions are Northern Trust's current estimates or expectations of future events or future results based upon proprietary research and should not be construed as an estimate or promise of results that a portfolio may achieve. Actual results could differ materially from the results indicated by this information.
Past performance is no guarantee of future results. Performance returns and the principal value of an investment will fluctuate. Performance returns contained herein are subject to revision by Northern Trust. Comparative indices shown are provided as an indication of the performance of a particular segment of the capital markets and/or alternative strategies in general. Index performance returns do not reflect any management fees, transaction costs or expenses. It is not possible to invest directly in any index. Gross performance returns contained herein include reinvestment of dividends and other earnings, transaction costs, and all fees and expenses other than investment management fees, unless indicated otherwise.
Northern Trust Asset Management is composed of Northern Trust Investments, Inc. Northern Trust Global Investments Limited, Northern Trust Global Investments Japan, K.K., NT Global Advisors Inc., 50 South Capital Advisors, LLC and investment personnel of The Northern Trust Company of Hong Kong Limited and The Northern Trust Company.
© 2019 Northern Trust Corporation. Head Office: 50 South La Salle Street, Chicago, Illinois 60603 U.S.A.