Is it time to start paying closer attention to tax reform? The answer is yes. You have likely already been following the tax reform saga this year, reading the tea leaves to see how tax reform might impact not only you and your family, but also the nation as a whole. You may have been frustrated by the rhetoric and the noise in the news.
TIME TO TUNE IN
If you are tuning back in now, you have come at a good time. Why? Because the proposed Tax Cuts and Jobs Act will affect almost every taxpayer – individuals and businesses – across all income levels with all types of income.
We entered the final hours of the tax reform story when the Senate passed a tax reform bill on Saturday, December 2. Beginning the week of December 3, Congress will convene a Conference Committee that will examine both the House-passed and the Senate-passed versions of tax reform and negotiate to bring the two plans into a single tax plan (a "Conference Report"). See Figure 1 on the next page for an illustration of the legislative timeline.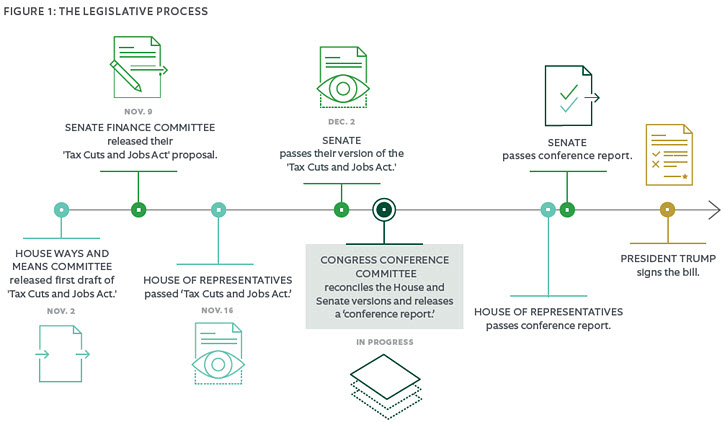 From there, the full House and the full Senate each will vote to approve or reject the Conference Report. If the House and Senate each pass the Conference Report, President Trump will have a tax reform bill that he can sign. With the House scheduled to recess on December 14 and the Senate scheduled to recess on December 15, Congress may delay the start of its holiday vacation to finish its work. However, with or without an extended session, there is a lot of work to be done in a short amount of time in order to fulfill the promise of tax reform by Christmas.
COMPARING THE PROPOSALS
This piece summarizes the House and Senate proposals, based on the circumstances we feel are most important to you. The magnitude of the reconciliation required to align the House bill and the Senate bill is indicated as a point of reference. It is said that iron sharpens iron. The goal of the process is to achieve a result that is better. We will continue to watch with great interest.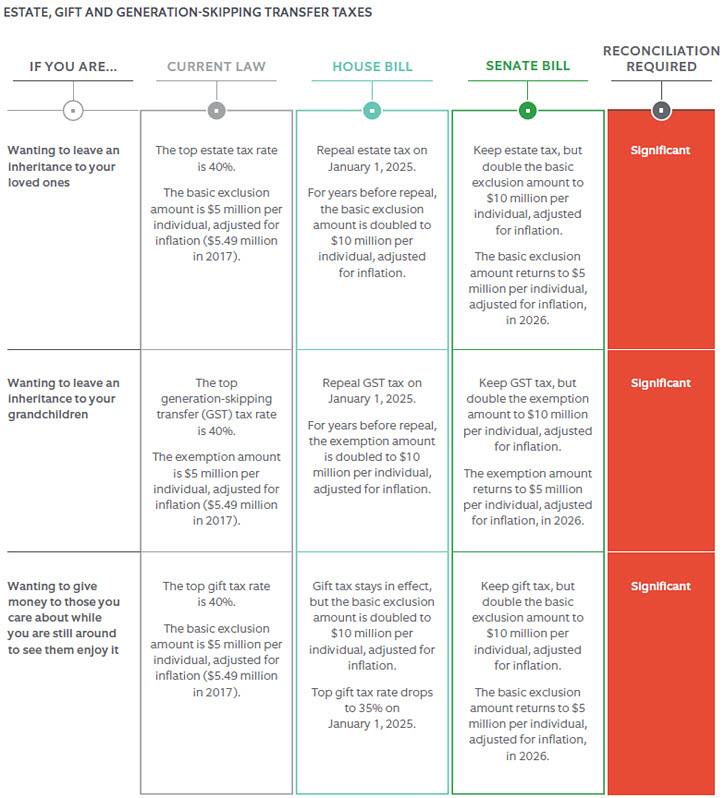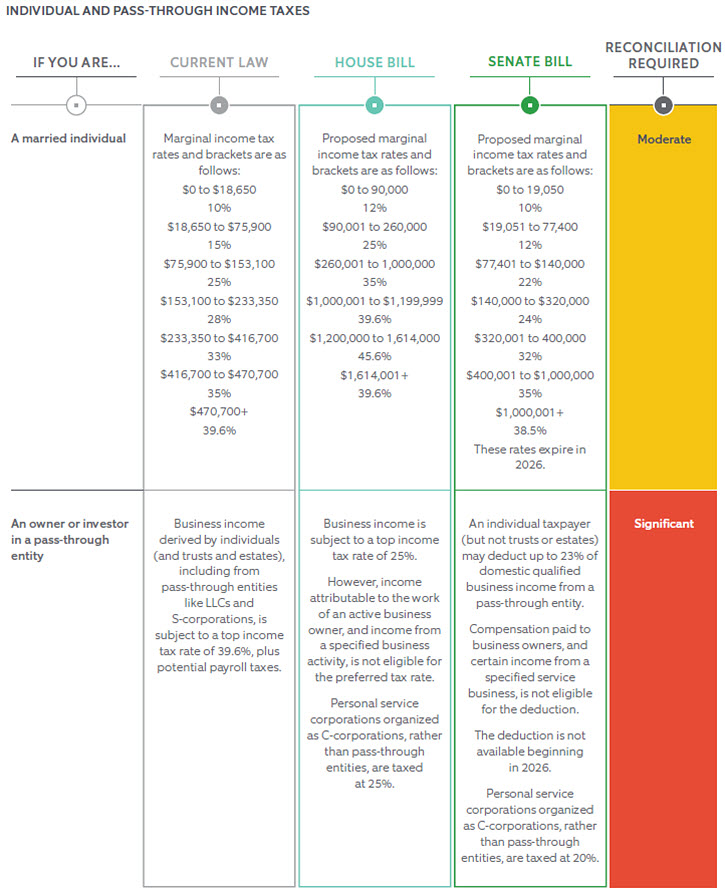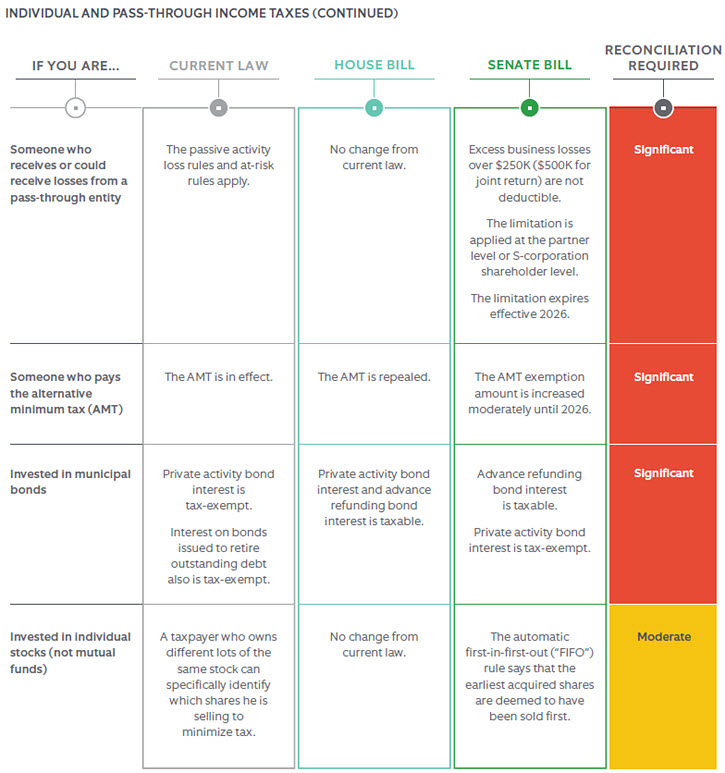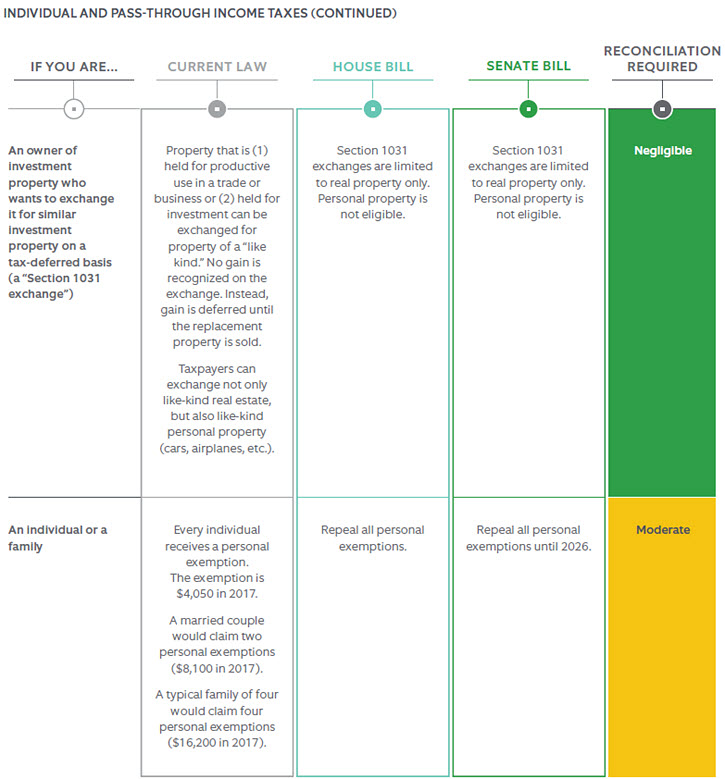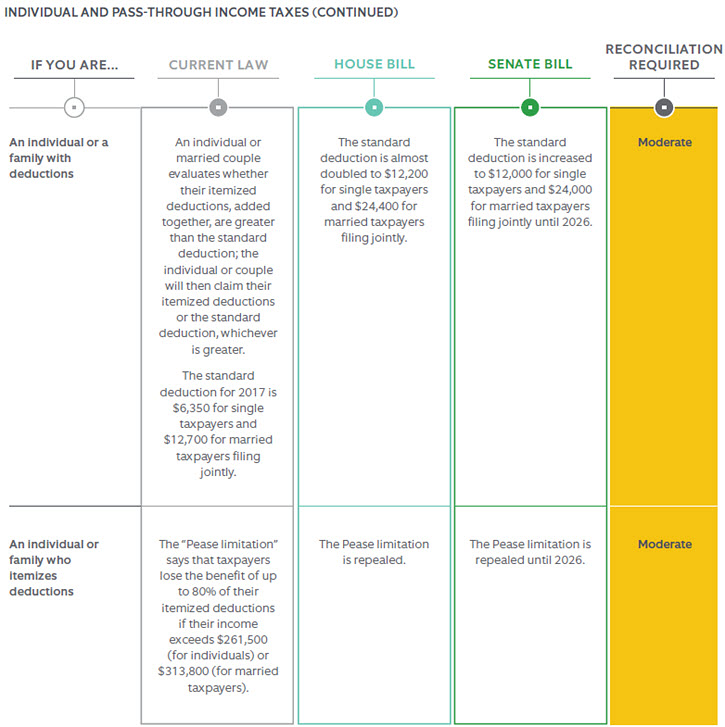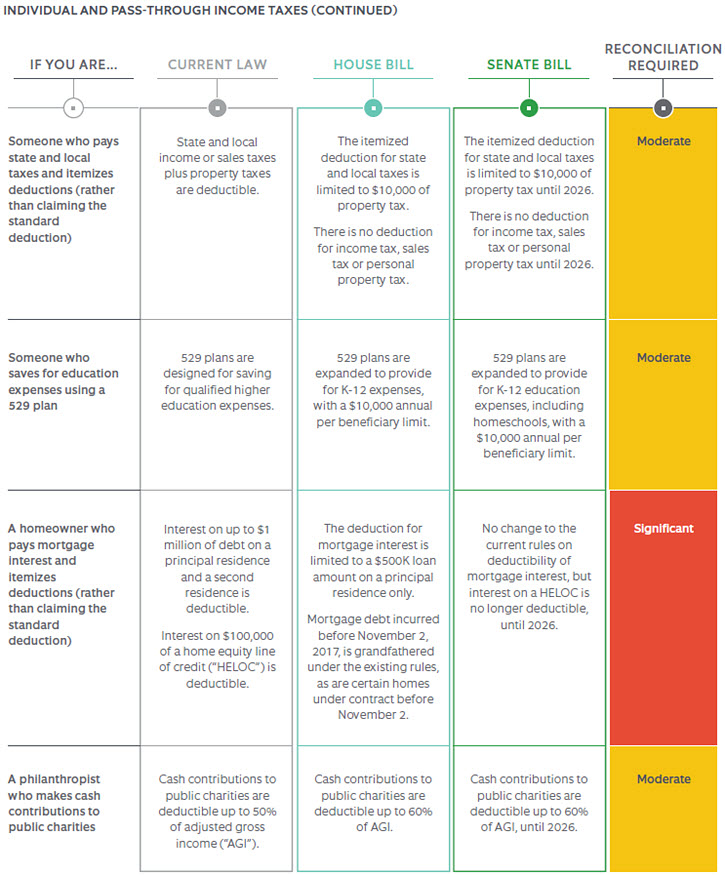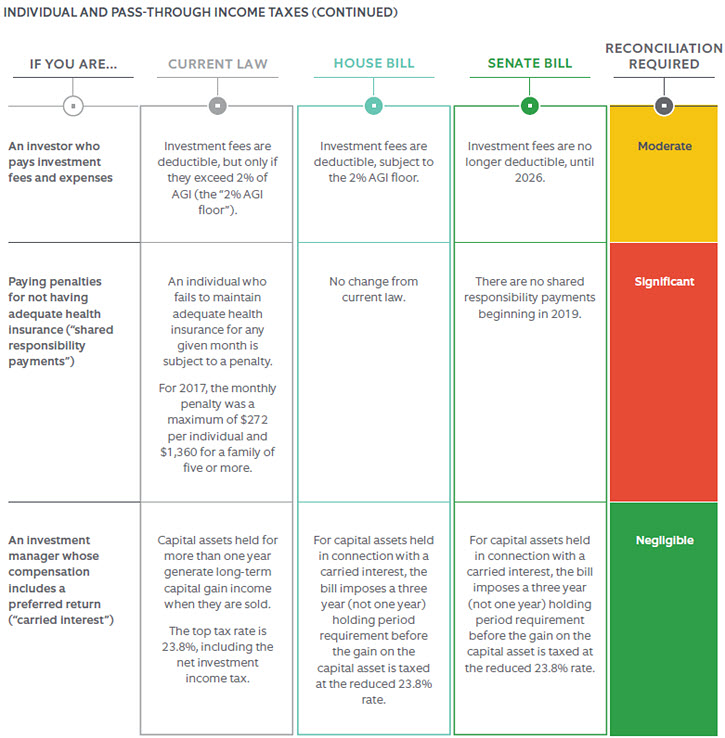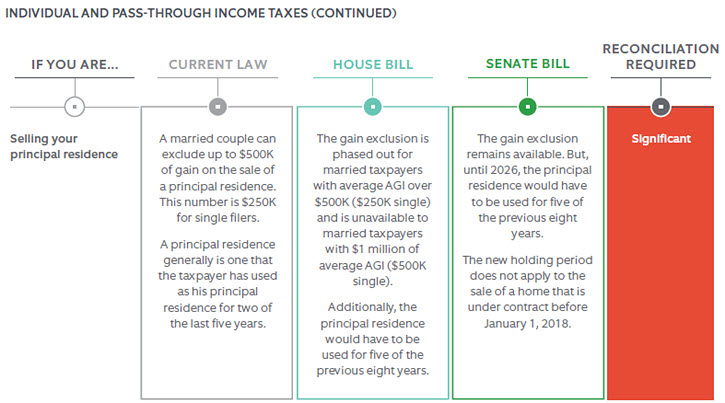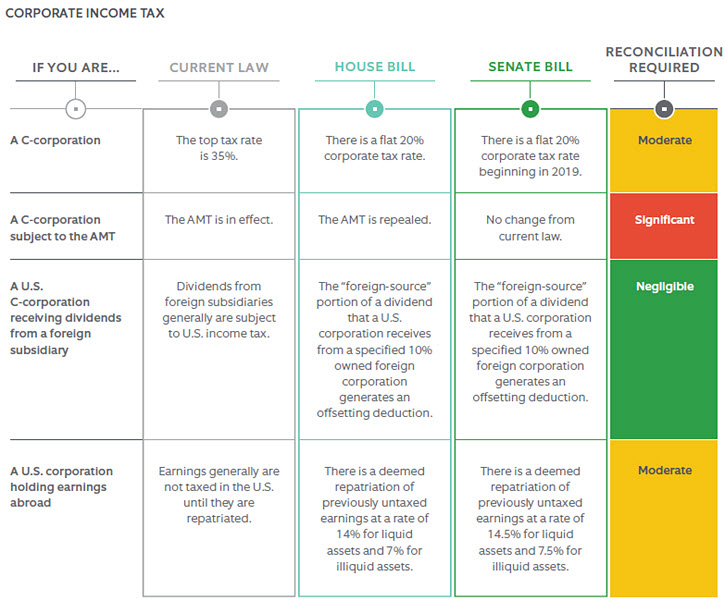 HOW MUCH WILL THESE CHANGES COST? WHEN WILL THEY BE EFFECTIVE?
We sometimes lose sight of the fact that one of the primary purposes of taxes is to raise revenue to pay for government services, and that tax changes have a budget impact. In the current environment where we do not balance our budget, the measure of the impact is the effect on the deficit. The Joint Committee on Taxation Congressional Budget Office estimates that the total deficit effect of the Senate bill over a ten-year time frame (2018-2027) is $1.447 trillion dollars. Managing this number to keep it under $1.5 trillion is one consideration that will drive many of the tradeoffs in the reconciliation process, including the effective and expiration dates of the various provisions.
The House version is generally effective January 1, 2018 and does not build in expiration or sunset dates. The Senate version delays the effective date of the corporate income tax rate changes to January 1, 2019. The Senate version also includes a sunset date of December 31, 2025, for the individual income tax and estate, gift and generation-skipping transfer tax changes, but not for the corporate income tax changes. These moving dates leave us with a bit of a tax yo-yo and can result in tax revision rather than true tax reform, making long-term tax planning a real challenge.
WHAT DOES THIS MEAN FOR ME? WHAT SHOULD I BE DOING NOW?
Even if tax reform passes, a lot would stay the same. The top rate on long-term capital gain income (including the net investment income tax) would remain at 23.8%. And, charitable giving, annual tax loss harvesting, tax-advantaged retirement plans and health savings plans plus annual and lifetime gifts to loved ones likely may still be viable ways to manage your tax bill. However, the details matter. The combination of considerations in your individual circumstances will determine the impact of any year-end 2017 and New Year tax-related decisions in your situation. Your legal and tax advisors can help you evaluate which strategies are right for you.
CONCLUSION
As Congress proceeds to Conference Committee, tax reform developments between now and the end of the year will be fast and furious. We are committed to helping you understand any changes as we continue to monitor these tax reform developments.
FOR MORE INFORMATION
As a premier financial firm, Northern Trust specializes in Goals Driven Wealth Management backed by innovative technology and a strong fiduciary heritage. Our Wealth Planning Advisory Services team leverages our collective experience to provide financial planning, family education and governance, philanthropic advisory services, business owner services, tax strategy and wealth transfer services to our clients. It is our privilege to put our expertise and resources to work for you.
If you would like to learn more about these and other services offered by Northern Trust, contact a Northern Trust professional at a location near you or visit us at northerntrust.com.