December 19, 2012
2013 Outlook: Less Risk, Less Reward
SUMMARY
To the surprise of many investors, 2012 was a year in which risk taking was rewarded. The post-financial crisis environment continues to generate weak economic growth as borrowers deleverage. Global central banks, however, have actively promoted risk taking by suppressing interest rates over the last several years – in effect, transferring wealth from savers to borrowers – in an attempt to boost housing, equities and eventually growth. We entered 2012 with a neutral tactical risk position, a view which proved more optimistic than many in the market. As the year progressed, we boosted recommended risk in search of both yield and growth, as we felt economic growth would be satisfactory, monetary policy would remain easy, and defensive investor positioning meant there was upside potential to valuations. This leaves us with a tactical overweight to risk as we enter 2013, a year in which we expect moderate growth and contained inflation to support continued easy monetary policy. The Federal Reserve's (the Fed's) recent adoption of specific inflation and unemployment targets will cause investors, over time, to scrutinize their blanket acceptance of the low rate policy environment. But we don't expect meaningful tightening in developed market monetary policy in 2013, so we expect investors to continue to hunt yield and favor those regions with clear economic growth prospects. We expect risk taking to be rewarded in 2013, but with risks appearing lower than at the start of 2012, the return potential is also likely more modest.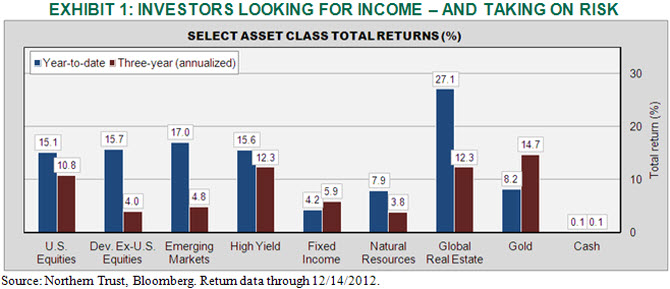 We expect growth in the United States and emerging markets to modestly exceed investor expectations, but we remain concerned that European and Japanese growth will disappoint. With inflationary trends benign for now, and slow improvement in developed market employment, we expect little need for tighter monetary policy. Negotiations around the U.S. "fiscal cliff" will likely continue to promote near-term volatility, but we think the importance of this issue will fade as the year progresses. At this point, a change in the outlook for the extended period of easy global monetary policy is the most likely reason for us to consider changing our overall risk appetite during 2013. We highlight our views on the major asset classes in Exhibit 2. .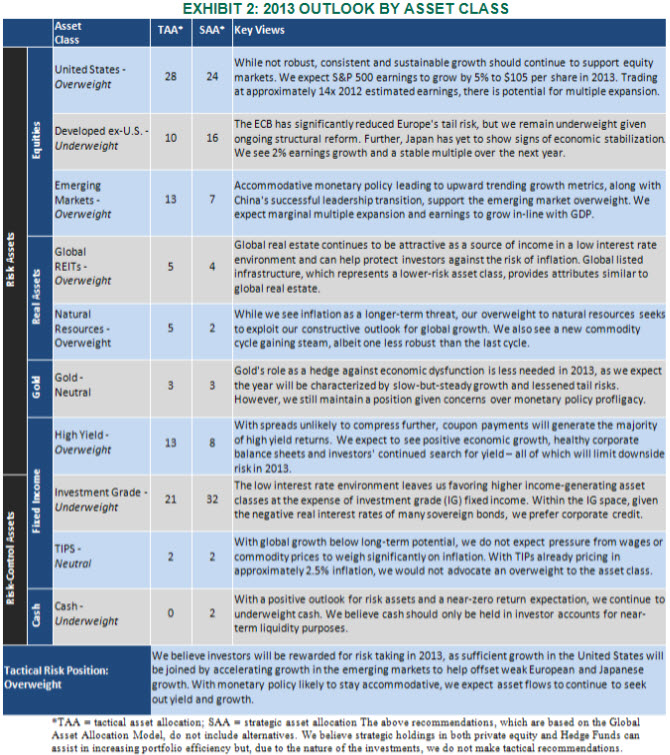 GLOBAL GROWTH

The global economy entered 2012 with highly divergent trends – emerging market growth was barely exceeding that of the United States, Europe was flirting with recession, and Japan was seeing some short-term post-earthquake bounce in activity. Growth in the United States slowed as the year progressed, while emerging market inflation-fighting policies enacted in 2011 continued to slow those economies. But after touching its lowest level in several years in the third quarter, the Global Manufacturing Purchasing Managers Index (PMI) stabilized and started reaccelerating through the end of the year. While there is near-term risk surrounding management of the fiscal cliff in the United States, and there will be fiscal drag in 2013 even with a negotiated resolution to "the cliff," we believe growth will modestly surprise to the upside in 2013. This view is supported by the recently released Institute of Supply Management's annual economic outlook, which based on a survey of purchasing executives nationwide, expects capital spending to increase from approximately 3.5% this year to 7% to 8% in 2013. Additionally, the housing market continues to heal as building activity increases and sales and prices pick up. Due to the continued effects of the deleveraging cycle across all major developed economies, however, the magnitude of any upside surprise is likely to be fairly measured. .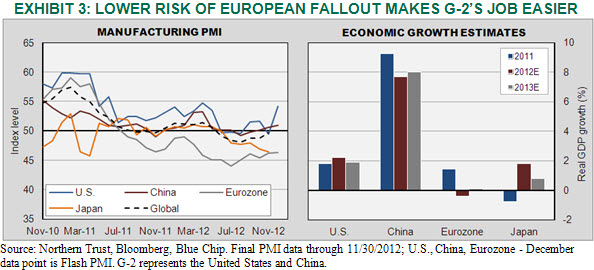 We expect the eurozone and Japan to continue to struggle as both regions' PMIs remain firmly in contraction territory. Despite modest improvement in recent months, we believe it is unlikely that the eurozone will return to growth in 2013 given the firmly entrenched austerity measures. With the German federal elections set for the second half of 2013, we do not expect any easing of fiscal restraint. After declining for the past several years due to tight monetary policy, China's economy started to regain momentum in the latter part of 2012 providing further evidence the economy has avoided a hard landing. We see increasing trade levels across Asia in the fourth quarter as supportive of our view that emerging market growth will accelerate into 2013 and representative of a positive surprise to investors. .

INFLATION

The inflation being eyed by central bankers these days is more complicated than that of prior generations. While some policy makers are clearly focused on traditional consumer price level worries, others are focused on the impact of monetary policy on asset prices. What is also a major break from the past is the interest of some central bankers in actually helping to create inflation, as opposed to containing it. When we broaden our view on inflation by looking beyond traditional goods prices to financial asset prices, we can clearly see a key differentiator between current policy in the United States and China. Whereas the United States is engaging in a reflationary policy so that housing prices can recover from the disastrous aftermath of the financial crisis, China has been trying to douse the kindling to prevent any possibility of a housing-related financial crisis in the first place. As seen in Exhibit 4, both policies are achieving their desired results – with U.S. housing prices over the past year up an average of 4.4% while Chinese residential property prices are actually lower than a year ago. .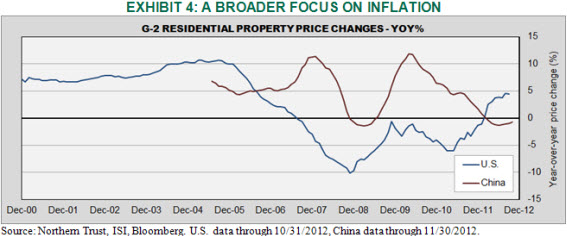 The inflation picture in China was a key contributor to the global growth slowdown over the past year, as The People's Bank of China responded to a 6.5% inflation rate in mid-2011 with much tighter monetary policy. When looking ahead to 2013 and focusing on the more traditional consumer price inflation at the global level, we have a fairly sanguine outlook. While global inflation peaked in 2012 at a 4% annualized rate during the third quarter, it looks set to fall to just 1.5% in the fourth quarter on the back of declining energy prices. It is our belief that wage inflation will be a required catalyst for sustained price inflation, a scenario we see as unlikely in the developed markets. With global growth below long-term potential, especially in developed markets, we expect improvement in unemployment to be very gradual. We also would not expect a troublesome spike in commodity prices (save the always present weather-related risks to agricultural product prices) to create inflationary pressures. Inflation expectations are one area of modest concern, as the U.S. 10-year inflation protected security is currently pricing in an expectation of roughly 2.5% inflation – a level at the high end of the Fed's comfort zone. .

MONETARY POLICY

After hiking rates for much of 2011 to fight inflationary pressures, emerging market central banks cut rates throughout 2012 in an attempt to spur economic growth. This was most pronounced in Brazil, where the policy rates have now reached an all-time low. In addition to its first interest rate reduction since the end of 2008, China also cut its Required Reserve Ratio three times over the past year. Left without room on the interest rate front, developed markets have continued the use of non-traditional monetary policy measures, as central bank balance sheets remain near historic highs. The Fed's balance sheet will now grow by $85 billion a month as it buys both U.S. Treasuries and mortgage backed securities (MBS). After European Central Bank (ECB) President Mario Draghi pledged this summer to do "whatever it takes" to save the Euro, the central bank announced its Outright Monetary Transaction (OMT) program, allowing the bank to purchase bonds issued by eurozone member-states. Finally, the recent win by the Liberal Democratic Party in Japan opens the potential for looser monetary policy in an economy that has been fighting recession and deflation for two decades. .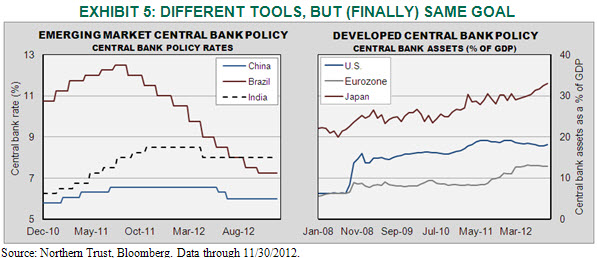 We expect monetary policy to remain accommodative across both developed and emerging market economies through 2013. However, the Fed has now moved to articulate specific economic objectives (saying that short-term rates will stay near zero at least as long as the unemployment rate remains above 6.5%, inflation is projected to be no more than 2.5%, and longer-term inflation expectations continue to be well anchored). This will increasingly move investor focus toward economic fundamentals as they assess how long developed central banks can keep policy so accommodative. The Fed's projections indicate that these objectives will not be reached until 2015, consistent with their prior guidance, but the clock is now ticking. Recent improvements in the unemployment rate have come more quickly than many expected, likely due to a fall in the labor participation rate. An uptick in the participation rate, which would slow the progress in reducing the unemployment rate and also indicate better growth potential for the economy, would be the normal expectation at this point in the cycle and likely is part of the Fed's projection. We would also expect the uncertainty around the eventual unwind of this easy monetary policy to keep risk premiums in the markets above historic levels, at least until some evidence of early success is evident. .

FISCAL REPAIR

The post-financial crisis landscape has been dominated by the focus of investors and politicians on debt levels and fiscal sustainability. Pressures from financial markets have been directly tied to the pace of fiscal repair, as the countries with the highest bond yields have subsequently made the largest reductions in their primary deficits. This has been especially true of the high-deficit countries in the European Monetary Union who, due to their tie to the common currency, have been unable to benefit from significant currency depreciation as a tool of adjustment. The adjustment process has not come without growth repercussions, as shown in Exhibit 6. As countries have moved to reduce their deficits through spending cuts and tax hikes, their deficits have fallen (with the exception of Japan) but growth has taken a hit as well. The International Monetary Fund (IMF) estimates that overall fiscal deficits (as a percent of GDP) will fall to 1.8% from 3.2% in emerging market countries and to 4.9% from 7.8% in developed markets. While the emerging market countries can handle deficits of 1.8% as they are collectively expected to grow by 5% in 2013, the developed market deficits of 4.9% can't be sustained with growth that may be just 1%..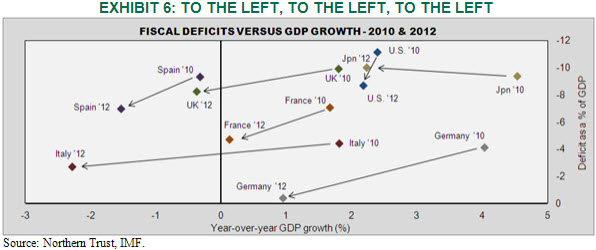 The European Union has been at the forefront of attacking fiscal deficits in recent years, and a continuation of this path in 2013 seems likely in advance of the German federal elections in the second half of 2013. The European budget action, in conjunction with expansive liquidity operations from the ECB, has succeeded in driving down the yields of Italian, Irish, Portuguese and Greek debt substantially throughout the last year. Much greater uncertainty exists with respect to the prospects for improvement in the U.S. and Japanese deficits as both are in significant flux as this report goes to press. President Obama and the Speaker of the U.S. House of Representatives, John Boehner, are locked in negotiations ahead of the year-end "fiscal cliff," and it is our expectation that in the next six months modest progress will be made in advancing long-term deficit reduction. Japan's prospects for fiscal repair may be taking a step backward with the return to power of the Liberal Democratic Party and former Prime Minister Shinzo Abe. With Abe having campaigned on a platform of fiscal and monetary stimulus to fight the country's two decade growth slump, deficit concerns look to be taking a back seat to growth. .

POLITICAL LEADERSHIP

The impact of political leadership on the markets and economy has been heightened since the heights of the financial crisis in 2008 and 2009. While investors have historically focused on analyzing the outlook for growth, inflation and traditional monetary policy, the financial crisis changed the rules. With policy action needed to address fiscal deficits, and regulations introduced in response to the financial crisis, investor uncertainty about future policy is elevated. Baker, Bloom and Davis (Measuring Economic Policy Uncertainty June 2012) constructed indices to measure uncertainty by tracking three factors: news media coverage of policy-related economic uncertainty, the number of federal tax codes set to expire and divergence among economic forecasts. Exhibit 7 compares the U.S. and Eurozone Economic Policy Uncertainty indices against stock market uncertainty. Historically, the three indices tracked closely, as illustrated by the collapse of Lehman Brothers and subsequent Troubled Asset Relief Program (TARP) negotiations in October 2008. However, the policy indices started to bifurcate from the CBOE implied market volatility index (known as the VIX) at the conclusion of the debt-ceiling debate in mid-2011. .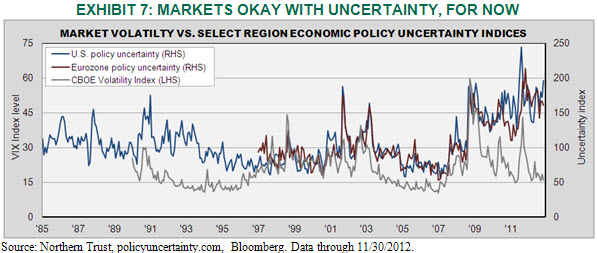 Currently, U.S. and eurozone economic policy uncertainty remains substantially above the long-term averages, and their spread to the VIX is near all-time highs. Although it does not appear to be impacting market volatility, policy uncertainty may be affecting economic output. Baker, Bloom and Davis estimate that an increase in the U.S. index, equivalent to the 2006 and 2011 experience, has a substantially deleterious effect over the subsequent two years, foreshadowing peak declines of 3.2% in real GDP, 16% in private investment and 2.3 million in aggregate employment. While these estimates may prove exaggerated in a post-financial crisis world, they help illustrate the possible negative impact that policy uncertainty is having on corporate capital spending and hiring. An agreement on the U.S. fiscal cliff, including substantial deficit reduction that credibly stabilizes the U.S. debt-to-GDP ratio over the medium term, could meaningfully reduce uncertainty and provide a boost to "animal spirits" in 2013. .

GLOBAL EQUITIES

Last year we said that stocks should handily outperform investment-grade bonds once the uncertainty over the global economy recedes. Global equities did indeed benefit from reduced economic uncertainty in 2012, but also were substantially boosted by reduced tail-risk in the wake of central bank largesse. As shown in Exhibit 8, this allowed substantial multiple expansion, especially in the markets hit hardest by uncertainty. Returns among the major regions converged as the year progressed, with U.S. equities returning 15.1% year-to-date, while developed markets outside the U.S. gained 15.7% and emerging market stocks gained 17.0% during the same period. .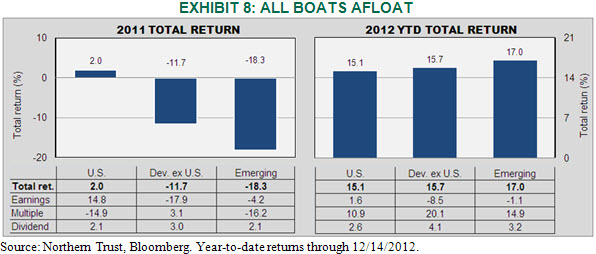 The equity market gains, well beyond earnings growth, have led to some valuation deterioration this year, but earnings yields are still attractive relative to history. As shown in Exhibit 9, earnings yields (the markets, earnings divided by stock value; inverse of the price/earnings ratio) are near or in the cheapest 20% of the last 25 years. While the historical numbers are partially inflated by technology bubble valuation levels, we are also currently in a period of lower inflation and lower interest rates. Reflecting economic uncertainty, investors have been favoring stocks that are more defensive in nature (such as U.S. equities and those firms most exposed to U.S.-demand). In the last two mid-cycle slowdowns, companies exposed to increasing international demand have started to outperform and we expect that will be the case again this cycle. .

We expect volatility emanating from the European fiscal crisis to continue to moderate due to the ECB's programs and progress on the policy front, while U.S. volatility around the fiscal cliff should be contained to the early part of 2013. Emerging market equities should benefit from gradually improving economic momentum, while political leadership and regulatory reform should also aid growth and sentiment. While bottom-up analyst estimates (which are historically optimistic) call for 11% earnings growth in the United States and 13% in emerging markets, earnings growth is also forecasted to bounce back 10% in Europe. We think profit margin gains are mostly behind us, so earnings growth going forward will be driven by revenue growth. Our best proxy for global revenue growth is nominal global GDP growth, which we are penciling in at around 5% in 2013. Combining our expectations for growth and margins leads to forecasted earnings growth of 5% in the United States, 7% in emerging markets, and 2% in the developed markets outside the United States. .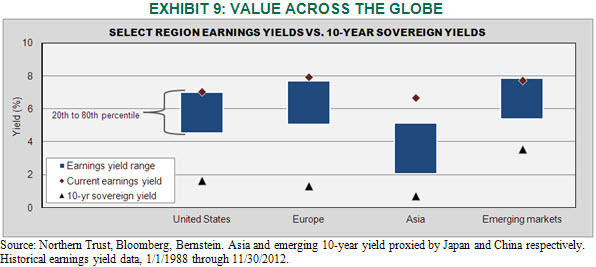 We do not think valuation is an effective timing device. However, we do think it supports the view that stocks should continue to outperform investment-grade bonds as uncertainty over the global economy recedes. As long as investors have sufficient liquidity set aside to handle near-term needs, we think they will be rewarded for allocating longer-term capital toward equities at the expense of their investment grade bond allocation. .

FIXED INCOME

After a standout performance in 2011, global fixed income turned in another strong performance in 2012. Interest rates continued to decline as central bank bond buying and moderating inflation supported bond prices. While our expectations for a "coupon-clipping" type of year were handily exceeded, our preference for corporate credit over sovereign debt was on the mark. U.S. 10-year yields, which started the year at 1.88%, dropped to 1.70% on December 14, 2012. This helped drive a 4.4% return in U.S. long-term Treasury bonds (all fixed income returns cited in this report are the respective Barclays Capital indexes, year-to-date through December 14, 2012) and a 5.0% in comparable global bonds (ex-U.S.). The search for yield, bolstered by solid but unspectacular economic growth, compressed spreads in U.S. credit (217 basis points (bps) to 134 bps) and U.S. high yield (702 bps to 512 bps). This allowed U.S. credit to generate a 9.3% total return, while high yield gains of nearly 16% kept pace with the equity markets. Finally, the U.S. municipal bond market followed the positive trend in interest rates, and generated a 7.3% return. .

With real interest rates negative in many markets, and credit spreads unlikely to compress any further, we see limited upside potential in fixed income going forward. The low level of nominal yields means that price risk may become asymmetrical over time as there is little upside potential with greater downside risk. We think the key drivers of rates in 2013 will be the outlook for growth and inflation (fundamentals) and ongoing monetary policy support (technical). As we discussed in the Inflation section, we see muted inflationary trends in 2013, capping interest rate pressures. We believe this will allow the Fed, the Bank of England and the Bank of Japan to keep policy rates at current levels, while the ECB may cut their rate a further 25 bps to 50 bps if economic growth continues to wane. Global short rates have fallen steadily over the last 18 months as inflation trends have reversed and monetary policy has been eased. This has been an important catalyst to the compression of credit spreads, as shown in Exhibit 10. We think this spread compression is compatible with developed market central bankers' desire to boost wealth and encourage risk taking as a tool to stimulate growth. .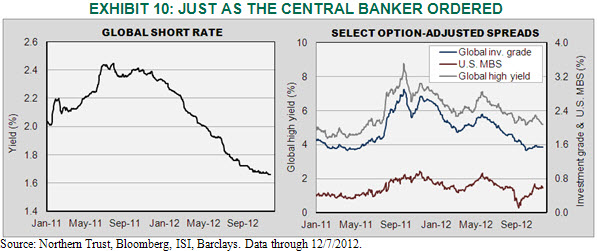 In this low nominal interest rate environment, with many sovereign bonds generating a negative real interest rate, we still find corporate credit more attractive. We think corporations are well positioned to manage their balance sheets going forward, especially as compared with governments. Central to our support of credit is the view that the United States will not enter a double-dip recession and that emerging market growth is reaccelerating. In looking at non-investment grade credit, we believe that U.S. high yield can withstand some slowdown in economic growth while holding its value. High yield has historically held its value in growth environments as weak as -0.5% GDP growth – it has taken a greater slowdown to result in negative high yield returns. With our constructive view on U.S. growth, we feel that high yield has mid-single digit return potential over the next year as higher current yields are partially offset by some modest spread widening. .

Some investors have been calling for the end of the bond bull market for several years now, saying it is only a matter of time before interest rates jump and bond prices fall. While we continue to expect interest rates to stay well behaved over the next several years, shortening the maturities of a portfolio's bonds should help protect against the risk of higher rates. As shown in Exhibit 11, a portfolio of intermediate government bonds held during the long upward march of interest rates from 1954 to 1981 still generated a positive return and actually matched the rate of inflation. So a move to shorten portfolio duration will clearly help reduce the risk of an unexpected increase in interest rates. .

Turning to the U.S. municipal bond market, we expect issuance in 2013 to be in line with that of 2012 ($375 billion). Refinancings will dominate total issuance again, accounting for 50% to 65% of the issuance. Like 2012, we expect 2013 will be a year that sees a reduction (estimated at $50 billion) in total outstanding bonds due to new money issuance not matching maturing bonds. This tighter supply picture is supportive for municipal bond prices. Demand will likely not match the torrid pace from 2012, but should still be solid from traditional participants (retail, high net worth and insurance companies) and newer participants (banks, corporations and cross-over buyers) as tax-free municipals still carry advantages in this low interest rate world. .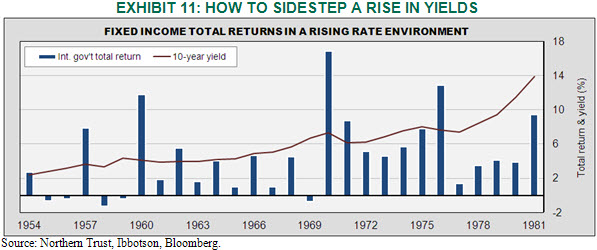 We think state governments, whose finances are improving with increases in sales, personnel, and corporate taxes, are better positioned than local governments that are still hampered by declining property tax revenues. Unlimited tax general obligation and essential services revenues are our favorite sectors. Appropriated debt, project-specific revenues, and leases are generally sectors we are less comfortable with. Tax policy will be monitored closely as the potential for changes in the treatment and availability of traditional tax-free municipal bonds is being discussed. We do believe that Washington appreciates the benefits the tax-exempt market provides through financing infrastructure, schools, power and new capital projects and thus any actual changes will likely have only marginal impact. .

REAL ASSETS

We come into 2013 with a positive view toward real assets despite our fairly sanguine views on near-term inflation. The current low interest rate environment is allowing even these moderate levels of inflation to successfully eat through all the yield of some income generating investments, such as government bonds. Investors reacted to this reality by pushing up prices in income-oriented asset classes such as global real estate, helping to produce total returns of nearly 30% year-to-date. Global real estate yields are generally higher than what investment grade debt provides at the current time and are not constrained by "redeeming at par," meaning that higher security prices can offset potential inflationary pressures. Of course, the lack of a "par value" also subjects investors to a higher possibility of price depreciation – especially pertinent in global real estate given its higher historical volatility. For investors that have higher risk aversion but still want exposure to an income-generating asset class with inflation sensitivity, global listed infrastructure – and its lower historical risk profile – may be an attractive alternative. .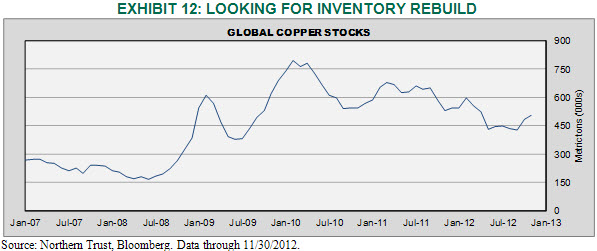 Our current tactical overweight to natural resources rounds out the broader overweight to real assets and is also less dependent on near-term increases in inflation and more tied to a combination of our macro growth views and technical factors. We believe that a combination of increased optimism on the path forward for emerging market growth – notably China – combined with reduced concerns of a crisis in Europe and continued belief in the "moderate but steady" U.S. growth environment will lead to increasing commodity prices. Supporting this view is an expectation for a "commodity restock" (see Exhibit 12, showing global copper stocks). While we believe the commodity "super-cycle" may have run its course given China's changing strategic priorities (less commodity intensive), a more traditional cycle may be underway. Additionally, longer term inflationary concerns due to aggressive global monetary policies concerns may provide longer-term support. Funding the increase in natural resources was a reduction in our gold position – an asset class we now classify as an Alternative Currency. We think a more constructive global outlook lessens the need for the hedging properties it offers. .

Special thanks to Michael Baer for data research.