January 22, 2013
Mining the Commodities Complex
The January 22 strategy piece, which was co-authored by Edward Trafford, commodity analyst, provides additional insight into Northern Trust's Investment Policy Committee's (IPC's) decision to increase its allocation to Natural Resources.
Northern Trust's Investment Policy Committee recently increased its allocation to Natural Resources in its Global Tactical Asset Allocation model. This decision was predicated on our increased comfort in the outlook for global economic growth. Key drivers for growth include reaccelerating growth in China, continued slow-but-steady growth in the United States and recalibrated expectations out of Europe (but appropriately lowered concern over systemic collapse within Europe's banks). We highlight the improving outlook for U.S. and China construction, bottoming of Organisation for Economic Co-operation and Development (OECD) composite leading economic indicators (LEI), accommodative global monetary policy, and the potential for a reflationary cycle – especially in emerging market countries – as additional catalysts for growth. Our constructive outlook for China is especially pertinent given the role the emerging world power plays in the commodities markets. As shown in Exhibit 1, Chinese GDP growth prospects appear to be a driver of commodity prices.

EXHIBIT 1: AS GOES CHINESE GROWTH …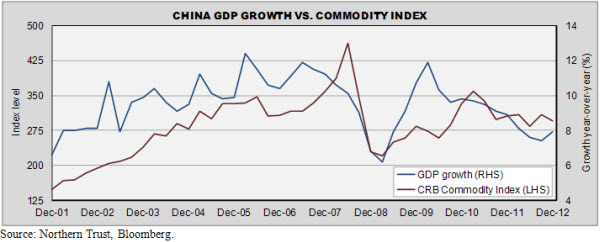 We see China's economic growth as inflecting upward, which we believe supports our overweight stance on the commodity complex and positioning for a cyclical and reflationary trade. Our early read on the new Xi Jinping/Li Keqiang regime suggests that urbanization and reform (social, economic, property, tax, etc.) will be the primary focus of their upcoming decade-long reign and view this as key to ensuring sustainable economic growth.

However, what may be more important for Chinese growth is the recent shift to a more accommodative monetary policy on behalf of the People's Bank of China (PBoC). Further, while many had been focusing on money supply and loan data (both of which have continued to disappoint) we argue that these indicators fail to provide an adequate picture of credit conditions within China. Instead we focus on Total Social Financing, a broader measure of liquidity within the economy, which has been in expansionary territory since the latter half of 2012. We view this as one of the primary catalysts behind the rebound in China's economy. When looking for affirmation of our expectations for China and its impact on global growth, we look to the current trade picture. China's December exports, up 14.1% year-over-year, (vs. consensus of 5%) and imports, up 6% year-over-year (vs. consensus of 3.5%) would suggest that a global recovery is gaining traction. Exhibit 2 below shows the improvement in credit conditions and inflection point in trade activity.

EXHIBIT 2: CHINA'S CREDIT & TRADE CONDITIONS IMPROVING




Looking across multiple datasets further corroborates our view that China GDP is bottoming following 10 quarters of decelerating growth. Broad official measures of economic activity – retail sales and industrial production – have shown reacceleration over the past few months. Additionally, year-over-year growth in electricity use and rail volume – two data series that are much less subject to assumptions – have also shown noticeable improvement, with rail volume going back into positive territory on a year-over-year growth basis. These measures can all be seen in Exhibit 3. Important to note is the fact that China is growing off a base over five times bigger than it was just 10 years ago (Chinese gross domestic product has risen from $1.4 trillion in 2002 to $8.3 trillion in 2012). As such, while economic growth rates may fall somewhat from their double-digit levels of the past decade, the impact to the global economy is more meaningful given growing size of the Chinese economy.

EXHIBIT 3: MORE INFLECTION POINTS





With construction in China representing the primary driver of commodity demand, land area purchases are our preferred leading indicator as inflections have historically preceded increases in construction activity (see Exhibit 4). With land area purchases showing some stabilization over the last seven months, we expect growth in floor space under construction to bottom near December's 13.2% year-over-year growth rate.

EXHIBIT 4: BEFORE YOU BUILD, YOU NEED TO BUY THE LAND





With residential real-estate showing noticeable improvement, especially in "Tier 2" cities (the approximately 20 biggest cities in population after Shanghai, Beijing and Guangzhou) we believe such strength will drive new land purchases and starts thereby bolstering demand for commodities. Our positive outlook on construction is substantiated by China's Steel Purchasing Manager Index (PMI) of 55.5, which moved into expansionary territory from November's reading of 49.2 (readings above 50 imply expansion), and the New Steel Orders sub-index 13.5 point month-over-month increase. We are also seeing evidence of a turn in commodity-related industrial markets with China's December bulldozer sales up 88% year-over-year, lifting from November's 13% year-over-year growth rate and 2012's decline of 22%.

Equity-Based Commodities Especially Attractive

Sentiment toward the emerging market-exposed commodity complex was broadly negative through 2011 and even into 2012, as evidenced by valuation multiples, earnings revisions, fund-flows and managers' exposure to the complex. We believe this has provided an attractive entry-point for investors.

Our positive call on the complex is less predicated on a broad lift in prices or declining supply but, rather, improving demand and sentiment coupled with company and commodity specific drivers. These include capital curtailments, declining lifting costs, positive operating leverage, price support stemming from the marginal cost of supply, global price arbitrage, restocking, high-grading of prospects, and a renewed shareholder focus by management teams.

Further detail on each of the major commodity sectors can be found on the pages that follow.

Industrial Metals: Fundamentals Differ by Commodity

China has bled down inventory in several commodities, but perhaps none more so than iron ore and steel (Exhibit 5). Our analysis indicates we are now in the early stages of a restocking cycle. We thereby expect 2013 to be marked as a year where demand exceeds consumption as inventory is brought back to comfortable levels. As such, within the metals complex, we highlight iron ore as our preferred exposure given China's need to restock coupled with improving global construction-related indictors suggesting an upward inflection in steel demand.

EXHIBIT 5: CHINA IN EARLY STAGES OF RESTOCK





Iron Ore: We think iron ore looks compelling given evidence of cost-curve support coupled with management teams cutting capital/operating expenditures to refocus operations from "growth" to maximizing shareholder value. We view the sharp bounce in pricing off of approximately $87/ton as evidence of producer discipline with miners shuttering production when prices fell below the marginal cost of supply. We see prices below the $95 level as unsustainable over the long-term given Chinese cash costs at or above this point. China's December iron ore imports hit a new high and were up 11% year-over-year and 7.8% month-over-month. We do not expect iron ore prices to continue pushing upward but note that prices are still 29% below prior peak levels and up only 5.8% year-over-year. We anticipate full-year 2013 pricing in the $125/ton range, which is below spot but higher than what we estimate is embedded in the equities. With high prices incenting new supply, we see risk to pricing toward the latter part of 2013 and into 2014 as marginal producers return to the market just as China possibly completes its restock.

Copper: High prices over the past decade have driven capital investment, which we expect to push the market into surplus as 2013 shows the greatest growth in copper production since 2004. Freeport McMoRan's decision to diversify away from copper has understandably caused many to reconsider the underlying fundamentals within the sector. We see increasing inventories as limiting upside to copper prices and anticipate prices reverting to cost-curve support over the coming years. Once accounting for bonded warehouses, copper inventories in China are at an all-time high while global stocks to use are approaching prior peaks. We estimate that the marginal cost of production is closer to $2.75, suggesting prices could correct by approximately 31%. We view the December China copper trade data as indicative of an oversupplied market with imports down 33.0% year-over-year, marking the third consecutive month of slowing growth. The greatest risk to our negative call on copper likely pertains to demand for new physically backed ETF vehicles placing upward pressure on the price of the commodity and amplifying moves in the price given the speculative nature of the purchase. We also note that one should be careful not to confuse inventory with accessibility. As much of the metal is tied up in financing deals with accessibility limited by warehouse load-out rates, prices may prove resilient despite weakening supply/demand fundamentals.

Aluminum: Despite excess industry capacity, coupled with new supply coming online (production growth of approximately 5% in 2013 is possible, up from 3% growth in 2012), we anticipate aluminum prices should remain fairly stable as prices continue to hover near the marginal cost of supply. We are seeing evidence of substitution toward aluminum, largely from copper, driven by both price and "light-weighting." Demand for aluminum has grown at a faster clip than other metals, trending at a 4% to 5% range – and we expect this to increase to 6% to 7% as Chinese and U.S. demand ramps largely from transportation and power-grid applications. We are, therefore, positive on the shorter-term fundamentals for the metal. We see interest rate hikes as the biggest risk to the aluminum price as we expect the increased cost of financing to precipitate an initial unwind of the carry trade, thereby resulting in "tied-up" inventory becoming liquid. We believe this carry trade may have peaked based on the spread between cash and the 15-month forward. Given the risk associated with the unwind, we are not positive on the longer-term supply/demand fundamentals for aluminum.

Energy: Tale of Two Cities

The energy markets (particularly oil and natural gas) are trapped in a fight over which drivers (short-term or intermediate- to long-term) will dominate the future direction of prices (both commodity and equity). While there is a wide range of opinions on the outcome, we expect an improving global economy will provide upward pressure on both oil and natural gas prices.

Oil: Despite a relatively weak worldwide economy over the past two years, global oil prices have remained stubbornly high. Brent oil prices have averaged nearly $110/barrel over this period after a rapid recovery from the 2008-09 recession low of $40/barrel. The price of U.S. West Texas Intermediate (WTI) also rallied from the recession lows but the price recovery (to a two-year average price near $90/barrel) was stunted due to the aggressive drilling and completion activity witnessed in the liquid rich U.S. basins. The ballooning of storage levels in Cushing, Oklahoma (the price point for the NYMEX WTI contract) caused by the recent expansion in production and inadequate export capacity (out of Cushing) resulted in the WTI price of crude falling to a $20 to $25/barrel discount to Brent. This massive discount compares to an historical modest premium (of $2 to $3/barrel) for WTI over Brent. That's how we arrived at our theme, "Tale of Two Cities:" the large differential between Brent and WTI recently narrowed to around $15/barrel and may trend modestly lower in the coming months. The decline in the price differential resulted primarily from the prospect for (1) new pipeline capacity and (2) a significant increase in crude rail loadings (which allows crude to be diverted away from Cushing to more attractive markets – particularly the East and West Coasts). The short-term narrowing in price between Brent and WTI has been largely in anticipation of expanded takeaway and by-pass capacity. A quick check of Cushing storage reveals record high inventories. Current storage is roughly 75% above the levels of January 2012. Therefore, the Brent/WTI differential is likely near a low that will be maintained over the next 12 months. From an intermediate- to long-term perspective, the price differential should continue to narrow as U.S. pipeline infrastructure is expanded and the resulting free(r) movement of crude to the critical U.S. markets allows refiners to substitute domestic crude for some of the historically imported volumes.

Natural Gas: After a meaningful percentage rally off decade low prices near $2.00/thousand cubic feet (mcf) in mid-2012, natural gas is caught in a tug-of-war battle between the forces of supply and demand in both the short-term and the intermediate- to long-term. In the near term, the natural gas price recovery has stalled a bit due to negative investor sentiment, mild winter-to-date temperatures, the rise in "associated natural gas" production resulting from the aggressive drilling and completion activity in liquid rich basins and a push to complete previously drilled natural gas wells. On the other hand, a number of factors suggest a trough in industry fundamentals and perhaps early signs of a coming recovery (the speed and magnitude will probably be somewhat muted if warm winter temperatures hold). Positive factors influencing the natural gas market include the recent higher-than-expected (using heating degree day metrics) withdrawals from storage even with mild winter temperatures, the dramatic drop in the U.S. natural gas directed rig count, typically hyperbolic production decline rates associated with the unconventional (shale) natural gas basins, a decline in the number of drilled but uncompleted gas wells, and the gradual migration out of the "sweet spots" in some basis to the more marginal areas. From an intermediate- to long-term perspective, the level of U.S. natural gas prices is uncertain as a host of conflicting potential supply and demand factors vie for dominance. From a supply standpoint, the U.S. has a massive natural gas resource base spread out over many basins, the oil and gas industry has developed the tools (horizontal drilling and multi-stage hydraulic fracturing) necessary to release the natural gas, the critical infrastructure (particularly pipelines, gathering systems and processing plants) has been and is continuing to be expanded, and the oil service industry has the critical mass to meet (or expand to meet) necessary future drilling and completion activity levels. The intermediate- to long-term demand factors are also uncertain but generally pointing in a positive direction. Potential major demand drivers include a continued shift toward natural gas as the fuel of choice in the power generation market, a new U.S. construction cycle in industries (such as steel and chemicals) that utilize abundant and relatively inexpensive North American natural gas as a key raw material, the opportunity for natural gas to make some headway as a transportation fuel and the possibility for future U.S. exports of natural gas in the form of liquid natural gas (LNG). While total demand for natural gas to meet the possible future needs of these markets is still unknown (and hotly debated), a growing global economy is dependent on rising energy sources and the U.S. natural gas market appears to be uniquely positioned to benefit. Overall we expect U.S. natural gas prices to rise but the interplay of supply and demand will determine whether prices rise into the mid-single digits or whether they soar toward double digits (we consider this to be a low probability).

Agriculture: Recent Prices Driven by Extreme Weather Patterns

Production during the 2012-13 growing season was hit on a global basis with aggregate grain production estimated to be down approximately 5% as the U.S. experienced drought conditions not seen in decades; rainfall in India was well below historic norms and soil moisture levels in Australian and eastern Europe were sub-optimal. As highlighted in Exhibit 6, U.S. corn inventories are still near record lows as yields collapsed. Our focus is currently on South America, with early indications suggesting that Brazilian and Argentinean yields will be solid. We view agriculture as the commodity sub-sector with the least upside potential as crops benefit from the secular productivity tailwind from the use of genetically modified seeds and fertilizer application. However, continued aberrations in weather patterns could keep prices inflated.

EXHIBIT 6: THE 2012-13 GROWING SEASON'S PERFECT STORM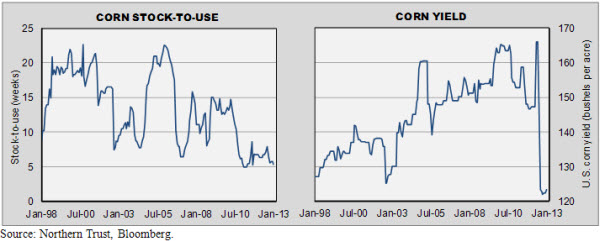 Corn: Despite strong production out of South America, shortfalls in the Ukraine and the United States are resulting in lower global production for 2012-13, which is projected to be down 3.7% year-over-year. We expect this to reverse entering 2013-14, should yields revert to the historic trajectory. For perspective, U.S. yields have increased 22% over the last 20 years. We also expect softening demand from the ethanol market as volumes are sold from inventory and refiners buy renewable identification number credits (RINs) in lieu of blending given the production of greater than mandated requirements over the prior two years.

Wheat: We estimate global stocks-to-use will be down approximately 9.5% year-over-year in 2012-13 due to softer global production (Russia and Australia) coupled with strong demand. Unlike corn, we have not seen rationing due to high prices with demand from global markets solid. Within the agricultural complex we see wheat as having the greatest potential upside driven by firm demand and weak crop conditions as evidenced by only 33% of the winter wheat being classified as "good-to-excellent." Moving forward we will watch the wheat/corn ratio, with falling corn prices leading to substitution away from wheat for livestock feed.

Soybeans: We expect global inventories for 2013 to increase by 7.9%, as improved yield expectations for Brazil and Argentina have driven global production up 12% year-over-year – despite a 4% fall in U.S. production. We project Brazil will replace the U.S. as the world's largest soybean exporter. China has cancelled scheduled shipments from the United States, given the improving outlook from Brazil where a 24% year-over-year increase in production is forecast. Across the agriculture complex, we are least positive on soybean pricing given the expectations for increasing inventories.

This marks the beginning of a quarterly update on the commodities complex by Edward Trafford, Commodities Analyst with Northern Trust's Equity Research team.

Special thanks go to Jackson Hockley and Kevin Cleary for their insights into the Energy sector.

APPENDIX: A COMPARISON OF VARIOUS COMMODITY INDEX EXPOSURES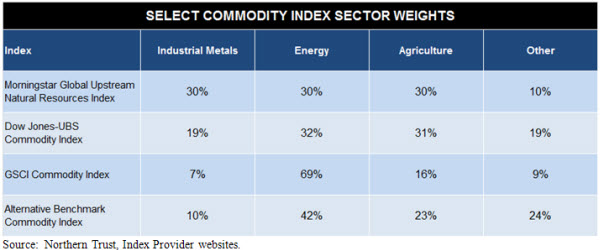 It is not possible to invest directly in an index

Morningstar Global Upstream Natural Resources Index measures the performance of stocks issued by companies that have significant business operations in the ownership, management or production of natural resources in energy, agriculture, precious/industrial metals, timber and water resources sectors, as defined by Morningstar's industry classification standards. Individual stock weights, as well as category and regional exposure, are capped to provide diversified exposure. Dow Jones-UBS Commodity Index is a broadly diversified index composed of commodities traded on U.S. exchanges, with the exception of aluminum, nickel and zinc (which trade on the London Metal Exchange (LME)). The weightings for each commodity included are calculated to ensure that the relative proportion of each of the underlying individual commodities reflects its global economic significance and market liquidity. S&P GSCI Commodity Index is a broadly diversified composite index of commodity sector returns representing an unleveraged, long-only investment in commodity futures. The returns are calculated on a fully collateralized basis with full reinvestment. Individual components are weighted by their respective world production quantities. Alternative Benchmark Commodity Index is a broad-based commodity exposure to 19 commodities across the energy, metals and agriculture sectors. The index employs a momentum model to vary commodity exposure, adhering to maximum and minimum weights by increasing commodity exposure in upward trending commodity markets and decreasing commodity exposure in market declines by utilizing a defensive cash position.