February 6, 2014
Gut Check
The relative calm with which markets entered 2014 has turned more turbulent of late, testing the conviction of investors. At the start of this week, the U.S. stock market had gone 143 days without a 5% decline, nearly three times the typical cycle of 49 days. Investor concerns about the prospects for U.S. growth have joined with uncertainty about the outlook for emerging markets to push U.S. stocks to the 5% decline threshold this week, and the performance has been worse in the other major equity markets. As is usually the case, the funds that left equities have found their way into the bond market, with the U.S. 10-year Treasury yield declining from 3.03% at the start of the year to 2.63% presently. Our favored asset class, U.S. High Yield bonds, has eked out a positive return in this environment. So what are the market's specific concerns about growth, and what does the turmoil in emerging markets portend? While there has been a slowdown in recent economic growth data from the United States, we do not believe the economy is at risk of recession. The data from other major developed economies, such as Europe and Japan, have not shown a hiccup in the start of the New Year. Emerging market growth has continued to slow, including indications that Chinese credit growth is slowing in the face of increased credit quality concerns. We believe that emerging market economic and earnings momentum will need to improve relative to the developed economies for those shares to outperform, but valuations have become increasingly supportive. Finally, in this report we scrutinize the "January Indicator" – the concept that what happens in the market in January is a tell-tale sign for the rest of the year. While returns over the rest of the year are typically much better after a positive January, we find the probability of a positive rest of year return after a down January is still better than 50/50.

EXHIBIT 1: GROWTH IS KEY, AND IT HASN'T HIT A WALL GLOBALLY



Source: Northern Trust, Standard & Poor's, Bloomberg. Panel 1: S&P 500 as reported EPS used to calculate growth in last four quarters' earnings from 1950 through 2013; panel 2: Global Purchasing Managers Index (PMI) data through January 2014.

The significant drop in the U.S. manufacturing Purchasing Managers Index (PMI) for January, along with continued slowing in China's measure, is at the locus of investor concern. The continued softening in the Chinese measure is not of great surprise to the market, but the magnitude of the U.S. decline was a big surprise. To some extent, difficult weather is to blame but seems unlikely to be the only factor at work. This has come after the very disappointing December labor report, where job creation was some 100,000 jobs short of expectations. Somewhat offsetting this concern is the better performance in the much larger service sector. To wit, the January U.S. services PMI held in at 54.0, an acceleration from 53.0 last month, but modestly below the one-year average of 54.6. In addition, the ADP report of payroll growth for January showed job creation of 175,000 and only minor revisions to last month's data. In aggregate, these measures do not signal major trouble for the U.S. economy. We will receive the January non-farm payroll report this Friday and expectations call for growth of roughly 175,000 – but the numbers could easily be noisy as weather remained troublesome throughout January.

Looking at global industrial production and services activity, the improving trends in Europe and Japan have helped keep the global aggregate measures at healthy levels. Japan, Germany and the United Kingdom are showing particular strength among developed countries, while Indonesia, France and Russia are the only major economies showing contracting manufacturing activity. Out of the 25 major economies for which this measure is reported, 22 showed expansion in the month of January. Of greater concern is the current uncertainty surrounding emerging market growth, relating to both the currency pressures among weaker emerging market countries and concerns over credit quality in the Chinese financial system.

Emerging market currencies have been under pressure since discussion of Federal Reserve bond tapering first began in May 2013. Economies that have not been well managed have feasted on low global interest rates to boost investment and growth in recent years, without sufficient focus on return on capital invested. In Exhibit 2, we show the largest emerging market economies along with some selected additional markets of current market focus. Our analysis shows there has been greater currency pressure on those countries with larger current account deficits (such as South Africa), but there has been currency weakness even among the strong export countries like South Korea and Taiwan. So there has been some contagion, but so far it is reasonably limited.

EXHIBIT 2: SOME CURRENCY CONTAGION



Sources: Northern Trust, Bloomberg, IMF. Note: MSCI EM country weights as of 1/31/14, GDP weight calculated with 2013 IMF forecasts, current account balance as a % of 2013 forecasted GDP, and change in price of one unit of local currency in USD between 12/18/13 and 2/4/14.

What is the risk that the current market difficulties turn into a full blown currency crisis like we had in 1997-1998? While the risk to global markets from problems in emerging markets remains a concern, it seems unlikely that the shape of a new crisis will resemble that of the old one. A significant contributor to the 1997-1998 crisis was the currency pegs commonly used across emerging markets at the time. As countries such as Thailand and Brazil were finally forced to give up their U.S. dollar peg, the adjustment process was abrupt, currencies subsequently plunged and economic and financial market fallout was the result. In addition, issuing debt denominated in U.S. dollars was common practice, significantly raising repayment risk. Mexico went through the devaluation process in 1994, and with their currency floating by the time of the 1997-1998 crisis, the peso adjusted real-time and acted as a shock absorber for the real economy. This is what is occurring today, as the countries shown in Exhibit 2 have all seen currency adjustments (with the exception of China, where the trading band is carefully managed against the U.S. dollar). Additionally, the countries with the biggest problems (such as Turkey, Argentina and the Ukraine) are a small part of the global economy. Countries with respected central banking operations are having some success in calming the markets (such as India), while the currency depreciation is helping others balance current accounts and increase exports (such as Indonesia).

EXHIBIT 3: EMERGING MARKET STOCKS NEED MOMENTUM


Source: Northern Trust, Bloomberg. Data through 12/31/2013.

What else could crop up from the emerging markets to trouble the global economy and financial markets? A significant slowing in credit growth, with its knock-on effect to growth, has to be high on the list. One of the catalysts for market weakness in recent weeks has been the travails of the Chinese shadow banking system, specifically a wealth management product issued outside of the depository banking system. The products, which typically offer interest rates between 6% and 12%, have exploded in popularity as a result of the low (3%) savings account rates available to Chinese investors. With the multi-year declines of the Chinese stock market cauterizing equity risk appetite, these deals have ballooned and have been an important source of investment in the Chinese economy. Default on one particular trust product with the ironic name "Credit Equals Gold #1," which financed a troubled coal company, has been avoided through last-minute intervention (and timely mine permits). While this is reportedly the twentieth such near-default over the last couple of years, it is a sign of the latent risks in the system. While overall statistics are hard to come by, the average maturity of many of these products appears to be two years, so this will be a recurring issue going forward. With China's closed capital account, strong foreign currency reserves, and central government control, the odds of a financial market accident emanating from the shadow banking system seem to be manageable. In addition, the exposure of G-4 banks to Chinese borrowers is low due to the controlled financial system. Therefore, the biggest risk is likely the negative knock-on effect from any credit-induced slowdown in Chinese growth as they deal with the vast scope of these wealth management and trust company products.

The impact of slowing emerging market growth and tighter monetary policy has led to sharp underperformance of these stocks over the last year, during a period when developed market stocks have performed well. As shown in Exhibit 3, emerging market stock performance was supported by relatively strong earnings growth in the second half of the last decade. Since 1988, when emerging market earnings growth exceeded developed market growth by 2% or more, the stocks have outperformed by 10% annually. Since the depths of the global financial crisis, emerging market earnings growth has modestly underperformed the developed markets, and the stocks have materially underperformed (reflecting a big change in relative valuations). Over the next year, we see little on the horizon to indicate relative earnings growth is set to turn in the emerging markets' favor. Potential catalysts include acceleration in the developed markets, which will help export growth, and improved domestic growth as monetary policy tightening reaches its end-game. In the mean-time, relative valuations on emerging market stocks have improved significantly. The stocks are currently at a 35% discount to world equities, compared with a long-term average of 27%. The lowest relative valuations were realized in 2001, when the stocks hit a 50% discount in the wake of the U.S. technology stock bubble. Our research indicates that while valuations do not help predict next 12-month returns, they are predictive of five-year forward returns and thus emerging market longer-term returns show a meaningful premium to developed market equities. We think this supports a strategic weighting to emerging market equities.

EXHIBIT 4: EARNINGS GROWTH SHOULD SUPPORT STOCKS



Source: Northern Trust, Standard & Poor's, Bloomberg. Note: S&P 500 operating earnings per share (EPS) includes bottom-up forecasted fourth quarter 2013 earnings as compiled by S&P.

When looking at longer-term trends, earnings clearly play a major role in stock market movements – with sustained downturns in the S&P 500 accompanying the earnings rollover following the over-investment period of the late 1990s and the severe downturn in earnings during the great recession. However, when digging into the math, we actually find a relatively low correlation between earnings and price changes (0.18) – driven by the amount of "noise" in market movements. This noise comes in a few forms. First, while markets do appear to have some ability to discount future earnings (comparing price movements with the following quarter's earnings increases correlations to 0.31), markets seem to have a difficult time with "hard" inflection points (when the course of earnings changes dramatically, such as during the financial crisis). Noise can also be introduced by depressed sentiment or fears of severe earnings downturns that never came to fruition (the European debt crisis and U.S. debt ceiling debacles providing fodder for such market fears over the past few years). Finally, on the other end of the spectrum, noise was also introduced by "irrational exuberance" in the late 1990s (a retrospective analysis of the late1990s bubble shows little connection between prices and the underlying earnings reality). So much for the Efficient Market Hypothesis. Exhibit 4 displays both this longer-term "trend" relationship as well as the periods of time when noise is introduced to the picture.

It is worth noting the way in which the scale of the chart is set. The price axis is scaled to the earnings axis by a multiple of 15 times the annualized earnings figure shown. In other words, when the "price" data series is precisely on top of the "earnings" data series, the markets are valuing the current quarter's annualized earnings at a 15 times multiple. This is noteworthy because of the way in which the two data series have tended to revert back to this relationship. The fact that the "price" line has gotten out ahead of the "earnings" line (thanks to a fourth quarter return of 10.5%), puts pressure on earnings to keep up in 2014. We should note that recent market weakness has reduced this spread. After a somewhat slow start to 4Q 2013 earnings reports, earnings have gained momentum and are back on track toward our expected gain of around 6% for 2014.

In keeping with our tradition of subjecting stock market lore to analytical scrutiny, we decided to analyze the "January Indicator" – which says that as January goes, so goes the rest of the year. If this indicator is to be followed, the losses in the stock markets in January would indicate further losses in the rest of the year. As shown in the appendix on page 7, our analysis shows this indicator has better predictive ability when the market rises in January than it does when it falls. In the 68 years of the study, we have had 43 positive Januarys and 25 down Januarys. A positive January has been followed by a positive rest of year (February through December) in 37 out of the 43 occasions, while a negative January has been followed by a negative rest of year in just 11 of the 25 instances. So while a negative January leaves your odds of a positive rest of year return much lower than if the year started well, they are still better than a 50/50 bet. A positive January also resulted in a median rest of year return that was 10% higher (17.0% vs. 6.9%).

CONCLUSION
We think it is a mistake to react to market volatility, unless there has been a clear change in the fundamental outlook or valuation picture. During our February investment strategy and policy meetings, we will continue our discussion of these new issues that have emerged in recent months. With respect to the growth outlook, we will debate whether there has really been an abrupt change in the U.S. growth outlook in recent months. We will also debate the risks and opportunities around emerging markets, including the Chinese credit outlook and risk of currency contagion across the group. The outlook for monetary policy will also be discussed, but the bar seems pretty high for a material change out of any of the developed market central banks. The seeming one-way train of Fed tapering set up 2014 to be a more volatile year in the financial markets, as investors will be skeptical of a Fed backstop short of a real crisis. One cannot rule out further short-term weakness in the markets - to wit, we have now gone over 575 days without a 10% correction in U.S. stocks. Over the long-term, this type of correction has occurred every 161 days. The monetary policy crutch that got us to the 575 day streak is increasingly distant, meaning that this streak will probably be broken this year. Having sufficient liquidity to ride out this type of volatility should be a central feature of all portfolios.
APPENDIX: A WEAK JANUARY DOESN'T SPELL DOOM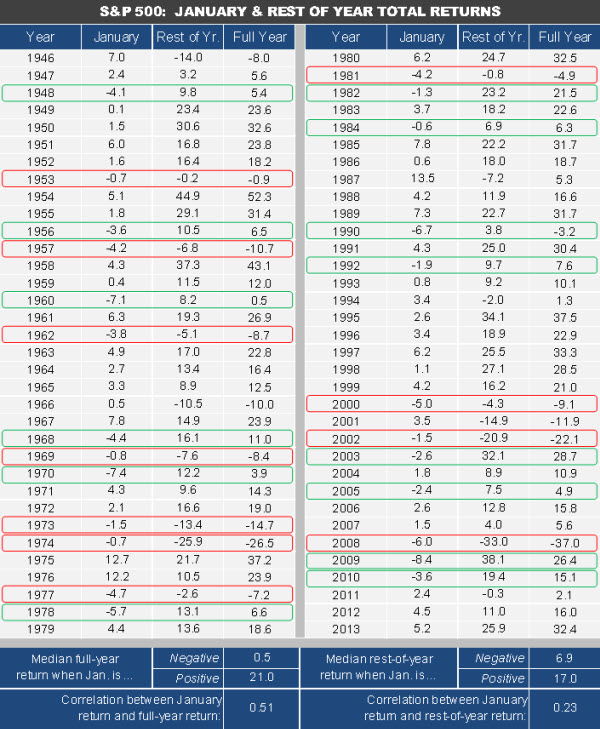 Source: Northern Trust, Bloomberg.